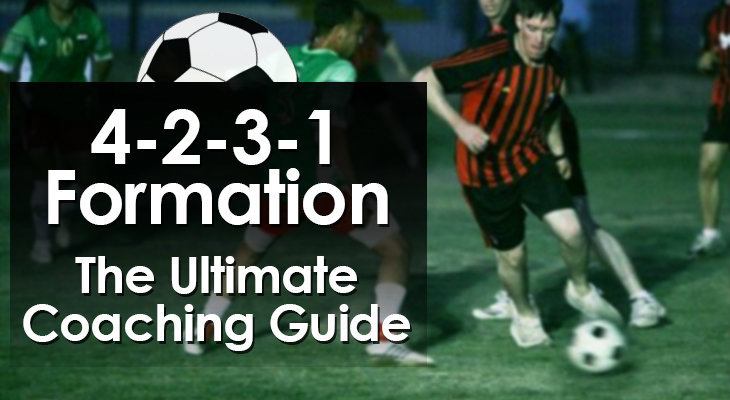 4-2-3-1 Formation – The Ultimate Coaching Guide
The 4-2-3-1 is among the most popular formations in soccer today.
Tune in to any Spanish league game and you're likely to see one if not both teams line up in this shape.
Essentially, the 4-2-3-1 was born out of a traditional 4-4-2.
Through specialist players in the double pivot and center attacking midfield roles, the adaptation counters the obvious weaknesses in a 4-4-2.
It's a highly versatile formation that facilitates several different styles of play, from possession-based to counterattacking.
Moreover, it's beautifully balanced with ample defensive cover and attacking outlets in all areas.
Sounds perfect, right?
Well, while effective, no formation is without its flaws.
The 4-2-3-1 has its strengths and weaknesses, just like any other.
So, in this coaching guide, I break down the shape, its individual positions, and demonstrate how to set up your team for success. 
What is a 4-2-3-1 Formation?
The 4-2-3-1 formation was designed to play "between the lines" to instigate attacks.
In traditional formations like a 4-4-2, the space lies between the backline and the midfield line and the forward line and the midfield line.
So, by playing with a center attacking midfielder (CAM) or a withdrawn striker (number 10), teams can break through mid-blocks and put consistent pressure on the opponent's backline.
Its attacking three consists of a CAM and two wingers, all of whom play beyond the opposition midfield and directly in front of their backline.
The two defensive midfielders (CDMs) sit deeper than a traditional midfield, shielding the backline and restricting supply to the opposition's creative players.
The flat-back four is a traditional one with two defensive center backs and multifunctional fullbacks.
For this formation to fully click, the fullbacks must be capable of attacking and defending, as otherwise, the wingers are left 1v1 or 1v2 more often than not.
While the lone striker may seem isolated on paper, they're supported from all angles.
Now, let's take a look at the ins and outs of the 4-2-3-1 in more detail.
4-2-3-1 Formation Strengths
#1. Strong Central Spine
The 4-2-3-1 sets out to dominate in central areas from back to front.
With a double-pivot sitting in front of the backline, it's extremely tough to break down and limits access to opposition attackers.
Although the pivot is primarily defensive, they're also important in build-up play and possession retention.
Having a player in one of these slots that can progress the ball and make line-breaking passes is a huge advantage.
The midfield and striker are linked by a CAM who is integral to the attack.
Leading the line, the lone striker is a critical component of this shape and must be clinical in front of goal. 
#2. Defensively Solid
One of the best reasons to set up in a 4-2-3-1 formation is for its defensive solidity.
In addition to the flat-back four, the midfield pivot offers cover and security.
Even when the fullbacks get forward, there are players available to cover them.
If your team is defending a lead, the CAM can drop deeper and the wingers can tuck in, making it extremely difficult for your opponent.
It's also worth noting that the front four can be used to initiate an effective high press, with six defensive players behind them if the opposition manages to break through.
#3. Attacking Firepower
With four dedicated attackers, the 4-2-3-1 formation offers plenty of attacking firepower.
To boot, the front line is well-balanced so you can attack from all angles.
If you like to play with a high line (pushing backline up the field), your team can sustain attacks for long periods.
When the play breaks down, simply recycle the possession back through the midfield and continue to probe from one side to the other.
#4. Facilitates Different Playing Styles
The balance that this shape offers allows you to play in multiple styles.
If your defensive midfielders are comfortable on the ball, you'll be able to outnumber your opponents centrally and dominate possession.
On the other hand, if your pivot is more physical in nature, this shape allows you to soak up pressure and spring on the counter.
With numbers on the wings and through the middle, you can choose a strategy that best fits the abilities of your players. 
#5. Highly Adaptable
In modern soccer, using one formation only is a dangerous game.
It's always beneficial to have a backup plan and multiple formations to switch to.
With a 4-2-3-1, your team can transition to a different shape seamlessly.
If you need an extra defender, simply drop back a CDM to form a 5-1-3-1 or 3-4-3.
For more attacking play, push your CAM forward as an extra striker and instruct the pivot to play higher up the field.
If you have substitutes available, the formation changes available are virtually endless. 
4-2-3-1 Formation Weaknesses
#1. Relies on a Creative CAM
As a key link player, much of the attacks in this formation go through the CAM.
If they're having an off day or the opposition is crowding them out, building central attacks becomes an issue.
There's also a lot of pressure on the CAM to create chances when they get on the ball.
These players must be highly skilled and capable of finding space, receiving the ball under pressure, then executing killer passes in the final third.
If you don't have a top player in this position, your team may struggle going forward. 
#2. Requires Fit Fullbacks
As mentioned before, having attacking fullbacks is important to create meaningful attacks out wide.
The right and left back must link up with their wingers at every available opportunity to create numerical overloads and disrupt the opposition's backline.
Otherwise, the winger will have a lot of work to do every time they receive the ball.
Getting up and down the field to attack and defend over 90 minutes requires elite fitness. 
#3. Strikers Can Struggle to Make an Impact
If your opponent is having success pinning your team back, your striker can be cut adrift amongst a sea of defenders.
This not only reduces your attacking capacity, but it can also hamper your center forward's confidence.
Even in more open games, your lone striker is likely to be outnumbered a lot, making it hard to have an effect on the game.
And, when chances come their way, the striker must be clinical.
As the main goalscoring threat, they're responsible for putting the ball in the back of the net.
This pressure can be tough for some attackers.
#4. Vulnerable to Crossfield Switches
As your fullbacks get forward to join attacks, your team may be open to crossfield switches of play.
While the 4-2-3-1 successfully limits space between the lines and in central areas, it does leave gaps on the wings.
Against pacey teams who enjoy playing on the counterattack, you must be aware of this threat. 
#5 Specialist Positions in Midfield
All three midfield positions in the 4-2-3-1 formation are specialized.
The double-pivot generally consists of ball-winning CMDs with astute positional awareness.
Or, some coaches prefer to go with one deep-lying playmaker and one all-out ball-winner.
Regardless, these positions must be filled by talented specialists which not all teams have access to.
Similarly, the CAM role is highly specialized.
Again, the player in this position must be highly skilled with the ball at their feet and capable of fast and correct decision-making.
Without top players in midfield, buildup play in the 4-2-3-1 can be slow and cumbersome.
How to Play the 4-2-3-1 Formation
Armed with the knowledge of the strengths and weaknesses of a 4-2-3-1 formation, next you need to learn how it's played. 
Fortunately, you'll find that the formation itself is quite flexible and easy to apply strategy to. 
The tricky part is in the execution.
4-2-3-1 Formation Setup
Firstly, let's take a look at how the team shapes up at the start of the game.
The lineup comprises four core banks:
Flat-back four

Double midfield pivot (two CDMs)

Attacking midfield trio (two wingers and a CAM)

Lone striker
Attacking in the 4-2-3-1 Formation
Depending on the players at your disposal, the 4-2-3-1 can be lethal from all directions.
With talented players in key areas, your team can produce moments of magic from nothing.
However, with a well-balanced and powerful formation like the 4-2-3-1, it's best to implement a clear strategy that really amplifies its core strengths. 
1. Feed the CAM
The CAM is the focal point of the team's attack and should be your main target for instigating attacks.
In this formation, their role is to find pockets of space between the lines where they can receive the ball and then look for opportunities to bring teammates into play.
The solid base of this setup means your defenders, CDMs, and fullbacks can see a lot of the ball and can find the CAM at will.
From here, the CAM can attack directly or link up with the other attackers to put pressure on the defense. 
2. Exploit the Wings
If you have a talented CAM at the tip of your midfield, the opposition will likely attempt to crowd out the center.
If your opponents commit numbers to the center of the field, your team can enjoy plenty of success on the wings.
To take full advantage of the space, instruct your fullbacks to get forward and join attacks down the sidelines.
The fullbacks and wingers should work together to create 2v1s and overloads to get in behind the defense.
Likewise, they should mix in overlapping and underlapping runs to open up gaps in the backline.
Even a simple dummy run down the sideline by a fullback can drag a defender out of position, allowing your winger to cut inside for a shot or drive into the box.
3. Recycle Possession and Sustain Attacks
The compact blocks that this shape gives are designed to not only create openings, but also to sustain attacks.
It allows you to commit players forward without having to worry about leaving gaping holes in behind.
So, there's no need to rush things.
Use your CAM and wingers to search for openings and opportunities to shoot but instruct them to be patient.
If your opponents defend well, play the ball back to your double pivot and change the point of attack.
In this shape, you can pass the ball across the field seamlessly, shifting the backline and teasing defenders out of position.
Once a gap appears, your team will get their chance.
Against particularly defensive teams, you can push one CDM forward to create a bank of four in front of the opponent, giving them an extra player to worry about. 
Defending in the 4-2-3-1 Formation
Due to the central focus of the 4-2-3-1, defending through the middle isn't usually a problem.
In general, there are enough numbers to disrupt attacks in dangerous areas, even in transition.
That said, certain defensive tactics can help you get the best out of your team in this setup.
1. Press From the Front 
High presses have been all the rage in modern soccer for several years now.
This formation is perfectly suited to "gegenpressing".
The precise triggers of your press are up to you but in general, it's best to swarm when the weakest ball player in your opponent's backline receives the ball.
Your striker should lead the press and get back up from the attacker closest to the ball.
The other attackers then get narrower and close in around them to anticipate the next pass.
If you win possession high up the field, the chances of scoring are considerably higher, especially if a defender is caught out of position.
However, pressing is physically taxing so learn to recognize when your attackers should fall back into their positions and recover.
2. Create a Mid Block 
The presence of your double-pivot midfielders allows your team to set up a mid-block, which is a defensive line in front of the backline.
This extra layer of protection makes it difficult for opponents to get into dangerous positions or isolate a defender 1v1.
The main role of your CDMs is to cut out passing lanes and track any deep runners.
When defending a lead, consider calling the CAM back to form a three-player mid-block, making it even more difficult for your opponents.
The idea of the mid-block is not to pressure your opponent but to shut down attacking threats and force them into making mistakes. 
3. Maintain a Compact Back Four
Your CDMs won't be able to cut out everything so instruct your back four to remain compact out of possession.
They should move and defend as a unit, communicating constantly.
The primary threat to this shape is crosses to the back post so your fullbacks must be vigilant.
Their starting position should be narrow and they should always be on the lookout for back post runs.
If the opposition targets these areas, the winger will have to track back to help out.
Individual Position Responsibilities
Goalkeeper 
While some setups require the goalkeeper to have solid passing abilities, this isn't a must in a 4-2-3-1 formation.
In this shape, it's more beneficial to have a high-level shot-stopper who has command of their penalty area.
Deep crosses are a threat to this formation so make sure your goalie is comfortable dealing with aerial balls. 
Center Backs
The center backs are the defensive leaders in the team.
With all the play in front of them, they assume the role of on-the-field coaches.
It's important that the center backs are in constant communication with the CDMs and their fullbacks to prevent gaps from opening.
From a defensive standpoint, the main duties of the duo are to intercept through balls, block shots, mark strikers, and head away crosses.
Since the central channels are usually congested, opponents may focus on generating attacks from the wings.
This means the center backs must be strong in the air and positionally aware to clear their lines when crosses come their way.
Having good ball-playing center backs isn't a priority in a 4-2-3-1 formation but it's an advantage.
It allows the midfield pivot to occupy more advanced positions are get into spots from which they can progress the ball.
If your center backs are quick, you can also play a much higher line, allowing you to sustain attacks and squeeze your opponents when you lose possession. 
Fullbacks
The fullbacks have a number of important responsibilities in attack and defense.
In defense, it's incredibly important that they win their 1v1s against the opposition's winger and prevent them from putting dangerous crosses into the box.
In attack, fullbacks must hit the sidelines, offering support to their winger and creating possessional width for their team.
A right or left back that can pick out strikers with crosses is a tremendous asset.
Fullbacks are most vulnerable in transition and your opponents are likely to know this.
While there is usually cover in transition from the double pivot, fullbacks must learn when to bomb forward and when gambling isn't worth the risk.
Center Midfield - Double-Pivot
The central midfield pairing acts as an insurance policy for marauding fullbacks and the attack-oriented front four.
Their roles are simple in theory but not necessarily in application.
Core responsibilities of the double pivot include: 
Shielding the backline

Tracking midfield runners

Shutting down passing lanes

Covering for fullbacks and center backs

Winning the ball back

Recycling possession

Dictating the tempo of the game

Making line-breaking passes

Playmaking from deep
The CDMs must have exceptional positional awareness, excellent reading of the game, and solid defensive fundamentals.
Moreover, they should be competent on the ball and willing to take possession under pressure.
At least one of them will nearly always be a specialized holding defensive midfielder.
Alternatively, you could play a deep-lying playmaker or box-to-box athletic player.
Center Attacking Midfielder
As discussed, the CAM's role is extremely important for attacking fluidity in the 4-2-3-1 formation.
Unless you deploy a deep-lying playmaker in the pivot, they are the main source of creativity and chance creation in the central channels.
CAMs set themselves apart in two ways:
In-game intelligence

Technical ability
Elite-level attacking midfielders, like Leo Messi, Kevin De Bruyne, and Luka Modric are often lauded for their soccer IQs.
Instinctually, they know where the spaces are on the field, how they can exploit the defense, and where their teammates are going to be.
In most cases, the CAM has a free role in the final third so they can use their intelligence to be as effective as possible.
Seeing the pass is one thing but executing it is another.
This is where technical ability comes into play.
When the CAM gets into dangerous positions, they must have the necessary skill to find teammates or score themselves.
The best-attacking midfielders have a quality first touch, intricate dribbling abilities, and pristine striking technique.
While assists are their bread and butter, you can usually really on your CAM to score their fair share of goals too. 
Wingers
In a modern formation like the 4-2-3-1, wingers are important contributors to goals and assists.
Unlike in a 4-4-2, the wide players in a 4-2-3-1 are predominantly attackers.
They do most of their work in wide areas but are encouraged to join central attacks and get into the box whenever they have the chance.
Traditionally, wingers would play on their strong side, taking on their marker around the outside and whipping in crosses.
However, in today's game, it's more common to see inverted wingers who cut inside and offer a more dynamic attacking threat.
Inverted wingers are particularly effective in this shape with good attacking fullbacks as the duo can combine to present a double threat on the inside and outside.
When a winger cuts inside, they must do so with purpose, either looking to get a chance or create one for a teammate.
Quick one-two passes with the CAM or striker are effective for skipping past static defenders.
As discussed earlier, wingers are important in a high press, should you choose to go down the route.
They must also fulfill their defensive duties and track back when the opposition fullback gets forward. 
Striker
The most important job of the striker in the 4-2-3-1 formation is to score.
As the sole center forward, much of the pressure falls on their shoulders to put away chances.
However, if your team has goalscoring wingers on either flank, you can use the striker as more of a facilitator.
Either way, your forward must have good movement, anticipation, and technical skills to have an impact in the final third.
Depending on the game plan, your philosophy, and the opponent you're facing, you may decide to play a big target man or a more mobile pacy striker.
With a big target man up front, the CAM and wingers can play into their feet and expect them to hold the ball up to bring others into play.
These types of forwards are also an excellent option if your team likes crossing from wide areas.
If a more mobile striker is selected, the team's attacking dynamic changes completely.
Rather than going the direct route, a fast and nimble number 9 gives you passing options in behind.
Players of this ilk stay on the defender's shoulder and look to latch onto through balls from the rest of the attackers. 
How to Beat a 4-2-3-1 Formation 
The sheer popularity of the 4-2-3-1 formation shows that it's highly effective.
Yet still, it has its shortcomings, especially in the absence of quality specialist midfielders.
Here are three effective tactics for playing against this formation. 
1. Crowd the CAM
As the talisman of the team, the CAM is the most influential attacker in a 4-2-3-1.
By crowding this player out, you can force the opposition out wide into less threatening channels.
The best way to do this is through "man-marking" or by using a double-pivot of your own.
While your opponent can still cause damage from the wings, it's the lesser of two evils. 
2. Suffocate the Midfield
One of the most effective strategies for disrupting the 4-2-3-1 is to suffocate the midfield.
Rather than match up with equal numbers in midfield, outgun your opponent with a narrow 4-4-2 diamond.
In this shape, you have four center midfielders.
With more firepower, you can dominate the midfield battle which is often key in winning the game.
To complement this strategy, instruct your fullbacks to get tight to the wingers.
While this bold approach requires a lot of energy, it's highly effective at nullifying the 4-2-3-1.
3. Target the Wings in Transition
The final tactic I recommend to beat this formation is to play on the counterattack and target the space behind the fullbacks in transition.
A 4-3-3 with a tight defensive midfield is a solid formation for this kind of approach.
However, your team will need to be prepared to execute.
Your playmakers and even your fullbacks should be alert to long switches of play when you turn the ball over.
While you don't want to commit too many players forward at all times, you'll need at least one to stay high up the field to anticipate a diagonal from deep.
4-2-3-1 Formation Variations
As we have seen above, the forward four positions offer up a great deal of flexibility in terms of how the team sets up.
The players selected for these roles can completely change the dynamic of the 4-2-3-1 and make it either more attack-minded or defensive depending on the team's game plan.
The 4-2-3-1 formation is easily adjusted to a 4-5-1, 4-4-2, or 4-3-3.
Conclusion
Fitting four attacking players into a formation can be a challenge.
The 4-2-3-1 is perfect in this respect as you can accommodate a number of offensive-minded players while retaining your defensive solidity.
It's no surprise that it has largely replaced 4-4-2 as one of the dominant formations in professional soccer.