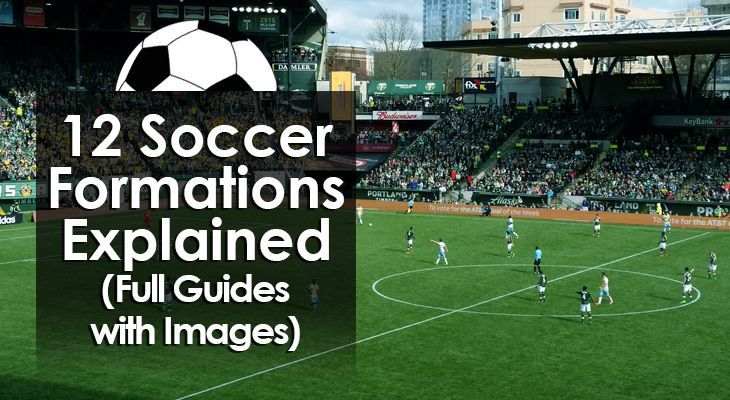 12 Best Soccer Formations With Images (2023 Update)
The soccer formations and tactics that you implement can be just as crucial to the team's success as the skills of the players you're coaching.
Whichever formation you choose, an organised and prepared soccer formation lets your players know responsibilities that are expected of them.
This is very important.
There are many formations to choose from, each with its own strengths and weaknesses.
Below, I've listed 12 of the most common soccer formations you can use.
(I'll keep this list updated as we add more guides to SCP!)
The 4-4-2 is one of the 'standard' soccer formations.
This formation requires two centre midfielders who contribute on both ends of the pitch, creative wingers to generate goal scoring opportunities, and incredibly fit fullbacks.
4-4-2 Formation

Strengths

:
Due to its simplicity, each player will have a good understanding of their roles and responsibilities when they're out on the pitch.
The 4-4-2 is also a very balanced line-up, allowing teams to both attack and defend safely.
4-4-2 Formation

Weaknesses

:
Teams playing in a 4-4-2 can sometimes suffer from a lack of passing options.
With only two central midfielders (who are expected to contribute a lot), they can quickly be overwhelmed by a team who plays with three in the centre of the park.
---
Perfect for teams looking to attack while retaining their solidity at the back.
With four at the back and two central midfielders lying in front of the defence, the four attacking players have freedom to express themselves and attack the opposition.
4-2-3-1 Formation

Strengths

:
It can be a nightmare to defend against a team with such flexibility in attack.
By interchanging positions, space can open up in front of the opposition's defence and create goal scoring chances for the striker to tuck away.
Despite all the attacking potential, the team retains its solid spine as the defenders are protected by the central midfielders.
4-2-3-1 Formation

Weaknesses

:
The team risks being exposed out wide if the wingers don't track back and support their fullback.
The 4-2-3-1 formation relies on superb discipline and organisation. Even more so than other formations, everyone must work together as a unit both offensively and defensively.
---
This soccer formation is designed for teams that like to attack.
With the right players, the 4-3-3 allows you to control the midfield while offering up an attacking outlook right from the start of the match.
4-3-3 Formation

Strengths

:
With three central midfielders in the 4-3-3 formation, you can control the centre of the park, dictate play, and force your opponents to play out wide on the wings.
This will help you to control possession as there will be a lot of passing options if your team is committed to good movement and spacing.
Up front, three forwards means your team will always be a threat to score.
4-3-3 Formation

Weaknesses

:
If the centre midfielders aren't disciplined, there's a risk the formation can get dragged out of shape which will open up space for the opposition to exploit - especially on the wings.
The team's forwards need to be incredibly fit and help out at the back for the 4-3-3 to work.
---
With attacking potential, defensive solidity, and control over possession, the 3-5-2 formation can be fantastic to use if you have the right players.
Heavily reliant on wingbacks to provide width, every player must understand what's expected of them and be willing to work hard for this formation to succeed.
3-5-2 Formation

Strengths

:
The 3-5-2 formation will allow you to dominate possession and maximise your attacking output.
With five players across the midfield, you can pin the opposition into their own half, preventing them from playing from the back and forcing them into mistakes.
Defensively, with three at the back and a number of midfielders ready to help out, the team can easily revert back to a 5-3-2.
3-5-2 Formation

Weaknesses

:
If you don't have the right wingbacks, then the 3-5-2 formation is unlikely to work as they're incredibly important to how the team plays in attack and defence.
The centre midfielders all need to be comfortable on the ball. If they don't communicate clearly, they risk getting in each other's way ruining the formation's spacing.
---
A very attack-minded formation, 3-4-3 is recently back in fashion and a number of teams have used it to great effect over the last couple of seasons.
For it to be a success, you need tactically disciplined players with a lot of stamina and technical capabilities who know exactly what to do both with and without the ball.
3-4-3 Formation

Strengths

:
The 3-4-3 formation allows you to press teams back as well as dominate possession.
With tons of attacking options, teams can be creative in their approach play with the wide forwards and wide midfielders able to create a number of 2-on-1 situations on the wing.
3-4-3 Formation

Weaknesses

:
Playing a 3-4-3 against a 4-5-1 or 4-3-3 can be dangerous as you risk your defenders getting overrun and pulled out of position.
You need players who are comfortable on the ball, disciplined, and have a lot of stamina. If you don't, the odds are that it's not going to work.
---
The 4-1-2-1-2 formation is a modern variation of the traditional 4-4-2, featuring two specialist center midfield players:
A dominant defensive midfielder and an advanced creative playmaker. 
With two strikers, this shape encourages a direct attacking style and it can be adapted to a narrow or wide setup, depending on the players at your disposal.
4-1-2-1-2 Formation
Strengths

:

This formation is extremely well-balanced and allows the team to utilize the space well, especially in wide areas. 

With two strikers on the field at all times, opposition defenders are constantly occupied, leading to plenty of scoring opportunities. 

The holding midfielder shields the backline and also acts as the catalyst for buildup play and possession recycling.
4-1-2-1-2 Formation
Weaknesses

:

Central areas can be overloaded against modern-style, three-player midfielders, creating numerical disadvantages.

In addition, this formation requires a deep squad of technically proficient players, which not all teams have. 
---
Nicknamed the "Christmas Tree", the 4-3-2-1 formation is a compact shape with a solid spine that's extremely tough to break down.
Due to its narrow shape, the formation works best for possession-based teams that take a slow and methodical approach to their buildup play. 
While effective, the Christmas Tree can be difficult to pull off and is often reserved for top teams with technically proficient players.
4-3-2-1 Formation
Strengths

:

The biggest advantage of playing in this shape is the strength of its spine; the three center midfielders sit in front of the backline, creating numerical advantages in defense and attack.

With such a compact midfield players can be awarded creative freedom in attack, leading to plenty of scoring opportunities.

Moreover, the midfield core also facilitates the build-from-the-back, possession-style approach that dominates modern soccer strategy.
4-3-2-1 Formation
Weaknesses

:

The main flaw in this system is the distinct lack of width, with the only recognized wide players being the fullbacks. 

Without having a deep squad of technically sound players, this is a difficult formation to pull off because of the rigid structure and high demands. 
---
If you're looking for a well-balanced, fluid, and dynamic shape, the 4-5-1 is one of the most solid and adaptable of all soccer formations.
It offers plenty of passing options and defensive cover with a five-player midfield. 
What's more, it can be easily changed to a 4-3-3 if your team needs a goal or you want to apply more attacking pressure. 
4-5-1 Formation
Strengths

:

The beauty of the 4-5-1 is in its simplicity and it can be taught and played across a range of age groups and ability levels. 

With good balance in attack and defense, the shape offers defensive solidity and offensive options, and can be adjusted during transitions to be more dynamic.

The five midfielders ensure your team won't be overrun centrally and limits space for creative attackers on the opposition side. 
4-5-1 Formation
Weaknesses

:

Playing with a lone striker can restrict attacking options, especially against defensive opponents. 

The wingers must be competent going forward but also disciplined in defense to track back and help out the fullbacks. 
---
The 5-3-2 is a perfect formation for defensive and centrally dominant teams.
With three central defenders and a packed midfield, the shape allows your team to absorb pressure for long periods and it ensures players are poised to spring counterattacks. 
However, for maximum effectiveness, the formation relies on well-rounded fullbacks who can get up and down the field for the entire 90 minutes. 
5-3-2 Formation
Strengths

:

Five defenders make this formation tough to break down, offering excellent defensive solidity. 

The compact core also suits possession-based teams and a build-from-the-back approach. 

If you have two strong wingbacks, this shape is perfect for springing devastating counterattacks. 
5-3-2 Formation
Weaknesses

:

Without dynamic attacking players on the wings and up front, this shape can be overly defensive, making it difficult to create chances. 

Due to the number of central players, the middle of the field can get congested, leading to errors. 
---
A 4-1-4-1 is one of the most tactically flexible formations in the game, affording astute coaches the opportunity to place emphasis on their strongest players.
The flat-back four gives it solid defensive foundations which are strengthened by the defensive midfield shield. 
The four more advanced midfielders can be deployed in a number of ways, depending on whether you want to focus on wide attacks or more central play. 
4-1-4-1 Formation
Strengths

:

Without a doubt, the main strength of this shape is its flexibility in the midfield. 

The central players can form a tight midfield triangle, an expansive setup with two number 10s, or a more linear shape with CDM, a box-to-box midfielder, and a second striker. 

As well as the varied attacking options, the formation is strong from a defensive standpoint. 
4-1-4-1 Formation
Weaknesses

:

One of the key ingredients in this shape is a specialist holding midfield player, which isn't always easy to come by. 

While the midfield can be packed with creative players, a prolific striker is needed as well.
---
As one of the most popular soccer formations in the modern game, the 4-1-3-2 is a well-balanced, dynamic shape that favors expansive attacking play. 
It allows teams to attack through wide channels or central areas, and facilitates a direct approach with dual strikers.
4-1-3-2 Formation
Strengths

:

With an attack-oriented shape, the 4-1-3-2 offers threats from all areas, be it centrally, on the wings, in counterattacks, or through long direct balls. 

Two strikers can play in tandem to open the defense, with one coming short to receive the ball and the other running in behind. 

While this shape is aggressive in offense, a quality CDM supports the backline and offers added defensive stability. 
4-1-3-2 Formation
Weaknesses

:

This top-loaded formation leaves a lot of players high up the field which can make the team vulnerable to counterattacks. 

Each player has a significant role to play in this shape, so there are high demands in terms of technical skill and stamina. 
---
This compact formation is an excellent solution for teams that want to dominate possession and create through the center of the field. 
It's a rather unorthodox setup that bodes well for teams with highly technical players. 
If your players struggle to find breakthroughs with the 4-3-1-2, it can be easily adjusted to a more dynamic 4-3-3. 
4-3-1-2 Formation
Strengths

:

From a defensive standpoint, there are little to no weaknesses in this formation with a central focus and powerful core.

The three-player midfield is set up for retaining possession and mounting patient yet sustained attacks.

With dual strikers, this shape also allows teams to sit back and launch long direct passes over the top. 
4-3-1-2 Formation
Weaknesses

:

The main issue with the 4-3-1-2 is that it is very narrow, limiting attacking angles. 

There may be an over-reliance on creativity and goals from the center of the field.

This central focus can cause congestion and frustration among midfielders. 
Conclusion: 
It's often worthwhile to try out several soccer formations in training to find which ones complement the players on your team.
With so many formations to choose from, selecting the right fit can be critical to ensuring a happy and successful season.
These formations are some of the most popular among amateur and professional teams due to the balance they offer in terms of defensive solidity, attacking threats, and possession control.
If you're looking for 7v7 formations, 8v8 formations, or 9v9 formations for your youth squad, be sure to check out some of our other articles.