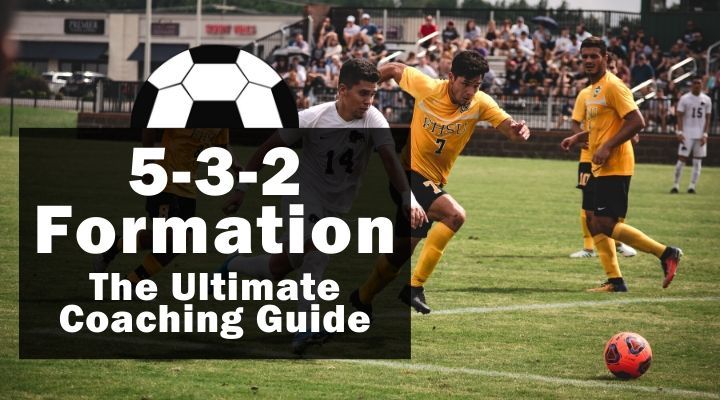 5-3-2 Formation – Ultimate Coaching Guide (With Images)
The 5-3-2 formation is very defensive and can be a challenging proposition for any team.
With five defenders sitting back and three midfielders hounding the opposition in front of them, it's a nightmare to break down.
While it's often used by teams looking to drop deep and absorb pressure, the formation can be altered to be quite attack-oriented.
Essentially, success in the 5-3-2 formation comes down to strategy and execution.
The shape allows for a great deal of flexibility up front as you can select two strikers as well as one or two creative midfielders.
Get it right and your team can control possession and launch dangerous attacks, all while remaining hard to beat at the back.
Today, we dissect the 5-3-2 formation, unearth what makes it tick, and demonstrate how your team can enjoy success in it.
What is a 5-3-2 Formation?
A 5-3-2 formation isn't one you're likely to see every week.
Although it's not a shape that defies logic or has obvious shortcomings, it's rather unorthodox.
The back five means it's very bottom heavy and the spacing throughout the midfield and forwards creates a clear central focus.
It relies on having specific player profiles in key positions that, quite frankly, most teams don't have access to.
Yes, if you set your team up in this way, you're likely to be defensively sound.
However, going forward can be a conundrum. 
Specialty Formation
The formation relies on having two-way midfielders who are highly capable of creating when they're on the ball.
Additionally, you'll need top-quality strikers who can not only score goals, but who can use their skills and soccer IQ to sniff out chances and create for themselves.
Ultimately, if you want to dominate the ball and play with fluidity, the availability of the right personnel is essential.
As an example, Brazil won the World Cup in 2002 playing in a 5-3-2.
They did, of course, have two of the all-time greats in Cafu and Roberto Carlos lining up at wingback.
Add in the likes of Ronaldo, Rivaldo, and Ronaldinho, the formation was much more attacking than it looked on paper.
Each one of their starting 11 as well as a handful of their subs were match-winners on their day.
So, to sum it up, the 5-3-2 can be a great formation if you have a wealth of great defenders, elite midfielders, energetic fullbacks, and quality strikers.
If this isn't the case with your team, then reserve the 5-3-2 for big games against top-quality opposition that you don't match up with well 1v1. 
5-3-2 Formation Strengths
#1. Defensively Solid
The five-player backline provides excellent defensive solidity.
When in their defensive shape, your team will give up very little space at the back, making it difficult for your opponents to make breakthroughs.
Furthermore, if you manage to keep a clean sheet (don't concede a goal) for a long period, the opposition may get frustrated and demoralized.
The solid backline is also backed up by a compact midfield, forcing the opposing team to look for more creative means to make chances. 
#2. Very Strong Spine to the Team
The 5-3-2 formation is centrally focused, giving your team a very strong spine from back to front.
In the modern game, being solid down the middle is crucial.
Most teams operate in systems with set phases of play and possession-based tactics.
Center midfielders and center backs are integral to buildup phases so populating the central channels is key to success.
As such, having technically savvy center backs and center midfielders is a major advantage of this formation. 
#3. Possession Control
The five-player backline doesn't just help from a defensive standpoint, it's also hugely beneficial in terms of ball retention.
When in possession, the wingbacks stay wide, stretching the field while the center backs hold the ball, waiting for opportunities to progress up the pitch.
The midfield three can drop deep or go long to create passing angles for their teammates.
Likewise, the two strikers can take turns coming short or making runs in behind, creating a multitude of passing options. 
#4. Can Be Adapted to Become More Offensive
If you're worried about the 5-3-2 formation being too defensive, don't worry.
With a few small changes, this shape can transform into a highly attacking lineup.
The wingbacks are the main catalysts for strategic change.
Push them further up the field and automatically you'll have a more versatile attacking dynamic.
In fact, you can swap out the wingbacks for out-and-out wingers for an even more offensive approach.
However, if you do this, I recommend dropping back one of the midfielders into a strictly defensive covering role. 
#5. Counterattacks
One of the most common strategies in a 5-3-2 is to sit back, absorb pressure, then spring on the counterattack.
As your opponents push more and more players forward, they leave space in behind to exploit.
The important thing is to know when to pour forward and when to retain and recycle possession and stay in position.
5-3-2 Formation Weaknesses
#1. It Can Be Too Defensive
Without the right personnel and right instructions, the 5-3-2 can be overly defensive.
While the team may not concede many goals, scoring them can also be an issue.
In particular, you need two-way players in midfield who are capable of fulfilling their defensive duties while also offering creativity in attack.
As key link players between defense and attack, these players must be good on the ball and possess the vision and skill to pull the strings from the central third.
#2. Weak on the Wings
With such a heavy central focus, the clear weakness in a 5-3-2 formation is on the wings.
Ultimately, the sole responsibility of wide play falls on the shoulders of the wingbacks.
And, seeing as their job is to defend first, they may struggle to create meaningful attacks when isolated.
Although midfielders can drift wide and support them, this leaves holes in the middle of the field. 
#3. Can Be Tiring Mentally and Physically
Positioning, discipline, and defensive work rate are integral to success in the 5-3-2 formation.
All players, especially the defenders, must be switched on for 90 minutes of every game.
Seeing as teams in this shape often spend a lot of the match without the ball, this can be grueling physically and mentally. 
#4. The Centre of the Pitch Can Become Congested
As with many centrally focused formations, the 5-3-2 can create midfield congestion.
If the central midfielders drop too deep, then they and the center backs can get in each other's way.
This makes it hard to create passing angles, to retain possession, and it invites pressure from the opposition.
Correct spacing and positioning must be mastered on the training field to prevent these issues from popping up on game day. 
#5. Relies On Having Specific Personnel
At this point, you can probably tell that the 5-3-2 formation relies on having specific player profiles in certain positions.
For example, if you don't have athletic wingbacks then you may struggle to generate meaningful attacks from the flanks.
Similarly, in midfield, you need quality all-rounders who can put in a defensive shift and take the initiative with the ball at their feet.
To boot, virtually all must be very fit to function efficiently in attack and defense.
How to Play the 5-3-2 Formation
As I've mentioned, the 5-3-2 can be deceptively attack-minded; it all depends on the players you select and the instructions you give them.
On paper, the formation looks very straightforward, albeit quite defensive.
There are three core banks of players:
Back five of three center backs and two wingbacks

Midfield trio (usually one slightly deeper than the other two)

Two strikers
5-3-2 Formation Setup
While demanding, the individual roles of each player in the 5-3-2 formation aren't overly complex.
The three center backs operate just like any other, staying tight when defending and spreading a little wider in possession.
In the midfield, two players usually lie to either side of a more defensive-minded midfielder.
Together the three of them should protect the defense, keep possession, and orchestrate attacks.
Leading the line, the dual strikers are responsible for scoring the bulk of the team's goals.
It's generally advantageous to have two quality strikers with differing skill sets.
This gives your attack more dynamism and power.
One of the only major decisions you have to make as a coach is whether you play with fullbacks or wingbacks.
Because there is a lack of natural width in the formation, most coaches opt for wingbacks.
However, if you want to keep things tight at the back, fullbacks provide serious solidity. 
Attacking in the 5-3-2 Formation
Attacking in the 5-3-2 formation is what causes the most trouble for teams.
However, with the right tactics and strategy, you can mount some formidable offense.
The most important factor is having the right players in midfield and in the wingback roles.
Here are three keys to success when attacking in the 5-3-2.
1. Use Playmaking Midfielders
Unless you want to play route-one, long-ball soccer, you'll need creative midfielders who can dictate the tempo and launch attacks.
While there's nothing wrong with sitting back and countering, this approach doesn't give your team full control over the game.
So, to get the best out of the 5-3-2, select at least one playmaking midfielder in the lineup.
If you have two box-to-box style midfielders, you can use the playmaker in a deep-lying role, pulling the strings from the halfway line.
However, if you opt for a ball-winning defensive midfielder (CDM), it's best to use the playmaker in one of the other midfield roles.
But, it's important to note that they will also have to put in a defensive shift. 
2. Commit Numbers to Attacks
Although the 5-3-2 formation gives you two strikers to aim at, this isn't enough to mount dangerous attacks with consistency.
If you want to sustain offense throughout a game, you have to be brave and commit players forward.
While it's okay for one midfielder to sit back and shield the defense, the other two should step forward and join attacks.
They can slip passes through to the strikers, make runs beyond the defense, and spread the ball back and forth across the field.
Yet still, they must demonstrate discipline and keep an eye out for counterattacks.
3. Push Wingbacks Forward
Whether you choose fullbacks or wingbacks, it's imperative that they get forward early and often.
Without them, the 5-3-2 is very one-dimensional and predictable.
The wingbacks offer width and provide a passing outlet when the midfield gets congested.
Furthermore, attacking wingbacks stretch the defense, making it easier to find the two strikers in the penalty box. 
Defending in the 5-3-2 Formation
Fortunately, the 5-3-2 formation is defensively solid.
Regardless of how well your midfield plays, you can rely on three center backs and two wingbacks to keep your opponents at bay.
That said, it's easy to fall into the trap of sitting back for long periods.
While this may be effective from a defensive standpoint, it can negatively impact attacking fluidity, making it difficult to sustain offense.
So, if you want to get the most out of the 5-3-2, pay attention to these defensive tactics. 
1. Use an Aggressive Mid-Block 
Mid-blocks are all the rage in the modern block and are extremely effective in the 5-3-2.
Essentially, it involves focusing your defensive efforts in the middle third of the field, disrupting the momentum of opposition attacks.
So, out of possession, let your CDM sit a little deep and pull the other midfielders inward to keep things compact.
Now, here comes the aggressive part.
With five defenders behind them, your midfielders can afford to gamble by engaging the opponents, pressing them, and putting in tackles.
Turning the ball over in the center of the pitch puts your team in a prime position to attack while the opponents are out of position.
As I've discussed, your midfielders need to be extremely fit to hound down opponents for an entire game.
It's helpful to have a deep squad so you can rotate with substitutions. 
2. Avoid Sitting Too Deep 
There's a time and a place to sit back and defend for your lives, such as in tight games when you're defending a lead.
However, in a 5-3-2, this approach can be dangerous.
Yes, you can defend effectively with a tight bank of players, but the real danger comes with the "second ball."
This is where you stop the initial cross or pass but the clearance or tackle results in the opposition regaining possession quickly.
Now, with very little time to react, your team must recover and prevent a second chance.
If the low block is at the edge of the penalty area, one simple pass can open up the defense. 
3. Press From the Front
Running an all-out gegenpress isn't the norm in a 5-3-2 formation.
However, the double striker setup allows you to press high and slow down counterattacks.
It's an added bonus if you can force a turnover and get a good chance from it. 
Individual Position Responsibilities
Goalkeeper 
As the 5-3-2 is quite defensive in outlook, the goalkeeper is mainly expected to command their box, claim crosses, and of course, make saves.
Having a good shot-stopper in your team makes the 5-3-2 formation even more intimidating to play against.
Seeing as the center of the field will likely be a no-fly zone, your opponents are likely to hit the wings and swing in crosses.
So, your keeper should be good under a high ball and confident at dealing with crosses.
The goalie should be in communication with the defenders at all times, ensuring they're in the correct positions and aware of the strikers.
As with all modern goalkeepers, it's an advantage if they're good on the ball.
In a 5-3-2, you may see a lot of possession so a ball-playing keeper will come in handy. 
Center Backs
While center backs (CBs) in the 5-3-2 formation are primarily expected to defend, ball-playing skills are a major bonus.
In possession, the shape often changes to a 3-5-2 as the wingbacks push forward.
So, the CBs should be comfortable keeping the ball amongst themselves and looking for line-breaking passes.
From a defensive standpoint, however, their main roles are to mark the opposition's strikers, compete for the ball, win tackles and headers, and snuff out any chances.
The right and left CBs are usually more combative in their approach while the central defender often acts as a sweeper, providing them with cover.
This sweeper is often very good on the ball and so is comfortable picking up the ball off of the keeper and passing it on to the fullbacks or central midfielders.
For a team with a selection of good center backs, the 5-3-2 formation is a great option as you can fit more of them into your line-up.
It's also a great option to revert to when you're defending a lead late in a game. 
Wingbacks
The wingbacks (or fullbacks) largely dictate how your team operates.
With attacking wingbacks, you have plenty of offensive width and multiple avenues to attack.
This is generally the preferred option as otherwise, your offense can get quite one-dimensional.
Your wingbacks should be comfortable on the ball and capable of beating a player 1v1.
It's also important that they have good delivery skills and can whip in dangerous crosses from the wings.
Finally, their fitness levels must be unrivaled, enabling them to get up and down the field all game.
However, if you really want to solidify your defense, you can go with two fullbacks who remain much deeper for the majority of the game.
While the fullbacks can get forward too, their starting positions and movement patterns are much more defense-focused.
In terms of defensive responsibilities, the wingbacks and fullbacks have the same jobs:
Mark the opposition winger

Prevent crosses

Defend the wide areas

Cover the back post when the ball is on the opposite side
Midfield Three
Now, let's take a look at the engine room, the midfield three.
As I mention, the 5-3-2 formation has a very strong spine to it and this is in large part thanks to the three midfielders who line up in front of the back five.
With these three shielding the backline, the formation becomes very hard to break down.
Utilizing a mid-block, the center of the field will seem impenetrable, provided of course that the midfielders work hard and do their jobs.
Generally, the favored way to set up your midfield is with one holding player in the center, flanked by two box-to-box types.
The box-to-box players do much of the dirty work, hassling opponents off the ball and putting in challenges.
They're also the ones that'll get forward and join in with attacks.
The more defensive of the three sits back and cleans up any loose balls, tracks runners from midfield, and protects the backline.
In possession, they can keep things simple by making short passes and giving good passing angles to teammates.
However, if you have a quality passer in this role, it changes the whole dynamic of the team.
They can use their vision and technical skills to switch the play, hit long diagonals to the strikers, and pull the strings from inside their own half.
Andrea Pirlo is the perfect example of a deep-lying playmaker.
While he used his intelligence to be a great shielder of the backline, his true value came when the ball was at his feet.
He could dribble, pass, and shoot, ensuring he impacted the game regardless of where he was on the field. 
Dual Strikers
Striker partnerships are no longer in vogue in the modern game.
However, they're a real treat to watch when in full flow.
As the primary attacker in the team, they are responsible for scoring the bulk of the team's goals.
So naturally, they need to be elite finishers and poachers.
We've seen many great strike partnerships with differing skill sets down the years.
However, the best duos often tend to possess differing but complementary characteristics.
For example, one might be good at coming short to receive the ball and holding defenders off before bringing others into play.
These types of players are great facilitators and a handful for center backs.
Their partner may be more of a runner who plays on the shoulder of the last defender at all times.
They thrive on through balls and dangerous passes into the box.
No matter their skill sets, you want your strike partners to have a seamless on-the-field relationship.
They should know each other's tendencies, movement patterns, and preferences.
That way, they can work together to create chances for one another almost telepathically. 
How to Beat a 5-3-2 Formation 
If you're preparing to face a team that sets up in a stern 5-3-2, preparation is key.
Not only is it a tough formation to penetrate, but it's also quite uncommon.
So, to prevent your team from getting bamboozled on gameday, here are three ways to beat a 5-3-2 formation.
1. Attack Along the Wings
Since the wingbacks or fullbacks are the only designated wide players in this shape, you can exploit the wide areas.
Opt for a formation with wingers and build attacks down the outside channels.
If you also use attacking fullbacks, you can easily create numerical overloads to get in behind the wingbacks.
From here, you have a much better chance of creating high-percentage scoring opportunities.
2. Come On Strong Late in the Game
As I've mentioned several times, the 5-3-2 is a physically demanding formation, especially for midfielders.
So, exercise patience in the early stages of the game and slowly wear the opposition down.
Once you notice that they're beginning to fatigue, start to increase the tempo and come on strong.
Using substitutes is an excellent way to pile on the pressure for the final 15 to 20 minutes. 
3. Disrupt the Midfield
The midfield in a 5-3-2 formation is extremely important for a multitude of reasons.
One of their key roles is to link defense and attack.
You can break this link by congesting the midfield when you're out of possession.
Instruct a striker to come deep or your wingers to tuck in and cause havoc in the midfield.
Congesting this area will frustrate the opposition and limit their ability to create meaningful central attacks. 
Conclusion
While most managers select the 5-3-2 formation primarily for defensive purposes, it can actually be quite attacking, provided you have the right personnel.
With five defenders across the back and three combative midfielders chasing and harrying the opposition in front of them, the formation can be a nightmare for any team to face.
With two strikers upfront, the team should be able to fashion goalscoring opportunities from a variety of scenarios.
Just make sure to drill sequences and spacing during training.
Otherwise, the players will start stepping on one another's toes, leading to big mistakes.