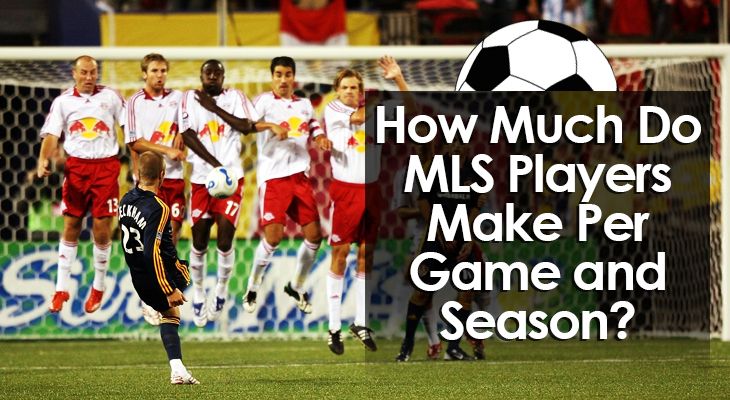 How Much Do MLS Players Make Per Game and Season?
Soccer is trending to become one of the most popular sports in the United States.
While it still has a long way to go before it reaches the likes of American football, basketball, or baseball, participation rates and fandom are at all-time highs.
The MLS has grown enormously over the past two decades and is now one of the most well-established professional leagues in the world.
With this dramatic growth, players are bringing in larger salaries than ever before.
If you want to know how much MLS players make per game and per season, read on.
MLS Salary Structure 
The MLS salary structure is much different from most other professional soccer leagues as it's based on the financial models used by other U.S. sports leagues, like the NFL and the NBA.
In Europe and most of the rest of the world, soccer clubs are privately owned with wages paid by each club, so their salaries can be much higher.
This gives wealthier teams a significant advantage over smaller clubs, using their financial power in the transfer market and paying huge wages.
MLS teams operate under a single-entity structure whereby it's the league that owns all teams and individual player contracts.
So, the league controls and regulates financial power.
Franchise owners and stakeholders get a share in the MLS and are given the right to run the team. However, their control over wages and salaries is limited.
In keeping with other major sports leagues in the U.S., the MLS uses a salary cap.
MLS Salary Cap
Before we break down how much MLS players make, it's important to understand the structure of each team's roster:
Each MLS club has an active roster of up to 30 players. All 30 registered players should be eligible for selection in both regular season and playoff games.
However, the roster slots are categorized, and depending on which segment they're part of, players can earn a certain amount. 
Senior Roster
The senior roster comprises up to 20 players.
However, teams may opt to leave slots 19 and 20 open to free up salary cap space.
Each club has a budget of $4.9 million for this category.
This cap is set to increase gradually until 2027 when it will eventually reach $7 million.
The maximum salary allocation for a senior player is $612,500 per season, which equates to approximately $18,000 per game.
But the designated player rule allows certain players to earn more than this (more on this below).
The minimum salary for a senior roster player is $84,000 per season, which works out to around $2,470 per game.
Supplemental Roster
The supplemental roster accounts for slots 21 to 30.
Slots 21 to 24 can be:
Senior players
Homegrown players
Generation Adidas players
MLS SuperDraft players
These players have a base salary of $84,000 per season, equating to around $2,470 per game.
Slots 25 to 28 can be:
Homegrown players
Generation Adidas players
Reserve minimum salary players
All of these players earn a base Reserve Minimum salary of $65,000 per season, which equals around $1,911 per game.
Slots 29 and 30 should be homegrown players who earn the minimum reserve salary or earn above this but are subject to the homegrown player subsidy.
The homegrown player subsidy is worth $200,000 and may be allocated to the salary bill for designated slots, like 29 and 30. 
Designated Player Rule
The Designated Player Rule is a special dispensation that allows teams to sign up to three players whose total salaries and acquisition costs (e.g. transfer price) exceed the standard salary structure.
Each club must take responsibility for the finances associated with Designated Players.
This exception is commonly referred to as the "Beckham Rule" as it was introduced to attract high-profile players to the MLS.
It just so happened to be that Beckham was one of the first superstars to benefit from it when he joined LA Galaxy back in 2007.
At the time, the former Manchester United and Real Madrid player reportedly earned $6.5 million per season or around $190,000 per game.
Many accredit the Designated Player Rule as one of the key driving forces behind the MLS' progress over the past two decades.
Thanks to this, MLS fans have had the pleasure of watching world-class soccer players from around the globe suit up for their favorite teams, such as:
Kaka
Wayne Rooney
Zlatan Ibrahimovic
Thierry Henry
Frank Lampard
Steven Gerrard
Gonzalo Higuain
Robbie Keane
Andrea Pirlo
Didier Drogba
Top Earners in the MLS
Due to the complex wage structure of the MLS, there's a huge difference between the minimum and maximum earners.
However, the system is in place to create a more equal and competitive league across the board.
Its success is reflected by the number of different MLS Cup winners over the years.
At present, the MLS is at the highest level ever in terms of talent. This also means that it has some of its highest earners of all time.
The current best-paid players in the league for the 2021/22 season are:
1. Lorenzo Insigne,

Toronto FC

2. Xherdan Shaqiri, 

Chicago Fire

3. Javier "Chicharito" Hernandez, LA Galaxy

4. Gonzalo Higuain, 

Inter Miami

5. Alejandro Pozuelo, 

Toronto FC

6. Jozy Altidore, 

Toronto FC/New England Revolution

7. Josef Martinez,

Atlanta United

9. Lucas Zelarayan, 

Columbus Crew

10. Carles Gil, 

New England Revolution
Other Potential Revenue Streams
Fortunately, MLS players can supplement their wages with endorsements and sponsorship deals.
Even those on minimum salaries benefit from cleat deals, sports brand endorsements, and other off-the-field partnerships to earn a good living. 
Conclusion
So, if you were wondering, "how much do MLS players make?", the answer is a little more complex than you might think.
There can be a significant gap between players' earnings, even if they share the field week in and week-out.