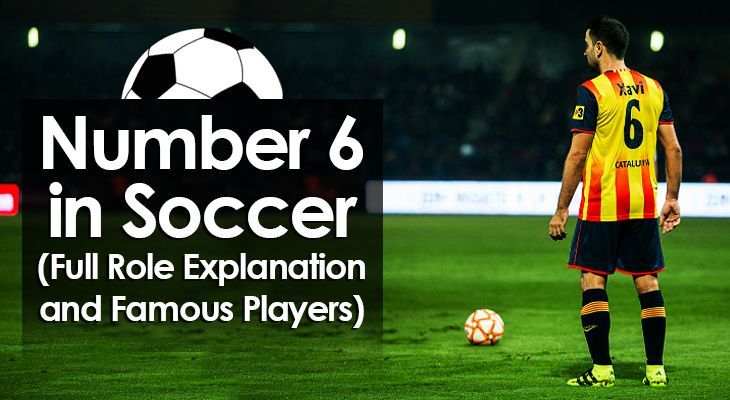 What Position is the Number 6 in Soccer? (Role Explanation)
People have always associated the number 6 in soccer with defensive midfielders. 
These tough-tackling, gritty players often go unnoticed but play a critical role.
In the past decade, holding midfielders have become more of a focus for high-level teams.

Let's take a closer look at the number 6 in soccer and break down the position's role and responsibilities.
What is a Number 6 in Soccer?
As the midfield anchor, the number 6 has important attacking and defensive functions. 
While their primary focus is on defensive work, soccer is a two-way sport.
These best-in-class defensive midfielders are excellent defenders but set themselves apart with their on-the-ball abilities.
They display outstanding passing ranges, an immaculate first touch, and dribbling skills to get out of tricky situations.
To give you a better idea of what a number 6 does throughout a game, here are their key duties in both defense and attack.
Number 6 On Defense
A number 6 essentially plays as an advanced defender, directing the midfield, protecting the backline, and battling to regain possession at every opportunity.
While center defensive midfielders (CDMs) come in different shapes and sizes, the majority simply screen the defense and win the ball from the opposition.
Sounds easy, right?
From a defensive standpoint, the role of a number 6 is straightforward, but by no means easy.
Let's take a look at their core defensive responsibilities:
#1 - Breaking Up Attacks
The number 6 should be the team's primary ball winner.
They must be aggressive and hard-working to stop opponents in their tracks.
In many instances, the number 6 will be tasked with marking the opposition's most dangerous attacking midfielder or advanced playmaker.
Modern attackers often play "between the lines" of the midfield and forwards to exploit gaps and find pockets of space.
So having a combative CDM on your side helps fill these gaps, minimize space, and limit the impact of your opponent's most creative attackers.
Without a ball-winning player in the center of the park, a midfield is likely to get overrun -- exposing the backline to waves of attack.
In an era where possession is one of the most important metrics in a game, it's crucial to have a number 6 who can break up attacks and win the ball back.
#2 - Interceptions
A great CDM doesn't just wait for a player to get the ball before making a tackle.
They recognize danger and snuff it out even before it can develop.
The best defensive midfielders in the game have exceptional positional sense, allowing them to anticipate passes, forward runs, and patterns of play.
Most casual fans don't truly understand the positioning and awareness needed to make five or more interceptions per game as a midfielder.
It's easy to assume an interception was the result of a misplaced pass or a lack of attacking options. But in reality, the midfielder's reading of the game and positioning made it look that way.
Going for interceptions is a high-risk action since the slightest mistake can lead to a big chance for the opposition.
Therefore, the number 6 can't be reckless and must demonstrate discipline to ensure defensive solidity.
Declan Rice, of West Ham and the England National Team, is the perfect example of a top number 6 who makes minimal mistakes while recording high interception numbers every season.
#3 - Shielding the Backline
Positionally, the number 6 sits in front of the backline and behind the more attacking midfielders.
The most important tasks of their defensive shielding are to tackle and intercept.
However, there are also two more critical CDM duties:
1. Provide defensive cover

2. Mark opponents off the ball
Defensive cover means occupying certain spaces when a teammate is out of position.

For example, if a full-back loses possession while attacking, the number 6 often fills in for them.
Likewise, if a centerback steps out of the backline, the number 6 slots into their position.
As mentioned before, the number 6 is often responsible for marking the attacking midfielder on their opponent's team and preventing them from getting the ball.
However, when the other team attacks down the wings, the defensive midfielder must assess the situation and mark any late runners or free players heading for the box.
This requires clear communication and delegation with the backline.
Perhaps the best example of a backline shield in the modern game is Casemiro. 
To boot, he's pretty handy with the ball at his feet as well.
Number 6 In Attack
A number 6 generally doesn't need to be flashy, but as the key link between defense and attack, it's important that they're competent in possession.
Most defensive midfielders keep it simple when they have the ball by playing short passes to their more creative teammates.
While others 6s take on deep-lying playmaker roles, setting up attacking play from their own half.
Regardless of the precise role, their core responsibilities in the attack remain the same...
#4 - Ball Retention 
In a congested midfield, the number 6 often has the most space and freedom.
Therefore, they play a pivotal role in retaining possession and preventing costly turnovers in the center of the field.
The defensive midfielder also plays very closely to the backline so they must make sure they're available as a passing outlet when the defenders are under pressure.
This is critical against a heavy press -- which has become standard practice in the modern game.
Teams use this tactic to win the ball high up the field from defensive players who may be less comfortable on the ball.
A number 6 capable of taking the ball under pressure is one of the best aids to beat a press.
#5 - Playmaking 
The playmaking abilities of a number 6 can vary significantly.
Only a select few are as good defensively as they are in possession.
That said, at the highest level, many defensive midfielders possess the ability to thread a through pass to a striker or switch the play with a long diagonal.
Since CDMs are usually given more space than other midfielders, having a playmaker in this role is hugely beneficial to a team.
Most modern teams are extremely organized defensively so deep playmaking can be very effective as the number 6 is perfectly poised to switch the point of attack.
Many pundits agree that Andrea Pirlo was the best to ever play this role.  However, the Italian's lack of defensive prowess meant he usually needed to play alongside a ball-winner.
Spanish anchors, Rodri and Sergio Busquets, are perfect examples of modern deep-lying playmakers that also offer strong defensive tools.
#6 - Adding Numbers in Attack
Occasionally, the number 6 ventures forward to add an extra body in attack.
This is particularly important when facing a low block or chasing a goal.
The most significant factor in breaking down a stubborn defensive block is to move the ball quickly from side to side and then pounce when a crack appears.
A CDM plays the role of a fulcrum in these scenarios and facilitates fast ball movement.
They're also perfectly positioned to make late darting runs into the box to get on the end of crosses. And by taking up more advanced positions, they'll be in range if a loose ball breaks free.
Rodri Hernandez is a shining example of a defensive midfielder who has occasional moments of brilliance in attack. 
He's one of the most important cogs in Pep Guardiola's Manchester City machine, dictating the tempo from deep and showing for the ball at all times.
However, he also knows when to get forward and comes up with crucial goals, just when his team needs them.
As well as having a pure strike of the ball, his in-game intelligence is second to none.
Key Skills of a Number 6 in Soccer
Let's face it, the number 6 isn't the most attractive role on the field.
But it's been widely regarded as one of the most important position for teams with title ambitions.
A strong 6 has their footprints on every part of a game, from winning possession to threading a through ball, and from intercepting passes to breaking a press.
They may not be easy on the eye, but boy are defensive midfielders effective.
Regardless of their exact role, playing in the 6 requires a precise skill set.
Here are the non-negotiables:
Skill #1: Tackling Technique 
Being in the thick of the action for 90 minutes every game means defensive midfielders need to have good tackling technique.
Otherwise, they run the risk of picking up needless yellow and red cards.
Unlike most other soccer techniques, the art of tackling is more mental than physical. 
It involves discipline, positioning, anticipation, and timing.
In the words of Rio Ferdinand, one of the best defenders ever, "stay on your feet".
Going to ground should be a last resort as there's no time to recover if you make a mistake. 
Skill #2: Positioning 
Good positioning is nine-tenths of the law when it comes to the number 6.
Being in the right place at the right time makes defending much easier and also ensures you're available to receive the ball from teammates.
Players can learn positional sense on the training field but many top midfielders have it instinctively. 
Skill #3: Range of Passing 
The number 6 in soccer doesn't have to be the best passer on the team.
However, at a minimum, they must have a decent range of passing:
Short and quick to get out of tight situations, and long passes to switch the play.
Passing range is often the main difference between an average and an elite defensive midfielder.
Skill #4: First Touch 
In soccer, your first touch is always the most important one.
This is especially true in the number 6 position where there is a very fine margin for error.
Miscontrolling a pass or taking a sloppy touch in a holding position generally spells disaster, leading to goal-scoring chances for the opposition. 
Skill #5: Composure
Certain positions require a lot of composure on the field and defensive midfield is one of them.
When receiving the ball under pressure, the 6 must remain calm, survey the field and avoid losing the ball.
In defense, quick thinking and good decision-making are critical to stop an incoming attack.
There is no place for recklessness or rash behavior as a holding midfielder. 
Skill #6: Stamina 
There is absolutely no room for coasting in the defensive midfield position.
The number 6 must match the hardest workers on the field at the very least.
Chasing down opponents, tracking runners, and making crucial tackles involves tremendous energy exertion.
Without elite stamina levels, a number 6 will struggle to complete 90 minutes or go through a season without getting injured.
Best Players to Wear Number 6:
When we talk about the number 6, we don't just mean the digit on the back of a player's shirt.
While some defensive midfielders don the 6 shirt, squad numbers are generally irrelevant.
So, here are some of the most famous players to play in this position, from past and present.
Modern Era:
Casemiro
N'Golo Kante
Fabinho
Joshua Kimmich
Rodri Hernandez
Fernandinho
Sergio Busquets
Marco Veratti
Aurélien Tchouaméni
Declan Rice
Jorginho
Nemanja Matic
Thomas Partey
Frenkie De Jong
Toni Kroos
Previous Era:
Andrea Pirlo
Claude Makélélé
Genaro Gattuso
Daniele De Rossi
Phillip Cocu
Diego Simeone
Dunga
Lothar Matthaus
Frank Rijkaard
Didier Deschamps
Conclusion
There's an old saying that defense wins championships.
Many top coaches value this mantra, including Sir Alex Ferguson -- one of the most successful managers in the history of soccer.
Defense means a lot more than your back four; it includes the entire spine of the team, in which the midfield is key.
The number 6 in soccer is important to get right if your team has aspirations to win major competitions.