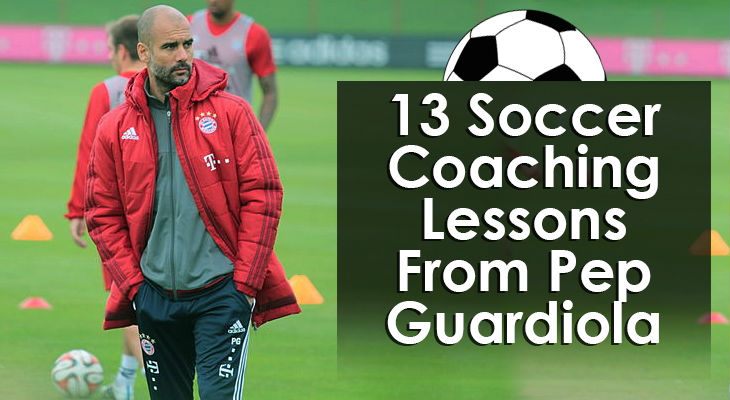 13 Soccer Coaching Lessons From Pep Guardiola
Pep Guardiola is known for his creative and innovative approach to coaching soccer.
There's a lot aspiring coaches can learn from him!
Famed for the possession-based soccer and off-the-ball pressing his teams are known for, his Barcelona team of 2008 – 2012 is widely regarded to have been one of the best teams in history.
And their impressive haul of 14 trophies in four years testifies to his genius.
Since then, he has replicated his success at both Bayern Munich in Germany and Manchester City in England and the free-flowing soccer on show has attracted many admirers.
Constantly pushing the boundaries back in terms of how soccer is played, Guardiola is a deep thinker and often watches other sports to help him come up with new tactics.
There is much that youth soccer coaches and players can learn from his thoughts, approach, and soccer philosophy... so let's hear from the great man himself in his own words.
Here are 13 soccer coaching lessons you can learn from Pep Guardiola.
Pep Guardiola Coaching Lessons
1. Make sure players always take training seriously
"If you train badly, you play badly. If you work like a beast in training, you play the same way."
If players mess around in training and don't take it seriously, then it's very hard for them to switch on and focus when it comes around to game time.
To get the best out of the team you'll want to keep training fun and fresh, while motivating the players to always give their best as this is how they will improve and become better players.
Competition ensures training is competitive and encourages players to work hard to win a place in the starting eleven.
2. Encourage your players to give their all and not fear making mistakes
"I will forgive if the players cannot get it right, but not if they do not try hard."
As a coach, it's up to you to inspire and encourage your players to give their all, letting them know that you appreciate their efforts and will be there to support them on their journey to becoming a better player.
It may take time for them to master that dribble or improve their positioning, but as long as they give their best, that's all you can ask for.
3. Teach your players the value of possession
"I want the ball for 90 minutes. When I don't have the ball, I go high pressing because I want the ball."
In stark contrast to Jose Mourinho's philosophy that 'whoever has the ball has fear', Guardiola wants his players to treasure the ball and strive to win it back when they lose possession.
No one grows up wanting to see the ball as little as possible and youth teams in particular should be encouraged to cherish the ball and try to keep possession as this will greatly aid the development of their touch and technique.
Having lost it, possession teams can try and press high to win it back as quickly as possible and as you need very good teamwork and communication skills to make a success of it, it is well worth training your team how to do it.
4. Always remember that you're dealing with real people
"I am not dealing with footballers, I am dealing with people. They have fears and worry about failing and making fools of themselves in front of 80,000 people. I have to make them see that without each other they are nothing."
Managing a youth team is tough work.
And while there are a million and one things to think about and take into account, it's important to remember that the kids you're working with are real people with real feelings who may or may not have had a good day or week.
Although it may be hard to believe, there are much more important things in life than soccer.
Make sure you take an interest in the players on your team, their likes and dislikes, and they'll almost certainly reward you back with improved performances.
While some players will react well if you give them a challenge and ask them to give more for the team, others may feel hard done by and let their head drop a bit.
You need to take their individual personalities into account and work out how to get the best out of each of them, all while forging a strong and supportive team environment.
5. Teach your team to be sportsmanship
"We always try to win until the very end. If we don't, we congratulate the opponent. That's what sports is about."
Winning isn't everything in soccer and on the road to success there will inevitably be setbacks and defeats from time to time.
While it may be frustrating to lose a match, losing itself can teach both you and your team a valuable lesson and only motivate you further to do even better in the next match.
Teaching your players good sportsmanship whether you win or lose is very important as this shows your opponent respect and shows that your team has been competing in the right spirit.
6. Study the game
"I sit down and watch videos. I take notes. That's when that inspiration comes - the moment that makes sense of my profession. The instant I know, for sure, that I've got it. I know how to win. It's the moment that my job becomes truly meaningful."
In this modern day and age the internet is your best friend as you can learn almost anything about the beautiful game.
Take time to study up on the game, watch videos, and learn about different soccer tactics and attempt to replicate them with your team.
While some may not work out, others will give your team the edge you need over your opponents and seeing your players improve will be immensely satisfying.
7. Organisation and teamwork trumps individual talent
"But I don't like it when people say: "I like freedom; I want to play for myself." Because the player has to understand he is part of a team, with 10 other players. If every player plays like a jazz musician, it will be chaos. They will not be a team."
For a team to be successful each player needs to give their all out on the pitch and work hard to support each other.
If even one or two players neglect their duties and responsibilities then the team may get overrun in a crucial part of the pitch.
Some players may need to sacrifice their attacking instincts at one point or another to help the team defend and retain its shape.
Organisation is also very important and while some individual players are undoubtedly very talented, as a coach you will need to make it clear that everyone has to pull together for the team to stand the greatest chance of success.
8. Keep everyone motivated
"It's natural for players to be relaxed, so you have to be there to say, "You have to do it again and again and again."
Over the course of a season there will be times when things go against you and the team and you may need to shake things up from time to time to make sure that everyone stays focused and motivated to do their best.
Some players, for example, may mess about in training or take an upcoming match as a certain victory and it is up to you to keep everyone motivated and striving to do their best.
9. Make sure that everyone understands their role
"Tactics are so important because everybody has to know what they have to do on the pitch. The relationships and behaviours off the pitch between teammates have to be as good as possible."
When lining up to play a match, each player on the pitch should know exactly what is expected of them in terms of their roles and responsibilities and how they fit into the team.
Training beforehand for match situations should help them feel comfortable in their position and confident as to what they are meant to do when certain situations come up.
While it may be tempting to shout lots of instructions to the players during the match, stick to one or two key messages as more than that will simply confuse the players.
Understandably not all players in the squad can start every game, so as a coach you need to make sure that everyone is pulling in the same direction.
10. Communication is key
"All the managers in the world, it doesn't matter how good you are, if your players don't understand what you are looking for or what you want, it makes no sense."
Communication with your players is very important.
You should always aim to explain what you want from them in a clear and concise manner without over-complicating things.
Try and show examples by running various plays, laying out cones, or pausing small games to highlight certain things that players did that you want to see when it comes to game time.
If the players don't understand exactly what it is that you want, don't get frustrated but try another method of explaining.
And if they still don't get it, work on something else for a bit before maybe trying again later on if you feel that it's not too complicated for them.
11. Don't give up
"From my point of view, I always want to fight until the end of my last chance.'"
While there may be times when training isn't going very well and your team is on a losing streak, don't get frustrated and give up.
Instead, reevaluate and try and see where you can make small improvements.
All teams suffer setbacks and lean patches but these moments offer up invaluable learning opportunities from which you and your team can grow as individuals both on and off the pitch.
By developing that never say die attitude in your players, you'll soon find things turning around as they give their all in each match and training session.
12. Rely on your players and trust them
"People usually think that it is the coach who has to raise the spirits of his players; that it is the coach who has to convince his footballers; that it is his job to take the lead all the time. But that's not always the case."
Being a coach can feel lonely sometimes so it's important to remember that you are part of a team and can rely on the players themselves to take a lead.
By giving them ownership over the team and their performances, you can create an inclusive environment where everyone trusts each other and tries that little bit harder to not let each other down.
Although the players will often look to you as the authority figure, there is a lot that they have to take responsibility.
And it's not only on the pitch that they can take a lead, but also in training sessions and in their relationships with the other players, encouraging and supporting each other as best they can.
13. Be yourself
"I strive to live with passion and not to be desensitised to life. Things matter to me. You've got to live like that. Otherwise what's the point? It's not possible to please everyone and there is no point in trying to be what other people think you should be. For me, it's important to be who I am, not just to be different but to be as authentic as I can be."
When coaching a youth team, it can be hard to be yourself as you are juggling so many different things and striving to get everyone on the team pulling in the same direction.
Everyone is different and there is no single type of coach out there which means that you are free to be your authentic self.
It's a lot harder to put on a front as this is very tiring to do and people will more likely than not see through the facade.
By being yourself and showing your passion for the game, you'll win the respect and friendship of your players and it is important to realise that you can't please everyone all of the time.
There is just no way that you can fit fourteen players into the starting eleven and how the players take sitting on the bench is down to the atmosphere you create in the team and how you communicate with them.
Conclusion
A fountain of knowledge about the beautiful game, Pep Guardiola has absolutely loads that he can teach us about the game and how he thinks it should be played.
Whether it is about man-management and striving to win or about communication and motivating the players, aspiring youth coaches can learn a lot from his approach and what he has said about his experiences of soccer management.
A fascinating man who has revolutionised the way we play soccer, Guardiola's brand of soccer is beautiful to watch and his teams certainly offer up lots of coaching lessons for us to benefit from.