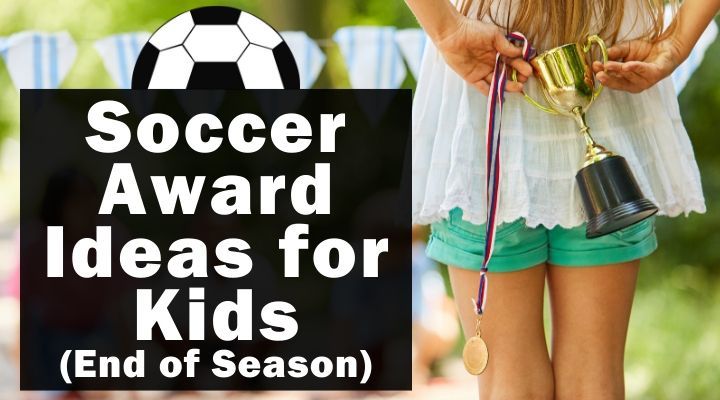 40 Soccer Award Ideas for Kids (End of Season)
After a long, hard season of ups and downs, it's always nice to end things on a positive note.
It's a good time to celebrate and thank the team for all of their commitment and hard work.
Holding a small awards ceremony is a great way to highlight both individual's achievements and those of the team, and there are many different categories where you can recognise and reward players' contributions.
While some players may have shone out on the pitch and notched up goals and assists, others may have been fundamental to team morale.
Whether it was supporting and encouraging their teammates, giving their all in training sessions, or making everyone laugh and enjoy themselves...
...it's important to acknowledge each player's different qualities and roles in the team.
With younger players in particular, it's a good idea to include every player so that everybody comes away feeling valued, happy, and looking forward to the next season.
To help you end the season on a great note, here are some soccer award ideas to hand out and some categories which will help highlight each player's special contribution over the season.
Soccer Award Ideas for Kids
While some coaches hand out certificates highlighting player's contributions and what they did well over the season, others give out small prizes and trophies.
Often, clubs will have a bit of budget set aside for buying small awards and there are quite a lot of things you can do to reward your players without breaking the bank.
While kids certainly enjoy receiving these rewards for their hard work and commitment, the words that accompany them are just as, if not more, important as it's really recognition that they want.
As such, you don't really have to worry too much about rewards although they're certain to be appreciated!
Here are some ideas for prizes and awards that you can hand out at the end of the season:
Certificates of achievement praising something in particular that they did well
Small soccer trophies
Soccer trading cards
Soccer shirts the team won't be using next season
Soccer balls
Small plaques highlighting their achievements
Soccer caps
Pens, notebooks, or stationary with club crests on them
A team photo
Alternatively, you could always take them out for a pizza night or organise a fun event like bowling or an activity you can all do together.
It's also a nice idea to put on a fun last day of the season training session which involves lots of games and small competitions.
Now that we've taken a look at some ideas for small awards, let's move on to all the different categories that you can hand out prizes for.
Award Categories and Individual Achievements
As not every player can be awarded the coveted player of the season award, you should think up many different soccer award ideas to highlight your players' achievements and hard work.
While some may focus on a player's technical attributes, skills, or goal output, others may focus on how hard an individual worked over the season and how much they improved.
With younger players in particular, it's nice to reward and recognise each player's contribution over the season.
What's important is that the player recognises the words that accompany the award to be true and that they take pride in what they have achieved.
This leaves them feeling happy, valued, and sets them up nicely to put in the same dedication, commitment, passion, and hard work next season.
Here are some soccer award ideas for different categories:
Best…
Best Player
Best Trainer
Best Striker
Best Midfielder
Best Defender
Best Goalkeeper
Best Team Mate
Best Goal
Best Assist
Best Save
Best Attitude
Best Skill or Trick
Best Dribble
Best Dribbler
Best Attendance
Best Goal Celebration
Best Pass Master
Best Tackle
Best Ball Control
Best Free Kick
Most...
Most Improved Player
Most Improved Striker
Most Improved Midfielder
Most Improved Defender
Most Improved Goalkeeper
Most Improved Dribbler
Most Goals
Most Assists
Most Saves
Most Memorable Moment
Most Fair Play
Most Consistent
Most Cheerful
Most Enthusiastic
Most Energetic
Most Dependable
Most Versatile
Most Fun Player
Most Responsible
Most Helpful
As you can see, you can reward and recognise a player for almost anything – the important thing is that they believe what you are saying and take pride in that acclaim.
The categories above reward everything from attitude and hard work to skills, saves, and strike ratios.
There really are a million and one different categories that you can acknowledge which are sure to leave your players beaming with pride.
If you can't find one suitable above for one of your players, just take a little time to think about their attributes, what they bring to the team, and what sets them apart from their teammates.
Every team has its own different characters and personalities with everyone contributing in their own special way.
End of season awards are a great way to recognise and celebrate this.
Conclusion
Once the soccer season has drawn to a close, it's nice to reflect back over the year and recognise and reward your players for all of their hard work and commitment.
Handing out small prizes, certificates, or trophies is a great way to acknowledge players for their individual achievements whether that was scoring lots of goals, turning up to every training session, or putting smiles on everyone's faces.
Everyone in the team played a part over the year so it's important to recognise this and make each player feel valued and appreciated.
This will make them feel happy, leave them with a good feeling and memory of the team, and already get them looking forward to the next season.
I hope the soccer award ideas on this page helped you finish the season on a good note!