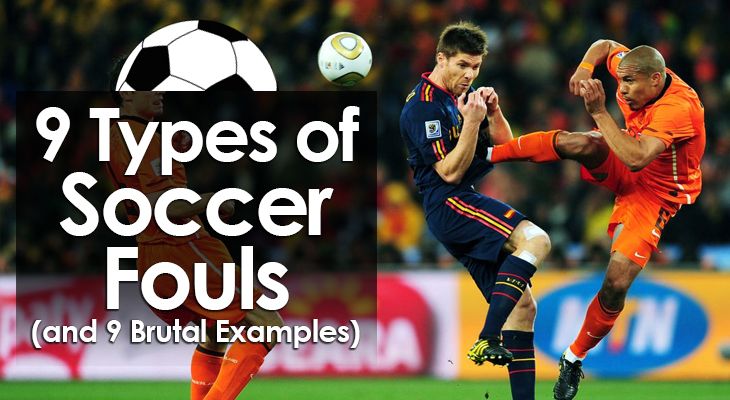 9 Types of Soccer Fouls (Includes Video of 9 Brutal Fouls)
Soccer is know as the "beautiful game", and rightly so — most of the time.
During a soccer match, when adrenaline is pumping and emotions are high, people (players, coaches, fans, even referees in some cases!) can get carried away and do something that goes against the rules of the game.
In these cases, the game becomes less "beautiful" and more "brutal" in the way that events unfold.
An example of a recurring scenario where it can be brutal is in the soccer fouls that players commit on the pitch.
On one end of the scale, we can have barely significant fouls that merely lead to a very short break in the flow in the game...
(and to be fair, these are a lot more common than the other end of the scale)
On that end, some fouls in soccer can get so brutal that the game has to be suspended for a significant amount of time, and the player involved may get a long-term, or worse, career-ending injury.
One of the first things that every professional soccer player has to learn is the rules of the game.
These rules guide how players are expected to conduct themselves on and off the pitch, and they include laws that determine what a foul is and the penalties for committing each type of foul.
But while these rules may serve to reduce the instances of soccer fouls in the game, it's impossible to completely exile the possibility of extreme fouls occurring in the heat of a soccer game.
There are three metrics that must be fulfilled for a situation to be considered a foul in soccer.
It must 

be committed by

 a player

It must 

be committed

 on the field of play

It must 

be committed

 while the ball is in play
These three metrics separate "fouls" from "misconducts" and the other possible rule-breaking scenarios in the game.
Before a referee considers an offense to be a foul, the player involved must have been judged to have used excessive force or acted in a careless or reckless manner
"Careless" in this context means that the player showed a lack of attention or caution before acting. In such cases, the referee would typically stop the game and award a free-kick to the opponent's team.
On the other hand, if the foul is judged to be "reckless", it means that the player acted with disregard of the dangers or consequences for the opponent. In those cases, the referee is likely to go one step further and hand out a yellow card or a red card as appropriate.
Let's have a look at some visual examples of the most brutal fouls in soccer, creating more context around the rules that were broken for each one and the circumstances surrounding them.
9 Soccer Fouls to Understand
1. Kicking / Attempting To Kick A Player
Pepe vs Getafe
Real Madrid was tied 2-2 in this game against Getafe when Pepe conceded an 86th-minute penalty by pushing a Getafe player to the floor.
Assumingly annoyed at himself for conceding the penalty, he goes mad and kicks the player on the floor - twice.
The second time was a kick to the back and could've gone a lot worse if the connection had been stronger.
Pepe deservedly got a red card and a 10-match ban for this.
Although he's always been known as a "no-nonsense" center-back with a penchant for aggression, this was one of his worst showings of disregard for the rules of the game.
2. Careless / Reckless Challenges
Giovanella vs Deportivo
Giovanella's Celta Vigo was 1-0 up against Deportivo in this game when he went into a challenge against Deportivo's Manuel Pablo.
It seemed like a genuine attempt to win the ball, but it was a horrific tackle that ended in a broken tibia and fibula for Manuel Pablo.
By the soccer federation's definition, Giovanella's tackle, albeit made with no ill intent, was a reckless one.
Manuel Pablo was on the ball with speed, and he simply came flying into the tackle with no regard for the danger posed to the opponent.
This tackle was so bad, it took a whole year for Manuel Pablo to make another appearance for his club, and it took an additional six months for him to start his next La Liga game.
He went from being one of the brightest prospects in Spain - linked with Real Madrid in fact - to struggling for a national call-up after that injury.
3. Bad / Mistimed Tackles
Taylor vs Arsenal
The date was 23rd February 2008, and the game was Birmingham City vs Arsenal.
This is a similar tackle to the previous one, with a similar result.
However, the circumstances are slightly different in the sense that this challenge from Martin Taylor was not, by regular standards, a reckless one.
Unlike the situation with Giovanella, Martin Taylor made the tackle from practically a standing position.
There was very little momentum generated to indicate a potentially dangerous situation.
However, it was still a badly timed tackle, and Taylor got a red card once the referee sensed the extent of the injury caused.
The player on the receiving end of the tackle - Eduardo da Silva - suffered a broken left fibula and an open dislocation of his left ankle.
It was so graphic that the broadcasting channel, Sky Sports, refused to show clips of the injury.
Eduardo did not return to the pitch until almost a year later.
4. Striking / Attempting To Strike A Player
Zidane vs Italy
Examples of this particular foul generally indicate malicious intent on the part of the player, and so almost always result in a red card.
This particular example is not only one of the more brutal ones, it is a moment in soccer history that will possibly never be forgotten.
The FIFA World Cup Final in 2006 ran into extra time with both teams tied at 1-1.
Roughly 19 minutes into extra time, an argument sprung off-camera between Zinedine Zidane and Italy defender Materazzi.
The result of that altercation was a headbutt on Materazzi from the French legend who was playing in his final ever game as a professional soccer player.
Zidane got a red card for striking Materazzi, according to the rules of the game, and it was a very controversial end to an otherwise glittering career.
5. Tripping / Attempting To Trip A Player
Simunic vs Serbia
Under pressure, there is an increased tendency for people to behave out of character, and this foul from Josip Simunic on Serbia's Sulejmani is an example of such a scenario.
This Croatia vs Serbia World Cup qualifying game in 2013 was tied at 1-1 with 11 minutes left on the clock.
Simunic was desperate to win and did everything he could to stop Sulejmani's counterattack from Croatia's poor corner kick.
If he had not stopped Sulejmani, he would've been through on goal.
The cynical trip that followed was clearly premeditated, and Simunic got a red card for his efforts.
Zigor vs Real Sociedad
Another game, another leg break.
Players are cautioned and a foul is awarded for charging precisely because of situations like this one.
Eibar goalkeeper, Zigor, charged outside his penalty area at Real Sociedad forward, Inigo Diaz de Cerio in an attempt to stop the player's run, through on goal.
We've seen many cases where a player charges another and nothing comes of it, but the referee stops play anyway.
This example shows what can happen when the player involved is not so lucky.
It took Inigo a year to recover from the injury and get back to playing soccer again.
7. 

Excessively

 / 

Aggressively

 Holding An Opponent
Pau Morer vs Tromso
We'll admit it, this foul is less brutal than it is funny, but it absolutely has to be on this list because of the sheer outrageousness of it.
It's one thing to subtly pull an opponent's shirt to try and stop or slow them down, but it is another thing entirely to hold on to the shirt and get dragged with it 10 meters across the pitch.
And in full view of the referee too!
Pau Morer took shirt-pulling to a whole new level here.
8. Biting / Spitting At A Player or Match Official
Suarez vs Chelsea
It sounds ridiculous that this even needs to be spelled out as a rule, but it's even more ridiculous that the player involved in this example has done the same thing three times!
In this case, it was a game between Liverpool and Chelsea, and Luis Suarez was in the opponent's penalty area, closely watched by the Serbian defender.
He appears to get frustrated by the way Ivanovic is guarding him, and we clearly see Suarez bring the Serb's arm to his mouth and take a bite from it.
Of course, he's booked for the offense but miraculously avoids a red card.
However, further review of the footage of the incident led to a 10-match ban that effectively ended Luis Suarez's season that year.
Torres vs Deportivo
There's a clear difference between going for an aerial duel against an opponent, and just plainly jumping at the opponent.
The latter was the case in this example as Fernando Torres got knocked out cold by an overenthusiastic Deportivo La Coruna defender.
Torres' back was turned, so it is safe to say he was not fully aware of what was behind him.
On the other hand, the defender - clearly seeing Torres standing there - decides to leap for the ball over him.
He then smashes the striker to the ground with enough force to make him nearly swallow his tongue.
Soccer is a contact sport, and fouls are to be expected.
However, there seems to be a developing opinion that the game is "going soft", and modern players are not "hard enough".
If these examples of brutal soccer fouls are any indication, maybe that's not such a bad thing!