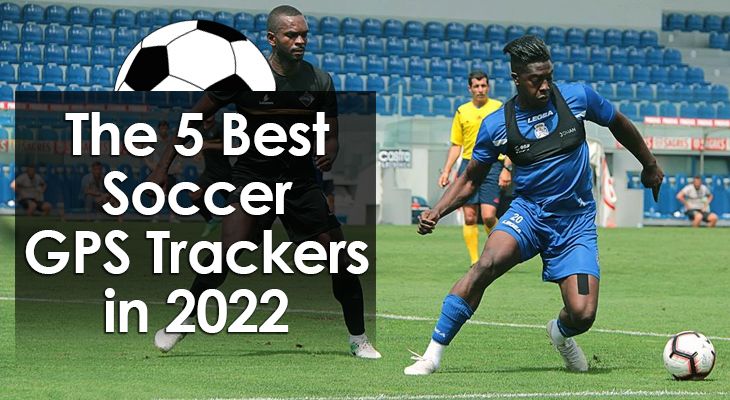 The 5 Best Soccer GPS Trackers (2023 Edition)
The role of technology in modern soccer continues to expand exponentially as teams look to squeeze every bit of efficiency out of their players, staff, and overall process.
One of the modern technologies that soccer teams are using to gather data for improving player performance is the GPS soccer tracker. 
This researched guide discusses the benefits of using the tech and provides a detailed list of choices for the best soccer GPS trackers in 2022.
But first, let's discuss the benefits...
Benefits of a GPS Tracker in Soccer
In training sessions, GPS soccer trackers are mostly used to gather the necessary data for judging the intensity of the session.
With this, teams can better decide if a player requires a progressive overload, maintenance, or underload in future sessions.
You may have seen soccer players wearing what resembles a sports bra in training sessions.
These usually have a GPS tracking device attached to them -- and that device can help track heart rate, energy output, and calories burned during the training session.
With that information, the trainer can decide if a player is struggling in training, and how they can modify the drills to suit the player better.
Coaches can also tell if a player is barely exerting any energy and requires a step up in the intensity of the training.
Sometimes, teams also use these GPS trackers during actual soccer games.
Here, the GPs trackers gather statistics for the analysis of data such as (1) the distances players run over the course of a match, and (2) the positions these players take up on the pitch.
How To Pick The Best GPS Tracker
There are a lot of options on the market at the moment, and it can be difficult to recognize what sets a good GPS tracker for soccer apart from an average one.
On that note, here are a few key factors to consider before choosing which one suits you best.
Factor #1: Features
First of all, you want to pay attention to the features advertised by the manufacturer.
If you can, you should also test them to make sure they actually work as they should before making a purchase.
Simply put, the more features available, the better.
It increases the scope of data that the tracker can and will provide, which means you have more information to work with.
However, it is more important to get the right features instead of focusing on quantity alone.
Features such as tips, tagging, team performance, etc. are especially important when choosing a GPS tracker for soccer, so be sure to check for these.
Factor #2: Weight
An ideal GPS tracker should be lightweight, considering the fact that players will be attaching these to their bodies to gather data.
With a lightweight GPS tracker, you don't have to worry about the weight of it dragging down the player. These can negatively skew the data provided as a result of the extra foreign body weight.
A lightweight tracker also usually has a smaller form factor, which increases the ease of stashing the device away in an inconspicuous place, such as the sleeve.
Factor #3: Storage Size
The tracker should have enough storage because it directly translates into how much data it can store at any given time.
Factor #4: Battery Life
Strong battery life is also important so that your GPS tracker can last at least a couple of training sessions or soccer matches.
It would be far from ideal to have the device run out of juice in the middle of a game.
Factor #5: Cost
If you consider all of the other factors discussed above, and you're still left with a few options to choose from, then the cost and value for money that each one provides could be the determining factor.
With products like these, you get what you pay for.
However, a GPS tracker sold for a budget price does not confirm that it is low-quality.
You can still get relatively good deals that represent good value for your money.
The 5 Best Soccer GPS Trackers
Based on the metrics discussed in the previous section, these are the best GPS trackers for soccer in 2022.
Best Overall

: Catapult Playr Smart Soccer Tracker
PRICE: $199.99
The Catapult Playr Smart Soccer Tracker is FIFA-authorized, so it's no surprise the device is hugely popular among athletes, even outside of soccer.
The tracker features a SmartPod - which contains the GPS - located behind a black vest that is then worn over clothing.
The vest helps track the player's movements, and has a pocket where the SmartPod fits in snugly to avoid having it bounce all over the place.
The SmartVest comes in various sizes, ranging from XXS to XL, however it is most effective when the size used by the player fits snugly against the body.
The vest is made of material that naturally compresses the chest, and it only weighs about 1.4pounds, so comfort should not be an issue.
You also get a smartphone app called Playr (available for both Apple and Android devices) that allows you to sync the data between the SmartPod and your phone.
This makes it much quicker and easier to collect and review all the data supplied by the tracker.
Data for metrics such as speed, distance, load, power, sprint, intensity, and positioning (via heatmaps) are some of the information the tracker supplies to the app.
Runner-Up

: STATSports APEX Athlete Soccer Tracker
Not only is this tracker FIFA-authorized, it is also approved by World Rugby.
It is a fantastic alternative to the Catapult Playr Smart Soccer tracker as it offers similar quality at a hard-to-beat price point.
The pod containing the GPS itself runs at a frequency of 10hz, and has an interactive OLED screen powered by efficient processors.
These processors aid the tracker to generate data extremely quickly.
One of the key selling points of the STATSports APEX Athlete Series Soccer GPS Tracker is its battery life, which is advertised to last up to three (3) games or six (6) hours of continuous use.
Considering the fact that it only takes an hour to go from fully drained to fully charged, that's a really nice figure.
Just like the Catapult Playr alternative, this tracker also comes with a lightweight vest and a smartphone app that makes it easier to track and review the data.
The app is called "Apex Athlete App", and even has extra functions outside of GPS tracking that can also be useful for players in training sessions.
Finally, you get a 12-month warranty which is decent and offers some level of protection.
Other Excellent GPS Trackers:
The next three trackers do not get quite the same applause as the earlier ones, but they are also excellent choices for GPS tracking in soccer.
First 11 Soccer Tracker
First11 accurately tracks soccer data such as movement, kicks, speed, power, calories, etc.
It's a less popular alternative and as such, is mostly used by amateur and semi-professional players.
The tracker has a dual-sensor system with two (2) soccer tracker sensors that can be attached to both legs for best results.
The tracker also has a smartphone app to help record and measure data such as distance, walking speed, and running.
This data can be collated over time and performance comparisons can be made to measure progress.
First11 Soccer Tracker is lightweight, compact, safe, water-resistant, and has solid battery life.
FieldWiz Sports GPS
FieldWiz is another option that offers a good balance between cost and quality for amateur soccer players.
The product weighs just 35 grams, so it ticks the box in terms of compactness and weight distribution.
In fact, it is one of the lightest GPS tracking devices out there.
Compared to STATSports and Catapults' offerings, FieldWiz does not provide as much in-depth analysis, which is why it is mostly recommended to amateurs that need a soccer GPS tracker for a smaller budget.
With FieldWiz, you still get the basics, including over six (6) hours of battery life to ensure that you don't have to worry about charging it too often.
Zepp Play Soccer Tracker
PRICE: $99.99
In the world of budget soccer GPS trackers, Zepp Play Soccer Tracker also offers the best of both worlds in terms of matching quality with affordability.
The device only costs about half of what you'd pay for either the Catapult tracker or the STATSports APEX tracker.
In terms of analytics, Zepp Play offers data such as distance traveled, effort exerted, number of kicks, etc.
It also offers highlights of in-game moments, which is a unique selling point for a tracker at this price point.
The tracker is not attached to a vest, but instead to the back of a sock -- it's not the best direction, but it works.
If you need a soccer GPS tracker for a relatively inexpensive price, but still want in-depth analysis, then Zepp Play Soccer is the way to go.
Final Words
Soccer trackers have proven to be a fantastic way to measure performance and improve the game of soccer players.
The relevance of the data these trackers gather during training sessions and games cannot be understated.
It is simply a fact that every top team in the world would have a use for these devices.
With this guide, you should be able to choose the right soccer GPS tracker for you or your team, even if you're unable to lay your hands on any of the specific options provided.
Further Reading: Top Soccer Training Equipment for Players (2022 Edition)