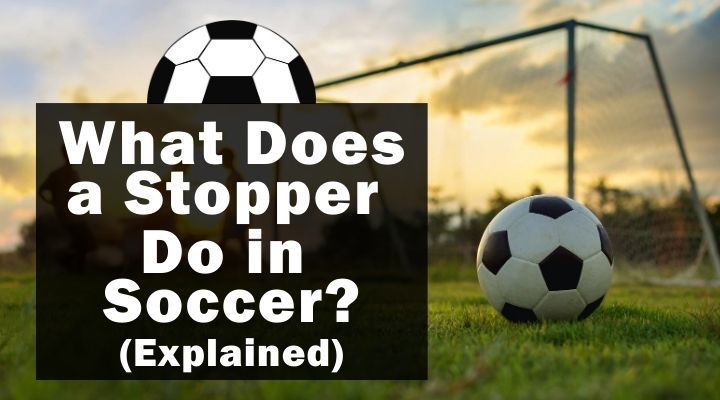 What Does a Stopper Do in Soccer? (Explained)
Although it's now seldomly used in the professional game, the stopper position is a very common feature in youth soccer and is a great way to teach young players how to defend. 
Paired alongside a sweeper in the centre of defence, the stopper is expected to win every tackle and aerial challenge and not be afraid to put their body on the line, time and time again.
As the more aggressive of the two central defenders, they're expected to quickly put pressure on the opposition's strikers, nip in to intercept the ball, and stop dangerous moves in their tracks.
While the modern game now puts a lot more emphasis on centrebacks being comfortable on the ball and starting moves from the back, the stopper position is all about defending and doing everything possible to stop a goal from being scored.
Let's take a look at just how soccer teams line up with a stopper, what they're expected to do, and what the key requirements are for playing the position.
Where Does the Stopper Line Up?
It's increasingly rare to see professional teams line up with a stopper and sweeper at the heart of their defence.
This is, in large part, because there's now more emphasis on teams to play out from the back and keep possession within the team.
As such, less focus is placed on their defensive abilities with defenders now being expected to be cool, calm, and collected on the ball.
Due to the demands of the modern game, it's primarily in youth soccer that you now find teams lining up with a stopper and sweeper in defence.
The stopper usually lines up as part of a back four with two fullbacks to either side of them and a sweeper slightly behind them.
As such, the defence has an almost diamond shape to it with the stopper being the defender who's expected to contest each header and win every tackle and the sweeper cleaning up any loose balls that get through.
The reason that many youth coaches decide to line up with a stopper and sweeper is that it helps young defenders learn both how to defend and play out from the back.
Now that we know what position the stopper occupies, let's move on to their role to take a look at what's expected of them.
The Stopper Role Explained
In soccer, the stopper is the purest defensive role there is.
This is because the player is expected to win tackles and headers, put in hefty challenges, and ensure that no striker gets the best of them, with little emphasis placed on their passing abilities.
The stopper's job is to fiercely contest every ball into the striker, put enormous pressure on them, and stop them from getting a shot off or creating a goalscoring opportunity for a teammate.
While the sweeper drops off, ready to sweep up any loose balls, it's the stopper who aggressively pushes forward and throws themselves into challenges.
As such, the stopper needs to be brave and strong and not be afraid to put their head where it hurts.
Often an intimidating and physical player, the stopper is expected to contest and win every aerial challenge that comes their way and not allow the opposition's striker any free shot at goal.
They need to be able to anticipate what the striker is going to do and nip in front of them to intercept passes or stick close to them and hound them so that they can't turn towards goal.
While they should be aggressive in the tackle, they should refrain from giving away fouls in front of the penalty area.
Consequently, they should have great discipline and positioning and not go to ground too quickly as this allows space to open up behind them.
Timing is therefore also key to pulling off the perfect tackle or blocking the rare shots that come their way.
Once they've won the ball back, the stopper usually plays it short to a teammate, or if under pressure, hoofs into touch or up to one of the strikers.
By remaining in constant communication with the sweeper, defenders, and midfielders around them, they organise and limit the space and time in which the opposition has to play.
All in all, it's their job to do everything possible to prevent their opponents from scoring.
Now that we know what the stopper position entails, let's look at some of the key requirements for playing and perfecting the role.
Key Requirements for Playing the Stopper Position
As we saw above, the stopper is the most defensively minded soccer position on the pitch.
To best carry out the role, it's therefore preferable that they have a couple of key attributes and skillsets that'll help them succeed out on the pitch.
These are namely that they:
Be aggressive and brave
Be strong and physical
Be disciplined 
Have great positioning and timing
Have great anticipation skills 
Have great communication skills
Know how to read the game
Altogether, these make the ideal stopper a formidable opponent will face who'll win most tackles and headers that come their way.
Conclusion
While it's seldom seen in the professional game today, the stopper position is a fantastic role for teaching young players the art of defending.
To master the position, defenders should be brave and aggressive in the tackle while also retaining their discipline and refraining from going to ground too quickly.
Whether it's learning what positions to take up or when and how to engage a striker; the stopper is the purest defensive role around.
A key role for many youth teams, it's the stopper who puts their body on the line time and time again to help the team keep a cleansheet and win yet another game.