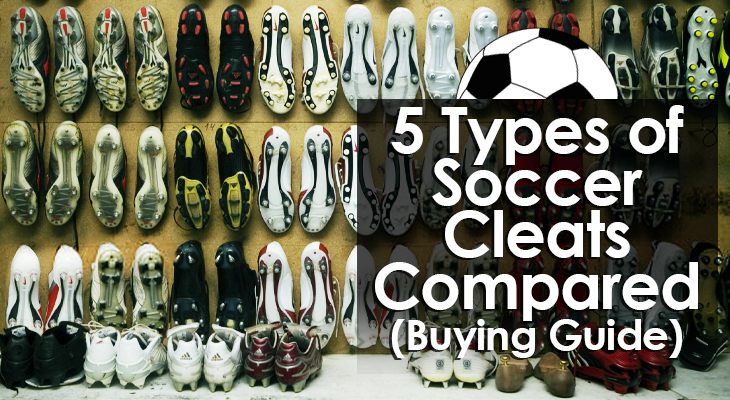 5 Types of Soccer Cleats Compared (Buying Guide)
Cleats are undoubtedly the most important piece of equipment for any soccer player.
And there are many types of soccer cleats to choose from.
They affect your grip on the turf and influence your balance, acceleration, and ability to turn. Cleats are also crucial for ball control, striking, and injury prevention.
As such essential pieces of gear to get right, every player should understand the types of soccer cleats on the market before buying a new pair.
With so many varieties to choose from, it can be overwhelming.
But, I'm here to help.
This guide will teach you everything you need to know about the different types of soccer cleats available.
5 Types of Soccer Cleats
The key to getting the right type of soccer cleats is suitability.
While there are hundreds, if not thousands of pairs to choose from, most fall into one of five categories.
The most important factor to influence your buying decision should be the studs on the sole of the cleat.
These studs have different designs, specifically for different types of turf -- whether it's firm, soft, or artificial.
Choosing the cleat material, shape, and overall design comes down to personal preference. Some players prefer a leather-based, sturdy shoe, while others opt for ultra-light, synthetic fiber cleats for speed and comfort.
Most major manufacturers produce adapted models of their main cleat lines, so you can find the pair you want in terms of style and function.
Let's take a closer look at the different types of soccer cleats and which ones are suited to specific playing conditions. 
#1 - Firm Ground Cleats
Firm-ground (FG) cleats are designed for natural grass-based playing surfaces in relatively dry conditions.
In general, grass pitches have a little give in them.
Even in hot and sunny climates, field owners water the pitches to keep them in good condition and prevent damage.
So for these types of surfaces, you need cleats that offer traction and mobility when the turf is moist yet firm.
In terms of stud selection, tight clusters of short moldies (round rubber studs) or blades are best for grip and stability.
The studs should have enough length to dig into the ground when needed but they mustn't be so long that they inhibit grip when running over harder patches.
Firm Ground cleats usually feature between 10 and 15 non-removable studs that comprehensively cover the perimeter, front, and heel of the sole.
This positioning ensures grip is spread evenly across the cleat and helps prevent individual studs from getting caught in the turf.
FG cleats are relatively adaptable to most surfaces. However, overuse on artificial ground is likely to cause rapid deterioration of the studs. 
#2 - Soft Ground Cleats 
Soft ground (SG) cleats are a must for wet, soft, and muddy pitches.
They typically feature 6 to 10 removable metal studs or blades that are significantly longer than those found on FG cleats.
The metal is important for digging into the ground and giving you traction even in the toughest of conditions.
Each stud serves a purpose so they are strategically positioned along the edges and toward the toes and heels of the sole.
If you play in winter, spring, or fall leagues where the weather drastically influences pitch conditions, consider purchasing an SG pair of cleats.
Some models are available with interchangeable studs or blades so you can adjust the length or material as you need to.
So, if the conditions of the pitches change week to week, be sure to pick up replacement studs in steel and rubber so you can change them according to the weather.
Be warned, you should avoid soft ground cleats on hard ground. Otherwise, you'll find that the studs don't penetrate the surface, redirecting the pressure into your foot. This not only causes discomfort but it also reduces grip significantly.
#3 - Artificial Ground Cleats 
In the United States, a lot of soccer leagues play games on artificial turf.
Although some of these pitches provide excellent playing surfaces for soccer, you shouldn't treat them the same as grass fields.
Artificial ground (AG) cleats are now extremely popular and have improved enormously to fit the needs of the modern player.
Similarly to FG varieties, AG cleats feature compressed clumps of short studs all across the sole. This formation provides optimal grip and traction along the short tufts of artificial grass.
The primary difference between Firm Ground and Artificial Ground cleats is the number of studs they feature.
AG cleats tend to have a higher concentration of molds, creating a more even distribution of pressure on the foot, and reducing the strain on your joints.
In the past, people criticized artificial ground soccer fields, with some believing the hardness of the ground causes injuries. 
Because the ground doesn't give way, some players get their studs caught in the synthetic fibers, leading to ankle and knee injuries.
In reality, one of the main causes of such incidents is inadequate footwear.
If you play regularly on artificial pitches, you should invest in AG cleats. 
#4 - All Ground Cleats 
All-ground cleats are an excellent option if you play on different surfaces from week to week.
They're a hybrid of firm, soft, and artificial cleats, designed with a combination of their features.
Although they're not quite as effective as the specialist footwear on each playing surface, they're a practical solution for all conditions.
Moreover, they can save you a lot of money throughout the season, ensuring you don't have to splash out on two to three other types of soccer cleats.
The stand-out component of all-ground cleats is the stud formation on the sole.
They combine blades and conical studs, usually made from rubber, plastic, or both. This variation ensures the studs can penetrate firm ground yet grip artificial turf.
The heel studs tend to be longer than the rest but in general, all studs are shorter than soft ground varieties.
All-ground cleats don't come with metal stud options and are least effective in the wet. However, for an occasional rainy day game, they should be just fine. 
#5 - Astroturf / Indoor Cleats
When playing astroturf or indoor soccer, regular cleats won't cut it.
In fact, they turn these types of surfaces into ice rinks.
Astroturf differs from artificial ground in that it doesn't replicate real grass. It's less dense and offers little to no grip, rendering blades and studs useless.
Since indoor soccer features rubber or wooden flooring, studs are more hazardous than helpful. 
However, there is specialist footwear for astroturf and indoor soccer.
In truth, they're not really cleats at all.
Rather, they're sneakers with tiny rubberized nubs that span the entire length and width of the sole.
The good news is that turf soccer shoes are usually far cheaper than cleats.
They require less engineering to make and cost a fraction of the price of cleats.
What's more, they come in a range of styles, many of which are based on popular cleat lines, like Adidas Predators, Nike Tiempos, or Puma Ultras. 
Conclusion
They say that a bad workman always blames his tools. While this might be true in some professions, it's not the case for soccer players.
In fact, you should view cleats as an extension of the body, providing the grip and stability needed to pull off even the most basic moves.
With the different types of soccer cleats available, suitability is key when purchasing your pair. 
Where possible, buy according to the playing conditions you most frequently compete in.
If these change frequently throughout your season, it's beneficial to have multiple pairs.
But as a cost-saving option, all-ground soccer cleats are a solid choice.
Fortunately, most cleat designs are available with different sole platforms so you rarely have to choose between substance and style.
That said, if it comes down to it, be sure to go with the cleats that fit your function.