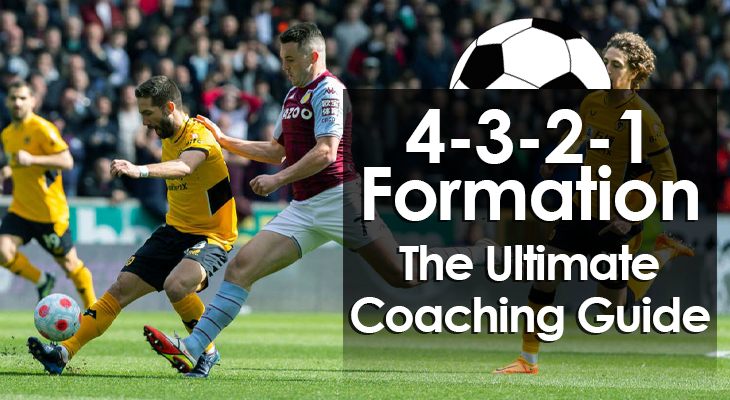 4-3-2-1 Formation: The Ultimate Coaching Guide
Finding the right formation for your team can be a real challenge.
While you may have great players at your disposal, there's no guarantee they'll thrive in every tactical shape. Sometimes, an unorthodox setup is the best route to success on game day.
Enter the 4-3-2-1 formation. 
Below I'll break down what the 4-3-2-1 formation is, how teams execute it, and what your team will need to develop in order to run it successfully.
What is the 4-3-2-1 Formation?
Shaped like a Christmas tree, this formation looks unusual on paper but can be highly effective in practice -- especially if you have a team full of midfielders.
The narrow shape creates numerical advantages in central areas, allowing the team to advance the ball with quick one-twos and passing triangles.
However, the midfield-focus means attacks from wide areas are very limited. Also, if you're short on creative players, this formation is weak against a low block or a three-player backline.
That said, with the right personnel, this is a dream setup for a possession-minded coach.
The 2010 World Cup-winning Spanish National team adopted a 4-3-2-1 formation for the entire tournament, executing this strategy to perfection.
With a squad rich in midfield talent, Spain played to their strengths and took home the biggest prize.
4-3-2-1 Formation: Six Key Requirements
In contrast to a traditional formation, like a 4-4-2 or 4-3-3, the Christmas tree shape is a little more complex.
Since the midfield is so tightly compacted, players must have an good understanding of their role not to encroach on teammates or congest passing channels. 
Success in this formation largely comes down to having available talent in the right positions -- particularly in the midfield and fullback roles.
In addition, it requires a technical coach who can effectively communicate the formation fundamentals and strategic shape during training sessions.
So, if you're an ambitious coach looking for innovative ways to gain an edge, here are the most important qualities for implementing the 4-3-2-1 formation:
1. Physically Fit Fullbacks
A selection of super-fit fullbacks is a must-have for this shape.
These players are largely responsible for providing width in attack and defense. With such physical demands, rest and rotation are key.
All fullbacks must be capable of producing high-intensity games regularly, including subs and backups.
2. Capable Defensive Midfield
You'll also need a defensive midfield trio which includes at least two box-to-box players.
The trio is vital for ball retention but must also provide support and cover in wide areas if the opposition targets the wings.
3. Playmakers in the Midfield
Your team should also have an abundance of playmakers in the midfield.
More particularly, among the attacking midfielders.
They are primarily responsible for chance creation and progressing the ball in the final third.
4. Competent Striker

A competent striker is also important for the success of the 4-3-2-1.
Having someone who can't help but put the ball in the back of the net at this position is key.
The number 9 must also be adept in linking up with the attacking midfielders.
5. Highly Skilled Players
For the 4-3-2-1 to be successful, you'll need technically proficient players in every position.
Players should display calmness under pressure, and possessing high-level ball retention skills.
6. Determined Coach
Lastly, you'll need a coach who's committed to instilling the strategic philosophy into the team.
They should ensure all players fully understand their individual roles and the collective system.
Strengths of a 4-3-2-1 Formation
If you're considering setting your team up in a 4-3-2-1 formation, you'll need to understand all of its strengths and shortcomings.
Firstly, let's take a look at the effectiveness of this shape and how it to deploy it effectively:
#1 - Strong Core and Spine
The true strength of this formation is the central focus. Three center midfielders shield a four-player backline, making it defensively solid and tough to break down.
In possession, your team is likely to have numerical advantages spanning the entire length of the field. This allows them to build play methodically, creating high-percentage scoring opportunities.
#2 - Ball Retention
This setup is ideal for possession-based teams.
Essentially, there will be five midfielders:
Three sitting in front of the defense and two in attacking positions.
These players are usually free to roam and create passing triangles, keeping the ball and waiting for opportunities to attack.
Holding the ball for long periods can tire out the opposition, leading to more scoring chances as the game progresses.
#3 - Tough to Break Down
Defensively, the compact shape is extremely difficult to break down.
This is specially true with a specialist defensive midfielder (DM).
It's generally a good idea to play two box-to-box midfielders on either side of the DM, offering cover and support for the fullbacks.
When defending a lead, the entire team can drop back out of possession, creating a blanket defense.
#4 - Limits Counterattacks
With very few gaps to exploit, this shape is counterattack resistant.
Virtually every position has defensive cover.
If one sitting midfielder goes forward, the other two can rotate and fill the space behind.
This limits counterattacking options to a fast switch of play or over the top pass.
#5 - Attacking Fluidity
The packed midfield allows for attacking fluidity.
This means certain players are free to take initiative in offense without having to worry about leaving gaps behind them.
Midfielders can interchange and cover for one another while remaining defensively sound.
#6 - Facilitates Build-from-the-Back Approach
The goalkeeper and defenders always have passing options so there is rarely a need to resort to long balls.
Building from the back can increase a team's possession percentage, minimizing risk over the course of a game.
If the opponent uses a high press, all midfielders can drop back to provide outlets.
Weaknesses of a 4-3-2-1 Formation
One of the reasons we all love soccer is you never truly know what's going to happen.
There's no definitive "best way" to play in every game.
Teams use various tactics and strategies to outwit even the greatest sides.
While the strengths often outweigh the weaknesses in a 4-3-2-1 formation, it leaves some openings for the opposition to exploit.
#1 - Lack of Width
The compact midfield gives this shape central dominance by sacrificing space on the wings.
The only recognized wide players are the fullbacks, affording the opposition with opportunities to attack these channels.
Your opponents are likely to target the wings, especially when the fullbacks are out of position or caught high up the field.
#2 - Possession-Based System
As a possession-based formation, the 4-3-2-1 relies on composed and technical players comfortable in keeping the ball for long periods.
If your team is short on personnel or isn't accustomed to dominating possession, this approach can be a struggle.
#3 - Requires High-Level Playmakers
This shape creates a structure for success but still depends on the playmakers to carve out scoring opportunities.
Keeping the ball is just one aspect of this system...
If your team doesn't have the players to "unlock" a defense, they will struggle to score.
#4 - Midfield Congestion
The most common problem when adapting to this formation is over contesting the midfield.
A lack of spacing and positional awareness can clog passing lanes, making it difficult to generate any meaningful attacks.
#5 - Needs a Deep Squad
The reliance on numbers in key areas means you'll need a deep squad to make the 4-3-2-1 work on a consistent basis.
The five midfield slots must be filled at all times.
Due to the physical demands on fullbacks, they need to rotate regularly.
It's also beneficial to have at least one capable backup striker.
#6 - Isolated Lone Striker
With only one out-and-out attacker, this shape piles a lot of pressure on the lone striker.
The sole number 9 may find themselves isolated and outnumbered throughout a game.
When a chance comes their way, they must be ready to pull the trigger.
#7 - Can be Difficult to Coach
Executing in the 4-3-2-1 comes down to the minute details.
These include midfield spacing, off-the-ball movement, and methodical build-up play.
The coach is responsible for imparting knowledge and drilling the system into the team.
This is no easy undertaking, especially at an amateur or regional level.
Individual Roles and Responsibilities
The 4-3-2-1 formation is strong with or without the ball.
However, it's undoubtedly more beneficial for teams that tend to keep possession for long periods.
With this in mind, many coaches focus their strategies on measured and methodical build-up play as they progress through the thirds.
This typically involves creating passing triangles where possible, gradually pushing the defensive, midfield, and forward lines further up the field to build sustained pressure.
When the team loses possession, there are several ways to transition into a defensive shape.
One of the most popular strategies in the modern game is Pep Guardiola's "6-second rule."
As soon as possession is lost, the players closest to the ball press intensely to win it back.
If they're unsuccessful, they fall back into the defensive shape. Or, in particularly dangerous situations, they make a tactical foul to relieve pressure.
Ultimately, the successes and failings of the formation come down to individual execution of specific roles.
Goalkeeper's Role
Having a goalkeeper with pinpoint distribution is extremely beneficial in this shape.
This gives the defenders a relief option under a press.
Ball-playing goalkeepers have become a priority for major teams in recent years as they can contribute significantly to a build-from-the-back approach.
Fullback's Role
Providing the only real natural width, the fullbacks are very important in defense and attack.
The right and left backs must be extremely fit, covering the entire length of the field with regularity.
Moreover, they should remain disciplined in transition or they run the risk of leaving large gaps for the opposition to counterattack.
As the only designated wide players, the fullbacks encounter frequent 1v1 battles against wingers, which can easily become 2v1 if the opposition opts for a wing-based attacking strategy.
However, cover from one of the midfield players can help relieve fullbacks of some of their defensive duties.
Centerback's Role
The centerback (CB) pairing is likely to see a lot of the ball in a 4-3-2-1.
While they don't need to worry about playing extravagant line-breaking passes, both CBs should be competent in possession.
It's also beneficial for partners to have different types of qualities.
For example, Spain's World Cup-winning CBs were Pique, a robust and technical defender, and Carles Puyol, a tenacious ball winner.
These diverse styles complemented each other, leading to Spain conceding just 0.33 goals per game (the joint fewest throughout the tournament).
Defensive Midfielder's Role
The DM is the glue that binds the midfield trio together.
There are two main schools of thought surrounding this role:
(1) Deploy a combative enforcer to sit in front of the defense and break up attacks.
However, this type of player will need technical midfielders alongside them to take responsibility for ball progression and retention.
(2) Use a deep-lying playmaker to dictate the tempo and set up the offensive strategy.
In this instance, you'll need a box-to-box midfielders on either side of the DM for defensive work and attacking support.
Right and Left Center Midfielders' Roles
The left and right center midfielders (CMs) have two primary responsibilities:
(1) Progress the ball into the attacking third.
(2) Provide defensive cover on their designated side.
Much of the team's attacking fluidity comes down to the efficiency of the midfield trio.
The CMs must not only focus on retaining possession but also on the ability to receive the ball in traffic, turn, and play searching forward passes.
Quick thinkers and good dribblers are effective in these positions as they have the necessary skill set to work out of dangerous situations.
Defensively, CMs should be positionally aware and capable of sniffing out threats both centrally and along the wings.
They're the main support for fullbacks, especially when the opposition doubles up in wide areas.
Attacking Midfielder's Role
The attacking midfielders (CAMs) are the most fluid players within the Christmas tree.
Since they're responsible for creating chances and setting up attacks, they must have a certain degree of freedom.
Legendary midfield partners, like Xavi and Iniesta, worked closely together, feeding off each other's intuition and technical skill to break through defensive lines as a duo. 
However, this isn't the only way to operate as a CAM.
Since the 4-3-2-1 shape narrows at the top, they have the entire width of the field to find spaces to exploit.
If the opposition uses a single defensive pivot, CAMs can occupy slightly wider positions, forcing openings from either side.
Lone Striker's Role
The single striker usually plays off the deepest lying defender.
Doing so broadens the gap between the opposition's midfield and backline.
This also opens space for the attacking midfielders to exploit and create chances.
While the striker can look to get involved in build-up play, dropping deep too often can clog central areas and limit attacking options.
A well-rounded number 9, like Robert Lewandowski, is the ultimate addition -- possessing power, pace, and elite-level finishing.
A target-man archetype can also enjoy success at the tip of the Christmas tree, offering the physicality that may be lacking in other areas.
Variations of the 4-1-2-1-2 Formation
There are some variations to this formation.
Although the shape generally remains consistent, teams can adjust individual roles within the midfield to suit the players and strategy.
In addition, by pushing two midfielders to the wings, this formation can transition seamlessly into several formations -- like a 4-4-2, 4-2-3-1, or a 4-1-3-1.
Substitutions create even more options to shake up the approach or switch formation.
Conclusion
The 4-3-2-1 formation is a specialized shape, limited to teams with highly talented midfielders and a willingness to put in the hard yards on the training field.
As a coach, you'll need a long preseason camp to have your team firing in the Christmas tree once the competitive season begins.
However, if you're an ambitious coach with lofty goals, this is a proven strategy, effective in both attack and defense.
Further Reading: 5 Soccer Formations Explained (Full Guides with Images)