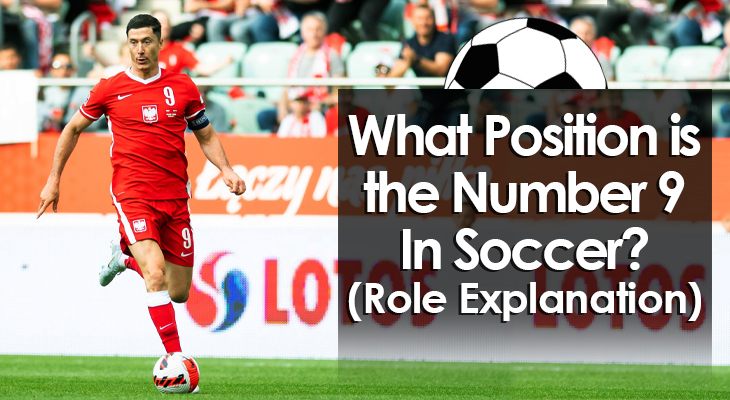 What Position is the Number 9 in Soccer? (Role Explanation)
The number 9 shirt is always one of the most sought-after on any team.
It's an honor bestowed to the main attacker and goalscoring threat:
The striker.
In soccer, certain squad numbers bear more significance than others.
While players are free to wear whatever number their team offers, some are reserved for the biggest stars in the most important positions.
Some of the great number 9s include Ronaldo Nazario, Alan Shearer, Robert Lewandowski, Didier Drogba, and Sergio Aguero.
These legendary players have helped make the number 9 position what it is today.
Role of a Number 9 in Soccer
Although any player can wear the shirt, positionally the 'number 9' refers to the main striker.
The striker has one of the most difficult roles on the team, as they're responsible for scoring the lion's share of their goals.
That said, the number 9 is a multifaceted position. Depending on the formation, a 9 can play as a loan striker as part of a front 3, or in a duo with another center forward.
In the modern game, most teams play with a single striker.
While there are several ways to play as a 9, virtually all forwards have three main responsibilities:
Role #1 - Goalscoring 

Most strikers are judged on their goalscoring exploits -- and rightly so.
In a standard 4-3-3 formation, the lone number 9 is the furthest forward attacker.
They're responsible for making runs behind the defense, getting on the end of crosses, and being available to teammates during attacking phases.
Having a well-rounded skill set like this is beneficial in every position.
However, some number 9s showcase a natural instinct for putting the ball in the back of the net, even when they're playing badly.
A prolific striker is one of the most valuable assets any team can have.
You can rely on them to come up with the goals week in, week out.
Some of the highest-scoring 9s in today's game include Erling Haaland, Robert Lewandoski, Cristiano Ronaldo, and Karim Benzema.
Role #2 - Assists 

Assists are an underappreciated attribute of a top striker.
A 9 who scores AND can create chances for their teammates can make all the difference in a title-winning side.
Fortunately, over the past decade soccer analysts have placed far more emphasis on contribution statistics, which includes goals and assists.
And the data shows that elite 9s not only score, but also provide their fair share of assists.
Examples:
France and PSG star, Kylian Mbappe, contributed 28 goals and 19 assists in Ligue 1 over the 2021/22 season.
While Karim Benzema produced 27 goals and 12 assists for La Liga winners, Real Madrid.
Role #3 - Link-Up Play

Lone strikers can spend long periods of a game without touching the ball, particularly if their style revolves around pace and defense-splitting runs.
However, many 9s are heavily involved in link-up play, offering passing outlets for midfielders and creating space for teammates to run into.
There are also all-rounders, like Benzema, who can take the ball under pressure.
Doing so relieves teammates, opens up more passing opportunities, and facilitates efficient attacking progressions.
Important Skills for a Number 9
Number 9s come in all shapes and sizes.
The beauty of soccer is that there isn't a "best way" to do anything.
That being said, an effective striker should have a certain skill set.
And the core abilities of a high-level attacker include: 
Skill #1 - Finishing
A striker can be in the right positions at all times but if they can't finish their chances, their spot in the team may be at risk.
Some 9s have a natural instinct in front of goal but for the most part, finishing skills come from hours of practice on the training field.
Strikers MUST work on finishing from different positions and odd angles, using both feet.
Heading is also an important facet of finishing.
Wayne Rooney recognized heading as a weakness in 2009 and spent much of his off-season honing this skill. The next year, he went on to score over 15 headers for Manchester United.
Additionally, elite finishers display ruthlessness in the penalty box.
They are calm and composed, ensuring they take their chances, regardless of the occasion.
This calmness isn't necessarily there from birth — it's earned after dedicating thousands of hours to shooting practice. 
Skill #2 - Positioning
One of the best ways to improve your finishing statistics is to get into the right positions.
Remember: A tap-in from 1 yard is equal to a 30-yard screamer when you look at the scoreboard.
Positional awareness and well-timed runs make finishing chances much easier.
Cristiano Ronaldo started his career as a dazzling winger, using his pace and quick feet to terrorize defenders. But as he entered his 30s, Ronaldo could no longer rely on his speed alone to create chances. He transitioned to the number 9 position and went on to shatter the all-time international and club goal-scoring records.
But interestingly, Ronaldo isn't one of the top scorers in terms of efficiency.
"So how did he do it?"
He leverages (1) intelligence and (2) positional sense to create several scoring chances in every game, allowing him to rack up immense numbers over the course of a season.
Skill #3 - Dribbling 
Good dribbling skills are an ace in the pocket for a striker.
Rather than always looking for give-and-go passes or through balls, an accomplished dribbler can find pockets of space and rely on their abilities to beat a defender.
A dribble-first 9 can progress the ball from deep areas, drawing in defenders and creating space for teammates. They can also make their own chances without having to rely on teammates for every opportunity.
Many modern forwards can play centrally or in wide areas.
Top strikers in the European leagues are versatile — they can pass, move, and beat players off the dribble to create chances for themselves or teammates.
Skill #4 - First Touch
The first touch is often the most important one.
A solid first touch in the attacking areas helps strikers gain inches and milliseconds, which can be the difference between scoring and having a shot blocked.
Elite number 9s use an effective first touch to create time and space where others can't.
For example, Zlatan Ibrahimovic is big and strong but his technical skills and first touch make him dangerous in every situation, not just physical battles. 
Skill #5 - Mentality / Confidence
Number 9s carry a tremendous weight for their teams.
During rich goalscoring periods, they get all the applause and praise.
However, if the team has puts together consecutive poor performances, they can come under enormous pressure to find the back of the net and often face severe criticism.
So, strikers must have a steely mentality and superior confidence to break goalscoring droughts and regain form. 
Conclusion
The number 9 in soccer is more than just a print on the back of a shirt.
It's a position reserved for the most devastating striker on a team. 
Wearing the 9 jersey is a privilege that only the best players may ever earn.
Simply put, goals change games — and elite number 9s lead from the front and often have the final say in whether or not their teams win.