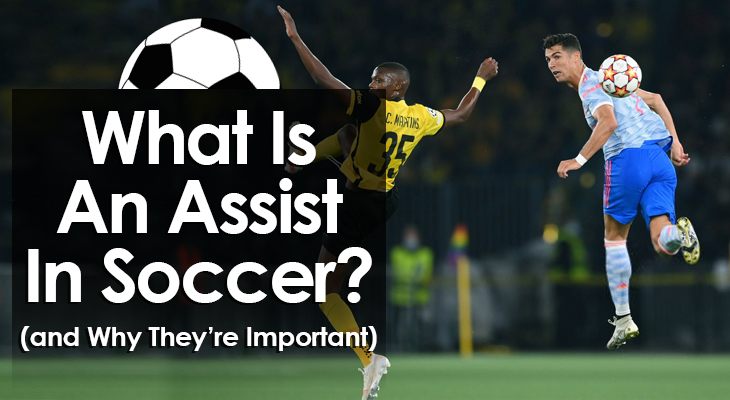 What Is An Assist In Soccer? (and Why They're Important)
The art of goalscoring is admired by many, from professional pundits to casual fans.

Simply put, rattling the back of the net is the most difficult skill in soccer.

There's one significant caveat, however...

Not all goals are 30-yard screamers or overhead kicks.

Many professional strikers make a good living on tap-ins and rebounds.

While teams always need someone to put chances away, assists are a critical part of the game.

Elite creators are in constant demand, dictating their team's tempo and setting up attacking play.

That's why it's no surprise that wingers and attacking midfielders earn sky-high wages and go for tens of millions in the transfer market. 
What is an Assist in Soccer?
An assist in soccer is an on-the-ball action that leads directly to a goal.

In this instance, an on-the-ball action refers to a touch by a teammate.

Although most assists come by way of a cross or pass, you can make an assist with any part of the body, aside from the hands or arms.

Assists are sometimes unintentional. Rather than hitting its intended target, a pass may find its way to a totally different player who goes on to score.

You'd be hard-pressed to hear a player admit an unintentional assist, but rest assured, it happens quite frequently.
What Counts as an Assist?
Assists have been recognized and recorded for decades.
However, the International Football Association Board (IFAB) doesn't outline specific criteria for what counts as an assist.

So, separate leagues and organizations may have different measures for registering assists.

The term assist made its way into the soccer sphere in the early 2000s from American sports, like basketball and American Football.

In the early days, an assist statistic was hard to attain. If the scorer had any significant work to do before finishing, there's a good chance no assist was recorded.

But nowadays, players are awarded assists for short layoffs and basic passes.

There's no concrete reason for this trend...

Perhaps it's down to the increased focus on statistics in soccer, or maybe assist recording makes the sport more fan-friendly.

(one thing is for sure, generous assist giving makes life easier as a fantasy soccer player!)

However, this doesn't mean that every goal is assisted. For example, no assist is given if a player intercepts a pass or tackles an opponent before scoring.
The Importance of Assists
Great painters will struggle to produce a masterpiece without their favorite brushes and tools.
Sure, they can throw enough paint at the canvas to create something...
...but it won't be their best work.

The same can be said for soccer players.

Strikers NEED their teammates to create chances.

While they're capable of producing moments of individual brilliance, other players help bring out their best. In many cases, the setup is the most challenging part of the goal.

So assists in soccer are extremely important.
Goal Contributions:
Modern attackers are judged primarily on goal contributions:

The number of direct goals and assists they provide in a season.

We can all appreciate a striker who can't help but score every other game.

However, recent stats have shown that elite forwards provide more than just goals.

In the 2021/22 season, the top 5 goal contributors in Europe's big leagues were strikers.

Obvious, right?

Well, here's the interesting part...

With most of these players, assists counted for high percentages of their overall contributions.

The best attackers have elite skills that allow them to score AND help their teammates:
Kylian Mbappe (PSG): 28 goals, 19 assists
Karim Benzema (Real Madrid): 27 goals, 12 assists
Robert Lewandowski (Bayern Munich): 35 goals, 4 assists
Mohamad Salah (Liverpool): 23 goals, 14 assists
Christopher Nkunku (RB Leipzig): 19 goals, 15 assists
Chance Creation:
Soccer scouts look beyond assist numbers to assess a player's creative prowess.

Chance creation (CC) is another important metric to emerge in recent decades.

CC refers to passes or crosses that result in a shot, regardless of whether or not it hits the target.

Such statistics help scouts uncover players' potential when they're part of a misfiring team or weak strike-force.
The Importance Of Execution
As with all sports, execution is key.

How often have you heard criticisms about a winger's lack of end product?

Adama Traore (Wolverhampton Wanderers) came through the famed Masía academy in Barcelona. Although he showed great promise as a youngster, he failed to make a breakthrough with the first team.

Traore has gone on to have a good Premier League career and even enjoyed a fruitful loan return to Barca in 2022.

While Traore can beat virtually any defender in a 1v1 situation, he often fails to finish chances or set up his teammates for easy goals.

The very best punish their opponents when given the opportunity.

As history has taught us, the players who can execute in the final third have the most success.
The Role Of Formations
Tactical decisions and certain formations mean teams often rely on other positions to provide assists.

Liverpool's forward press, doglike work rate, and dominant defensive spine afford the fullbacks time and space to attack at will.

Liverpool's fullbacks are essential in everything they do in an attacking sense.

There's no denying the abilities of Mo Salah and Sadio Mane, but the assist numbers from Andrew Robertson and Trent Alexander-Arnold over the past few seasons are staggering.
Influence Of Analytics:
Soccer is becoming increasingly stat-driven.

For generations, it seemed that the sport was impervious to in-depth analytics. As an open and free-flowing game with few stoppages, many thought the numbers simply didn't apply.

Philosophy and style of play were tactical buzzwords used frequently by coaches.

However, in recent years, analysts have finally found a way to incorporate complex algorithms and data into the beautiful game.

This has helped teams look beyond the basic numbers, finding meaning in movements, passing, and ball progressions. The data proves that other factors, like second assists, are often just as important to a team's attack.
Frequently Asked Questions:
What are Second Assists?
"Second assist" is a term favored by the soccer stat nerd.

Essentially, it's a pass that leads to an assist.

A second assist may seem like a futile stat, it carries significance in the professional game.

Analytical experts pay attention to build-up play, particularly when it comes to breaking defensive lines. In many situations, the pass BEFORE the assist is the one that opens up a backline.

Midfield maestros like Xavi, Iniesta, and Paul Scholes were known to crush teams with their precision passing. Although none of these players accumulated crazy assist numbers throughout their careers.

If you don't know, now you know.

Next time you watch your team play, pay attention to the passes that lead to goalscoring chances. While they don't always make the headlines, defense-splitting passes are pivotal in effective attacking sequences.
Is Winning A Penalty An Assist In Soccer?
Some leagues award assists for winning penalties, while others don't.

In any case, it's impossible to assist yourself.

If the player who won the penalty goes on to convert it, they're not given an assist.

The main reason behind a non-assist for winning a penalty is the ambiguity of fouls.

Penalties are awarded for a host of reasons, including handballs. Many handballs are a result of defensive mistakes rather than creative attacking play.

Likewise, a sloppy tackle by a defender doesn't necessarily mean the attacker deserves credit for creating a goal.

This reasoning is also applied to free kicks. If a player scores directly from a freekick, no assist is given to the person who won the foul.
What Positions Contribute The Most Assists?
Attacking players contribute the most assists in world soccer.
Strikers, center forwards, and wingers are generally the most creative players on their teams, coming up with the lion's share of assists.

The top five assist leaders in soccer history are all active players:
Lionel Messi (PSG): 368 assists
Thomas Muller (Bayern Munich): 287 assists
Luis Suarez (Atletico Madrid): 277 assists
Cristiano Ronaldo (Manchester United): 272 assists
Angel Di Maria (PSG): 267
Do Corners and Free-Kicks Result in Assists?
Yes.
Players who take corners and free-kicks rack up tons of assists, particularly if they play in attacking positions.

3% of all corners result in a goal. Teams get an average of 5 corners per game. In theory, this means that a designated corner taker is likely to get an assist every seven games.

In reality, players rotate corner-taking duties, so corner-takers generally aren't quite so prolific.
Conclusion
Assists in soccer are an essential part of the sport.

They epitomize the teamwork and unselfishness required to succeed in the professional game.

There's nothing quite as satisfying as a well-worked goal, and a beautiful assist is one of the finest ways to cap off an attack.