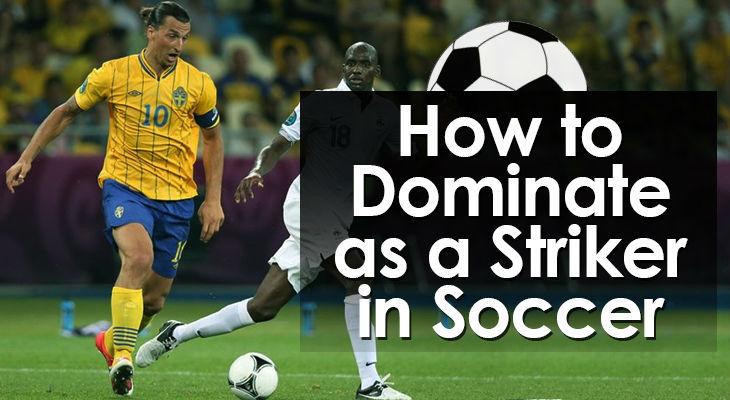 What is a Striker in Soccer? (Full Position Guide)
Arguably the hardest position on the pitch, the striker deals with what decides the game:
Goals.
Their primary role of putting the ball in the back of the net is crucial to the team's success.
Without a talented center forward to tuck chances away, any team will struggle to win.
Although goal-poaching strikers are important, the best in the business offer a little bit more.
Whether they're holding the ball up to bring others into play or creating space for teammates with penetrating runs... a top-class number 9 can have an enormous influence on a team.
That said, not all strikers have to conform to a specific archetype.
Forwards come in many different shapes and sizes.
Below, I discuss what it means to be a striker as well as the various roles, responsibilities, and traits that the game's elite forwards share.
What is a Sriker in Soccer?
A striker in soccer is the furthermost attacker on the field.
Their main task is to score goals.
In the past, strikers played and worked in pairs to create and finish chances in the opposition penalty area.
Dual strikers would interchange positions, make opposite runs, and play off each other to maximize their success.
When one would come short to receive the ball, the other would dart in behind, filling the newly opened space to get on the end of a through ball.
Although there are still striker partnerships in the modern game, it's more common for teams to play with a lone striker and two advanced wingers, completing a front three.
Strikers of today have to learn to operate solo with their main support coming from the wings or centrally through the center-attacking midfielder (CAM).

While lone strikers can come short to receive the ball, they must be positionally disciplined to ensure teammates have an attacker to find in the final third.
A key skill of a striker is hold-up play.
Since they often find themselves isolated, a striker must be able to receive the ball under pressure, keep defenders at bay, and retain possession with controlled dribbling.
Most importantly, great strikers know where the goal is, and more often than not, they find the back of the net when an opportunity presents itself. 
Position of a Striker in Soccer
Positionally, strikers are usually the most advanced players on their teams.
Although they can stray into deeper channels and wide areas, most center forwards play on the shoulder of the center back, looking to get in behind and onto the end of through passes.
During attacking phases, strikers rely on clever movement to find space in the penalty area.
As the team's primary attacker, it's their responsibility to make their presence felt in dangerous positions.
When the ball comes their way, strikers must demonstrate quality in their finishing technique to put chances away.
High-level number 9s should be strong in the air, capable of one-touch finishing, and composed enough to take a touch or two before finishing if necessary.
Two attributes that set the best from the rest are timing and movement.
Being in the right place at the right time is a true skill and involves far less luck than you might imagine. It comes from studying tape, reading the game, and working hard on the training field. 
What Does a Striker in Soccer Do?
By now, you likely understand that a striker's primary function is to score goals.
While this is true, their roles and responsibilities go far beyond finishing chances.
Elite strikers are well-rounded and contribute to their teams in many ways.
So, let's take a more detailed look at what a striker does in attack and defense. 
Striker's Role In Attack
#1 - Plays as a Direct Outlet
In the era of possession-based strategies, it's important for teams to have an out ball.
Strikers should offer a direct outlet for their teammates in all positions by taking up advanced positions on the pitch.
When starved of possession, some strikers tend to drop off to get touches on the ball.
However, this can skew the shape of the team and limit meaningful attacking opportunities over the course of a game.
Strikers require discipline and good positional sense to remain upfield and ensure they're ready to react to a direct ball to feet, an over-the-top pass, or a long ball into the channels.
Playing on the shoulder of the center back enables this, whereas dropping off makes strikers easy to pick up for defenders. 
#2 - Holds the Ball Up 
Strikers spend large portions of games with their back to the goal.
They're required to receive the ball under pressure from defenders without losing it.
Holding the ball up is not only important for recycling possession, but is also crucial for earning teammates valuable seconds to get into good positions.
A strong core and low center of gravity are essential for good hold-up play.
Having a great first touch is also important to trap and keep control over the ball.
A striker who is capable of holding up play is invaluable to a team, relieving them of pressure and buying them time to reset or transition into a new phase of play.
From here, the forward can bring teammates into play, either with a slick layoff or through ball into the space they left behind. 
#3 - Makes Runs
Static strikers are a dream for defenders.
Center backs can keep an eye on them for the entire game without much effort.
Inversely, strikers who are in constant motion are extremely difficult to track.
I'm not say you should bust a gut around the field for 90 minutes just for the sake of it.
A striker's movement may be subtle but it can still bamboozle defenders.
The trick is to perform different movements and varied run patterns.

For example, a striker could focus on receiving the ball between the center backs for one period of the game, make lateral runs across the defense for others, and drop between the lines occasionally.
Being unpredictable keeps defenders guessing and makes a striker much more difficult to mark.
#4 - Goal Contributions
As soccer becomes increasingly analytical, attackers get judged mainly on their output.
While it's normal for them to go through barren spells, strikers must consistently contribute goals and assists over the course of a season.
Good striking technique and finishing practice ensures a striker will put chances away.
However, confidence and a bulletproof mentality are also important.
Top strikers work on their mental game as well as their physical game. 
Striker's Role In Defense
#5 - Spearheads the Press
The front press is a huge part of modern soccer and an important counter to the build-from-the-back strategy.
The striker is the focal point of a high press and must be willing to work hard to close down defenders when they're on the ball.
Winning the ball back in advanced positions often leads to high-percentage goal chances.
Since the striker is the one most likely to get on the end of these chances, pressing with intent is generally worthwhile. 
#6 - Helps Out on Set Pieces
Depending on their size and skill set, strikers may need to help out on defensive set pieces.
During set pieces like free kicks and corners, many teams push their centerbacks into the opponent's penalty area to get on the end of the cross.
Teams often counter this by including strikers, making sure they aren't outnumbered.
Because marking and defending aren't necessarily their strong points, it's common to see strikers occupy "the hole".
This refers to the space at the front post, where many crosses are targeted toward.
Defenders in this position are usually given a free role and are instructed to attack the ball if it enters their territory.
#7 - Marks the Opposition CDM
In some cases, strikers have the special task of marking the opponent's center defensive midfielder (CDM) -- particularly when the CDM is a good playmaker.
By staying close to them and pressuring them when they're on the ball, a striker can successfully limit their influence.
However, this can also restrict the striker's ability to affect the game offensively. 
5 Key Traits of a Striker in Soccer
While no two strikers are the same, many of the top players share a number of key traits.
Here are the core competencies you need to dominate as a striker in soccer. 
a. Elite Finishing 
Despite what soccer commentators might say, the ability to score at will doesn't come naturally to most players.
This is the very reason that strikers have to put in the time and effort on the training ground to make sure they can score in almost any scenario.
From striking the ball on the half-volley to getting their toe on the end of a cross, attackers should practice a variety of finishing techniques.
You can never know how a chance might present itself in a game!
Strikers should also demonstrate confidence shooting with either foot and offer a dangerous presence in the air.
Most importantly, strikers recognize their weaknesses and work on them until they become their strengths. 
b. Anticipation and Fast Reactions
A great striker needs to have lightning quick reactions to get in front of their defender and on the end of crosses into the box.
Anticipation and split-second decision-making help them predict where the ball will end up, ensuring they get to it first.
By out-thinking the defenders, the striker can throw them off their game.
Anticipation and reactions are also key for rebounds.
Not every goal has to make it to the highlight reel.
Even in a tightly contested game, great strikers can sniff out a goal by using their reactions.
c. Composure and Confidence
The best strikers are calm in front of a goal even in high-pressure moments.
In fact, the best thrive off of pressure and always back themselves in to score.
This unwavering belief in their abilities serves them well, even in tough times.
If they happen to miss a goalscoring opportunity, they don't dwell on it.
Instead, they switch their focus to converting the next one.
This self-belief is an absolute must in a position where player expectations are so high.
d. Clever Movement
With their quick reactions and accurate finishing, the game's best strikers are a nightmare for defenders to contend with.
Couple those traits with unpredictable movement and things get even worse for centerbacks.
As alluded to earlier, strikers should avoid becoming one-dimensional.
By mixing up their approach, they keep defenders guessing and often force clear openings for themselves. 
e. Excellent Technical Skills
Strikers must be efficient with every touch of the ball.
They're rarely given much time on the ball so every second counts.
Having a well-rounded game backed by solid fundamentals is a significant advantage for center forwards.
It ensures they can receive the ball on the run, come short for a give-and-go, or dribble at defenders themselves.
Some of the most important technical skills any striker can have are a solid first touch, flawless striking technique, smooth dribbling, and precision passing. 
Best Strikers of All Time
As fans, we're blessed to live in an era so rich in attacking soccer talent.
With that, I've assembled my all time list of best strikers.
These players are perfect examples of how to lead from the front and their highlights can serve as educational tools for any young player:
Cristiano Ronaldo
Pelé
Ronaldo (Brazil)
Ferenc Puskás
Gerd Muller
Thierry Henry
Denis Law
Alfrédo Di Stefano
Eusébio
Karim Benzema
5 Bonus Tips for Strikers
It's not that difficult to recognize a top striker when you see one.
But what got them to the dance?
How did they acquire such an effective skill set?
Here are some pro tips that will help you improve your overall game as a striker.
Tip #1: Practice Makes Perfect
The art of finishing must be learned through hours and hours on the training ground.
In addition to learning the fundamental skill of shooting, a striker must also practice finishing using different parts of the body and from various angles.
Work on 1v1s, shooting from distance, heading, and first-time shots from crosses.
You might be surprised at how quickly you see improvements.
Tip #2: Work on Positioning and Timing
Although finishing is an important skill for any striker, it's next to useless if you're not putting yourself in good positions and making the right runs.
Attempt different runs and movements during training to discover what's effective.
Here's an example of a scenario you can work on during practice:
By hovering between the central defenders or the gaps that emerge between them and the fullbacks, you can easily create confusion as to who should mark you.
This gives you the edge over your opponents!
While they're working that out, take this opportunity to either drop back to pick up the ball or make a diagonal sprint in toward goal.
By taking up awkward positions in between the lines or remaining offside right until the ball is played, your unpredictable movement and timing can make the opponent's job very difficult.
Tip #3: Improve Your First Touch
When receiving a pass, strikers must be able to get the ball under control in an instant to protect it before a tackle comes flying in.
This isn't easy.
However, having a good first touch can make all the difference in tight situations or where time and space are limited.

Make a concerted effort to improve your first touch and ball control, whether this means additional work after training or extra individual drills in your backyard. 
Tip #4: Build Your Physique
A strong physique will help you match up against tough defenders.
Extra gym sessions or a strength and conditioning program will improve your ability to hold up the ball, compete for 50/50s, win headers, and deal with the other physical battles.
It's also beneficial to improve your stamina by going on runs or doing sprints on off days.
Having a good standard of fitness goes a long way in injury prevention too. 
Tip #5: Learn From the Best
While the best strikers have many similar attributes (such as pace, power, and precision), they all use them in different ways at different points in the game.
A great way to improve your own performance is to watch highlights and study how the best players like to play.
By taking note of their movements and the way that they win that extra yard of space, you can replicate their moves and practice them on the training ground.
Conclusion
The role of a striker in soccer can be thankless at times.
After a few games without a goal, the pressure builds and so too does the criticism.
However, when things are going well, strikers are bathed in the glory and are generally credited for being one of the main reasons for a team's success.
That's why many claim it's the best position on the field.
Not everyone is cut out to be a striker, but with this guide, I'm confident you can elevate your game and begin to dominate week in and week out.