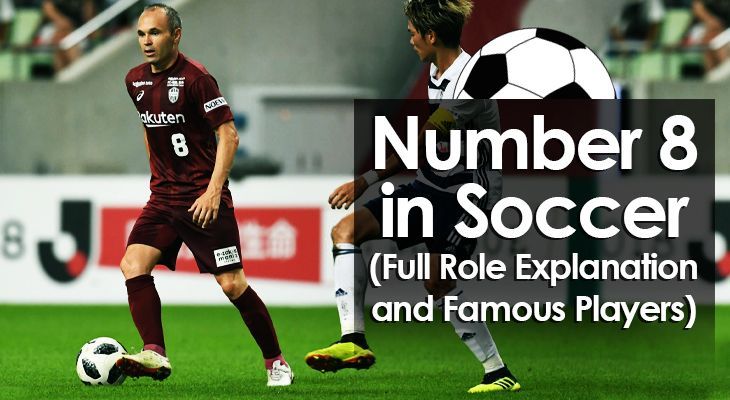 What Position is the Number 8 in Soccer? (Role Explanation)
The number 8 in soccer refers to one of the most important positions on the field:
The box-to-box center midfielder.
With both offensive and defensive responsibilities, a box-to-box midfielder must be a quick thinker, capable passer, and robust defender.
From making goal-stopping interceptions to leading counterattacks with the ball at their feet, a talented number 8 is often the difference maker in tight contests.
Let's take a deep dive into the role and explore the primary responsibilities and essential skill sets of these pivotal midfielders before looking at some of the best to ever do it.
Role of the Number 8 in Soccer
Top 8's can run the midfield over 90 minutes and transition from defense to attack in a heartbeat.
Virtually every elite squad in modern soccer has a world-class number 8 on their team.
Whether your team uses a possession or counter-attacking strategy, these players are key to linking the defensive line and the forwards.
A quality box-to-box can operate in a two-player midfield alongside a like-minded CM or a more defensive anchor.
However, most modern teams set out with three center midfielders, with at least one number 8 sitting slightly ahead of a CDM in a diamond.
Unlike the specialist number 6 and number 10 positions, the number 8 in soccer is generally more adaptable and capable of fulfilling a host of roles, depending on the strategy. 
These midfielders slot into the most popular formations in the modern game, such as:
4-4-2
4-3-3
4-1-2-1-2
4-3-2-1
4-1-3-2
3-5-2
5-3-2
When in need of a goal, a coach will often instruct the number 8 to venture forward and play as a more attacking playmaker.
While when defending a lead, coaches might have them sit back and create a more solid defensive shield. 
Here are some of the most important roles of a number 8 in soccer:
Role #1 - Set Up Attacks
Attack-minded number 8s are a true midfield weapon, turning standard plays into goalscoring opportunities with a quick turn, killer pass, or a surging run.
Box-to-box midfielders get on the ball a lot so they must be capable of making line-breaking passes and orchestrating attacks from central or deep areas.
Number 8s do the majority of their damage when they occupy the inside channels between the opposition's midfield and defense. Here, they force opponents to commit a defending player, leaving gaps for strikers or wingers to run into.
When given time and space, they can carry the ball forward until they're within shooting range.
Steven Gerrard is the perfect example of this type of 8. He could punish teams with a key pass or shot from a distance if afforded any room in the final third.
Talented passers can also set up attacks from deeper midfield positions, without having to get forward. This is useful when opposition teams play a high defensive line.
When central areas become congested, a switch of play or precision through pass is often the best option for creating a breakthrough.
Toni Kroos is one of the best examples of a number 8 with this kind of passing range.
He is a midfield sniper with an uncanny eye for a pass.
Role #2 - Recycle Possession
A box-to-box midfielder's role isn't always high-octane.
For large periods of a game, they may only need to make subtle movements to keep the shape, showing for the ball, and executing short passes to retain possession.
This is mainly due to the defensive organization of most modern teams.
At virtually every level of the game, teams operate within set defensive systems that require patient build-up play to penetrate.
While a number 8 should be creative and forward-thinking, they don't always need to progress the ball with every touch.
Recycling possession and switching points of attack is an effective way of tiring out the opposition and finding holes in their shape.
Role #3 - Contest the Midfield Battles
The midfield battle is always critical in order to control the game, dominate possession, and limit attacks from the opposition.
As a two-way player, the number 8 is required to put in a defensive shift in every game.
This typically involves closing down other midfielders, competing for 50/50s, marking runners, and making big tackles. 
Winning the midfield battle doesn't always depend on skill.
Instead, midfielders must bring energy, aggression, and determination to outwork and outsmart their opponents.
It's also extremely important for box-to-box midfielders to be wary of their position during defensive transitions.
Otherwise, one sloppy piece of play can lead to a devastating counterattack that results in a goal against them. 
Role #4 - Counter-Press
Counter-pressing is a defensive transition tactic used to regain possession as soon as the team turns the ball over.
It has become common practice in the past decade, thanks to the work of two of the modern game's finest coaches: Pep Guardiola and Jurgen Klopp.
The complexities of these systems vary depending on the formation and coaching instructions.
But as the midfield is the busiest area on the field, number 8s are usually heavily involved.
In a midfield three, the number 8 is likely to step out of the line to close the distance to their opponent or tackle the ball carrier directly.
If they play in a dual midfield role, this is less common, as the second striker usually drops back to help out.
In this scenario, the number 8 acts as a screen for the backline and closes off passing lanes to the center forwards.
Playing in a midfield two requires more discipline and the pair must keep in constant contact to stay compact and solid.
Depending on the physical characteristics of the midfielder, the number 8 can man-mark their opponent or play in a zonal structure to ensure the defense occupies dangerous areas. 
Role #5 - Defensive Cover
Another important defensive responsibility of a number 8 in soccer is covering for teammates.
In a midfield three, this may involve covering for the CDM if they make a forward run or tracking late runners when the opposition mounts an attack. 
They may also be asked to slot into the fullback positions if the defenders go forward, ensuring there are minimal gaps to exploit on the break.
In a midfield two, the covering system is generally a lot simpler...
When one CM goes forward, the other sits back, and vice-versa. Again, this requires positional sense, the ability to read the game, discipline, and stamina. 
Although he famously wore the 16 shirt for most of his career, Roy Keane was the perfect example of an elite number 8.
Known mainly for his defensive work rate and commanding presence, Keane's on-the-ball competence is extremely underrated.
His snappy forward balls and one-touch passing were often the catalysts for Manchester United's relentless offense during the late 90s and early 2000s. 
Role #6 - Joining Attacks
The best box-to-box midfielders set themselves apart with goals and assists. 
When joining attacks, the number 8 can find themselves in excellent positions to score or set up a teammate.
Timing is an essential skill in these situations as the midfielder arrives at the perfect time to get on the end of a cross or a cutback. 
If left untracked, a late midfield runner can give their team a numbers advantage and cause chaos in the opposition penalty area.
The final pieces of the puzzle are the finishing and composure needed to put chances away.
One of the best number 8s for joining attacks in the past 20 years was Chelsea's Frank Lampard.
He had an incredible goalscoring instinct and consistently found himself in excellent attacking positions.
The Englishman had 10 double-figure scoring seasons in a row and managed to hit the 20-goal mark in five of those. 
Key Skills of a Number 8
While perfection is hard to reach in soccer, a number 8 should have a diverse and well-rounded skill set, with strengths in both attack and defense.
This is especially important in a midfield two where there is a smaller margin for error.
Here is a closer look at the key attributes of a box-to-box midfielder. 
Skill #1: Passing Range
As one of the most important players in transition, a number 8 should have a wide passing range.
In addition to moving the ball quickly with short and snappy passes, a number 8 is often required to make long switches of play, killer through balls, or tidy chips over defenders.
World-class midfielders couple this passing range with exceptional vision, enabling them to get out of dangerous positions or create a goalscoring chance in a matter of seconds.
Skill #2: Seamless Ball Control
The number 8 is often the most technically gifted player on the field.
Their first touch and general ball control must be second to none.
Since midfielders frequently receive the ball with their back to the opposition goal, a poor touch can be extremely costly.
Awareness, focus, and technique must be on point virtually every time they get a touch.
Skill #3: Dribbling
Number 8s that know how to dribble a soccer ball well are a tremendous benefit to any team.
They can rely on individual skills to beat a defender or weave their way through a press.
Dribbling abilities are also a huge asset in the final third as it essentially means the midfielder has a three-pronged attack: dribble, pass, or shoot.
Andrés Iniesta is a superb example of an 8 that could run rings around opponents.
Despite his lack of pace and size, the Spaniard could jink his way through the midfield, beating multiple defenders at a time. 
Skill #4: Shooting 
Box-to-box midfielders aren't necessarily known for their goalscoring abilities but many of them are capable of coming up with the goods when given the chance.
Their highly technical skill set means shooting from distance is often a major threat.
The nature of the role involves arriving late to the penalty area to get to the end of crosses.
Skill #5: Tackling
Tackling is an underappreciated skill of a number 8.
Because they're involved in every aspect of the game, midfielders must have good discipline and timing. Otherwise, they run the risk of picking up yellow and red cards in every game. 
Skill #6: Stamina
The box-to-box position requires a fierce work ethic.
These types of players cover more ground than any other, with some midfielders running over 9 miles in a single match.
Many reports suggest that soccer players are among the fittest athletes on Earth, with the midfielders at the tip of the spear. 
Stamina is not only needed to meet the running demands of a game, but it's also necessary to avoid injuries throughout a season. 
Skill #7: Soccer Intelligence
A number 8 typically has a split second to scan their surroundings, take a touch, and make a decision for their next move before an opponent closes them down.
Soccer intelligence and spacial awareness are essential in these scenarios.
They allow players to leverage their technical abilities and make the correct decisions in-game -- whether that's a short pass, dribble, or a rushed clearance.
Luka Modric is arguably the best number 8 of his generation.
Aside from his undeniable technical abilities, Modric reads the game exceptionally well and always makes the right decisions.
Famous Players Who Wore Number 8:
To give you an even clearer picture of what a number 8 is all about, here are some of the best box-to-box midfielders over the past few years. 
Frank Lampart
Steven Gerrard
Kaka
Juan Mata
Genaro Gattuso
Toni Kroos
Luka Modric
Juninho Pernambucano
Jude Bellingham
Ilkay Gundogan
Bruno Fernandes
Antonio Conte
Roy Keane
Conclusion
Not everyone can be a number 8 in soccer.
The role requires mental and physical competencies that only a select few players possess.
And it involves both attacking and defending, making the position even more difficult to play.
However, by developing all facets of your game and working hard, you'll be on track to get there.
Once you do, it's one of the most enjoyable positions on the field.