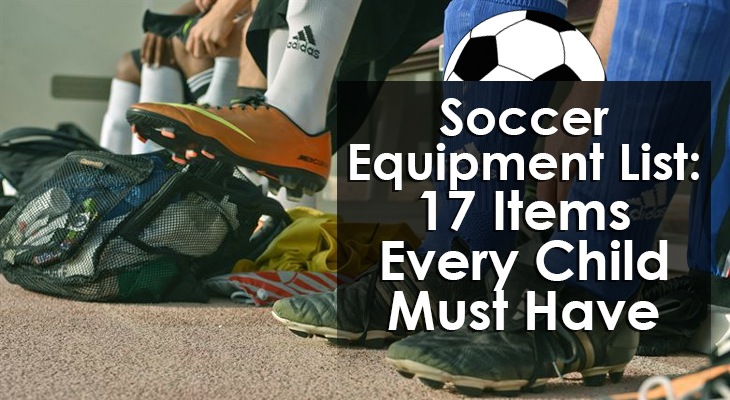 Soccer Equipment List: 17 Items Every Child Must Have
When it comes to playing soccer, there are some items which you just can't go without.
Soccer cleats, shin guards, and the team's kit are all essential.
While a soccer ball certainly come in handy too!
For children just starting out on their soccer journey, there are a number of items which parents and players may overlook in the beginning.
The goal of this article is to put together a complete soccer equipment list so that you're fully prepared from the first match until the end of the season.
Here are the 17 soccer items every child must have:
1. Soccer Cleats
When it comes to playing in a team and competing in regulation matches, most leagues specify that players MUST wear soccer cleats.
Not only does this prevent them from slipping around dangerously, it also protects their feet as soccer cleats have padding in them.
Check with the team's coach before purchasing to see if they have any recommendations or whether there's something in particular you need to find to stay in line with the league's rules.
As soccer cleats can drastically influence how a player performs, youth players should make sure they choose something comfortable and that fits well over something that might look better but isn't as functional.
Further Reading: 5 Types of Soccer Cleats Compared (Buying Guide)
2. Shin Guards
Soccer is a physical sport.
To avoid your child getting injuries, you're going to want to purchase shin guards.
These protective guards are a standard requirement in nearly all leagues and there are a couple of different designs to them.
Some come with ankle supports to hold them up and others just have a couple of velcro straps to keep them in front of your shins.
It's worth trying out different types to see which ones your child feels most comfortable with.
Check out our shin guard size chart before making a decision.
3. Soccer Ball
If your child loves soccer, they're going to need a soccer ball to kick around outside!
Simply mucking around with the ball at their feet and playing kickaround with friends will improve touch, technique, and their overall game.
But remember…
Soccer balls come in a variety of sizes and can be made out of different materials.
Make sure your get the a soccer ball that's suitable for their age and skill level.
4. Soccer Trainers
One of the best things about soccer is that it can be played anywhere at any time.
Some surfaces are impossible to play on in cleats (equipment item #1), which is why it's important to have a pair of trainers on hand to play soccer in.
Many trainers are made specifically to play soccer in.
Also, some training sessions will take place on indoor pitches where cleats can't be used.
5. Kit Bag
A kit bag is definitely an essential item.
It will keep all of your child's gear together when they head off to training or to play a match.
Make sure you get one that's spacious enough to include all of their soccer equipment, and bags with many zips and pockets are usually preferred to keep everything organised.
Some kit bags even have a specific spot for a soccer ball.
6. Water Bottle
Next item to add to the soccer equipment list...

All that running around is thirsty work, so it's important to pack a water bottle in your child's kit bag to ensure they stay hydrated.

While many coaches and teams provide water, a water bottle will help your child keep their fluids up before and after training when they might not be available.
7. Soccer Shirts
With all of the regular training sessions that take place, players need a number of soccer shirts which they can wear at practice.
As the team's kit is usually only used for matches, it's up to parents to provide their child with appropriate clothes to compete in.
These should be comfortable and made out of a material that can get dirty.
Young players will often want to wear the shirt of their favourite soccer team.
8. Soccer Shorts
Just like with soccer shirts, kids playing soccer regularly will need at least a couple of pairs of shorts which they can play in as they'll often be coming home muddy and with their kit dirty.
When choosing shorts, try and stay away from picking the lighter colours as these are a lot harder to clean and will start to show wear and tear quicker.
9. Soccer Socks
You also want to avoid buying white or lighter coloured soccer socks as these can quickly turn a dirty white or a sort of beige-grey colour after one too many matches.
Grab a couple of pairs so that your child always turns up to training prepared.
10. Soccer Ball Pump
Taking into account the thousands of hours your child is going to spend kicking a soccer ball around at home, it stands to reason that they're going to need a soccer ball pump at some point.
There's nothing worse than playing soccer with a half-deflated ball.
A soccer ball pump also comes in handy if your child is just starting off learning how to juggle – deflate the ball just a touch and they'll find it much easier to control when it's in the air.
Some new soccer balls also come too pumped up so you'll need to let a little air out before using it otherwise it'll feel like you're kicking a rock.
11. Goalkeeper Gloves
If your child is interested in being a goalkeeper then they'll certainly need a good pair of goalkeeper gloves.
The important thing when buying gloves is to look at how much grip the palms have as well as how much padding they have.
Same with all soccer equipment, get gloves that fit well and are comfortable to wear.
Check out our sizing guide here.
Even if your child plays in another position on the pitch, it is still worth getting a pair of keeper gloves as most players enjoy going in goal from time to time.
And who doesn't like practicing taking shots with friends?
12. Team Kit
While most teams provide your child with a kit, some of them do require you to bring along your own shorts and socks that match the team's colours.
Check with the coach beforehand and if you do need to get shorts or socks in a particular colour, it's a good idea to pick up at least a few pairs as matches can come up quickly when the season heats up.
13. Tracksuit
When turning up to training or a match, many players like to wear comfy clothes like tracksuits.
Some players even play the whole session in them.
With a tracksuit you can often wear your soccer kit underneath it and so arrive ready to play right from the get go.
If there's no changing room around or someone's forgotten the key again then a tracksuit is a godsend as it means you don't have to change outside at the end of the session and can instead just pull it back on and be ready to head home in no time at all.
14. Snacks
While they may not quite be equipment, high-energy snacks are certainly a useful thing to provide your kid with as they head off to training or their next big match.
When expending all of that energy chasing down the ball, putting tackles in, and scoring game winning goals…
Players need to recharge and an energy bar will help replenish the energy they've used up while playing or training.
Sport drinks are also useful, particularly at half-time, when players need to take on liquids and electrolytes.
This helps prevent cramp and keeps the muscles fresh and raring to go.
15. Warm Coat
No matter how good you are, at some point you're going to spend some time on the bench and there's nothing more miserable than shivering away after having been subbed off.
A warm coat is essential, especially if you play in a colder part of the world!
You may also want to bring a pair of gloves if it's particularly cold weather.
16. Under Armour
Another great way to stay warm is to wear under armour beneath your team kit.
The extra warmth it brings is particularly welcome during winter time and some players also decide to wear leggings to keep their leg muscles warm and to insulate them against the cold.
17. Tape
This is a bit miscellaneous.
While the vast majority of players don't need or use tape, for others they just don't feel comfortable playing without it.
Players use it to stop their socks slipping down to their ankles and exposing their shin guards and there will often be at least one player in the changing room asking if they can borrow someone else's tape.
While most people take off their jewellery to play soccer, some players instead tape over their earrings as this holds them in place and also greatly lessens the chance of them getting caught on anything during the game.
Conclusion:
This is a complete soccer equipment list of everything a kid needs!
As mentioned earlier, the equipment a player uses in soccer goes a lot way to determining how you they'll play and train out on the pitch.
The most important thing is to feel comfortable in what you're playing in and confident that you've got everything you need to help you play your best soccer.
These 17 soccer items will help your child be prepared for anything that comes their way.