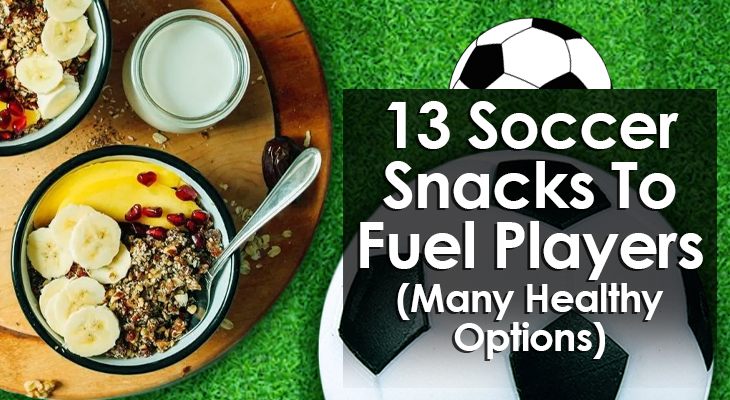 13 Soccer Snacks To Fuel Players (Many Healthy Options)
Soccer players are among the fittest sportspeople on the planet.

While they don't require the energy resources of endurance athletes, they do rely on nutrient-dense foods for high-level performance.
They're constantly moving and cover tremendous distances throughout a game.
At any given moment, they must be able to turn on a dime or explode into a sprint.
In fact, soccer players run more than athletes in virtually all major sports. An average player racks up around 7 miles per game, with midfielders often running 10.
To give this stat some context, basketball players will cover closer to 3 miles over 4 quarters.
So, how do players fuel themselves throughout the season?
Healthy soccer snacks are an essential component of their diet, particularly mid-season when games come thick and fast.
Soccer Snacks Ideas
Our soccer snacks are inspired by the nutritional information covered below.
Where possible, nutrient-dense snacks should be balanced, containing the right amounts of micro and macronutrients.
However, there's no need to go overboard.
Soccer players burn a tremendous amount of calories in a training session or 90-minute game, so there's definitely some wiggle room to experiment.
So, here it goes!
The following list is packed full of delicious and nutritious soccer snacks for practice, game days, and any time you're feeling a little peckish.
We've included options that require minimal preparation and some grab-and-go snacks for when you're in a hurry.
Snack Idea #1: Nutty Oatmeal
Oatmeal is a powerful snack or pregame meal for soccer players.
It's also a staple breakfast for many athletes.
It contains all the macronutrients and can be tailored to your taste with micronutrient-dense ingredients.
Whole grain oats are one of the best sources of carbs for athletic performance.
They contain low-glycemic levels, providing long-lasting energy.
Oats also possess fiber, vitamin A and B-g, magnesium, and protein, ensuring they are a healthy recovery aid.
The perfect blend for a single serving of nutty oatmeal contains:
1 cup of oats (unsweetened)
1 tablespoon of natural peanut butter (or nut butter of your choice)
1 cup of milk (or water)
Pinch of salt
Procedure:
Mix the ingredients and cook them in a pot over high heat until it comes to the boil. Stir continuously until around ⅔ of the milk is absorbed by the oats. Remove the pot from the heat and wait for the oats to cool before eating.
Depending on your preference, you can add the peanut butter before or after cooking.
If you prefer your oats cold, consider preparing overnight oatmeal.
Simply mix the ingredients in a bowl, cover it, and leave it in the refrigerator overnight.
Overnight oats can last up to 5 days so you can prepare a week's worth at the same time.
The beauty of this snack is that it can be tweaked to your liking with fresh fruit, greek yogurt, or seeds. We recommend blueberries, bananas, kiwis, chia seeds, or sesame seeds.
If you want an extra protein hit, add half a scoop of your favorite powder or use lactose-free protein milk.
Snack Idea #2: Peanut Butter and Banana Bagel
Ingredient selection is crucial for this recipe.
Choosing the wrong types can turn this healthy snack into a high-calorie, sugar-filled meal.
First off, opt for a whole-grain bagel.
Whole grain products contain dietary fiber and antioxidants, as well as vitamin B, iron, and magnesium, all of which promote a healthy functioning body.
Refined bagel varieties, like white flour, have the fiber and vitamins removed for longer shelf life.
These nutrients are seldom added back in.
Refined grains break down quickly, causing a spike in blood sugar, depleting energy stores, and making you feel hungry soon after eating.
Next, pick natural peanut butter.
Natural peanut butter is high in calories and is made up mainly of fat with some protein. This is a good combination for an active player with a balanced diet.
However, many household nut butter brands lace their products with sugar, offsetting the nutritional benefits. While some sugar is okay, organic and natural ingredients are much healthier.
Once you have the right ingredients, preparation is simple:
Cut your bagel in half
Toast or heat both sides (optional)
Spread a tablespoon of natural peanut butter on one side
Layer the peanut butter with banana slices

And that's it!
If you don't like bananas, tasty alternatives include blueberries, apples, strawberries, or melons.
This simple but delicious bagel can be quite filling so be sure to give your body time to digest it before practice. 
Snack Idea #3: Yogurt and Trail Mix
Trail mix is a long-time favorite of hikers, runners, and endurance athletes.
It is flavorful, filling, and easy to prepare, so it also makes for an excellent soccer snack.
A healthy trail mix is made up of nuts, seeds, dried fruit, and granola.However, there are plenty of store-bought options that contain added sugars, syrups, and even chocolate.
When preparing this recipe, it's best to make your own trail mix. Or, if you have access to a Whole Foods or health store, you can opt for one of their low-sugar options.
Trail mix is calorie-dense, leaving you feeling full, even after a small portion.
Nuts and seeds are excellent sources of dietary fats and protein, helping with muscle growth, recovery, and overall immune health.
Adding natural, sugar-free, Greek yogurt to your mix provides taste, texture, and a host of nutritional benefits. Greek yogurt is rich in calcium and vitamin A.
Compared to regular varieties, Greek yogurt has a higher protein content, which is crucial for athletes.
To make your own healthy trail mix, you'll need the following:
1 ½ cups of raw nuts (e.g. almonds, cashews, peanuts, or pecans)
1 cup of raw seeds (e.g. pumpkin, sunflower, or flax seeds)
1 cup of unsweetened dried fruit (e.g. raisins, peaches, apricot, or figs)
½ teaspoon of spices (e.g. cinnamon)
½ cup of at least 70% dark chocolate (optional)
1 cup of unsalted popcorn (optional)
Procedure:
Mix all the ingredients in a bowl then pack them into a ziplock bag.
If you prefer a crunchier texture, bake them in the oven at 250°F for 5 minutes.
This produces around 4 to 5 cups of trail mix.
A healthy portion is around ¼ of a cup so the yield should last for a while.
Be sure to store your mix in a dry and cool environment.
To complete the dish, simply add  ⅔ of a tablespoon of greek yogurt to a bowl, followed by a ¼ cup of trail mix.
This soccer snack is light and nourishing, making it the perfect option for before, between, or after training sessions. 
Snack Idea #4: Hummus and Crackers or Vegetables
Often branded as a "superfood", hummus is a great ingredient for making healthy soccer snacks.
It's an excellent source of plant-based protein and contains tons of vitamins and minerals, including iron, zinc, thiamin, Vitamin B6, and potassium.
What's more, virtually all of its key ingredients are rich in anti-inflammatory properties.
Hummus has low levels of glycerol, helping control your blood sugar levels.
Did we mention it's also delicious?
The main caveat with hummus is that it is easy to overindulge in.
Although it is healthy, it contains a lot of calories and putting away an entire tub during a Netflix binge is not recommended.
A healthy portion of hummus (2 to 3 tablespoons) can easily fit into an athlete's diet, making it one of the best soccer snacks around.
The most enjoyable way to eat hummus is as a dip or spread.
Crackers are a low-calorie dunking option, providing the perfect texture for your snack.
Chopped vegetables like carrots, celery sticks, or bell peppers are another great accompaniment.
They also provide you with a healthy dose of micronutrients.
When buying your hummus, choose whole food options with minimal ingredients:
Chickpeas
Olive oil
Lemon
Garlic
Tahini

Avoid products with artificial additives and cheap oils, like vegetable, canola, and soybean. 
Snack Idea #5: Protein Smoothie

Protein smoothies are always a great way to shake things up.
They are arguably the most convenient method for ingesting all your key nutrients.
There are hundreds, if not thousands of delicious smoothie recipes.
However, the following blend is designed especially for soccer players, providing you with the fuel you need before, during, or after a session.
Here's what you need:
½ banana
½ cup of raspberries (fresh or frozen)
½ cup of blueberries (fresh or frozen)
1 scoop of protein powder (vanilla works best for this recipe)
1 cup of low-fat milk (almond or coconut work best for this recipe)
Ice (3 to 5 cubes)

If you want to add some extra calories, throw in a half cup of unsweetened oats. When you're really hungry, a tablespoon of natural peanut butter gives this smoothie a creamy texture.
Simply pop your ingredients into a blender and liquidize for 15 to 30 seconds. 
More Easy Soccer Snacks:
Sometimes you won't have time to prepare food in advance.
Here are some grab-and-go soccer snacks for emergencies:
Fresh fruit (e.g. apples, oranges, bananas, grapes, or berries)
Raw vegetables (e.g. carrot or celery sticks)
Raw nuts
Low sugar trail mix

Protein bars
Natural, sugar-free yogurt
Low-fat protein milk
Low sodium turkey jerky
The Importance of Soccer Snacks
Soccer snacks are not only important to keep hunger at bay, but they're also key for both performance and injury prevention.
Players require a certain amount of calories to be at their best and must eat frequently to replenish energy stores.
Calorie counting isn't the only important factor, however.
Athletes should also focus on the quality of the food they consume, factoring in micro and macronutrients.
Micronutrients
Micronutrients are a major food group that is integral for providing high energy levels, supporting bone health, and maintaining fluid balance in the body.
The main micronutrients that concern soccer athletes are minerals and vitamins.
Players can ensure they reach adequate micronutrient levels through supplements or by ingesting foods naturally.
Whole grains, poultry, fish, nuts, bananas, eggs, and leafy greens are rich in micronutrients, forming the basis of a healthy athlete's diet.
It's important to note that these nutrients are not naturally stored in the body.
Players must be cognizant of their mineral and vitamin intake.
At the highest level, athletes regularly have their bloodwork tested, checking for deficiencies.
Macronutrients
Macronutrients are another food group that help your body to perform and recover optimally.
Without adequate levels of macronutrients, soccer players may be vulnerable to injury.
The three key macronutrients are carbohydrates, protein, and fat.
Carbohydrates
These include brown rice, oats, or sweet potatoes, which provide rapid energy.
Carbs contain glucose, which stores in the muscles as glycogen, fueling them over sustained periods.
They also help with digestion and fullness, ensuring players feel good as they compete.
Protein
It is an essential macronutrient for building and repairing muscle tissue.
Without adequate protein stores, players will struggle to recover after training or games.
Good sources of protein include fish, eggs, and chicken.
Fats
Fats often get a bad rap in the media.
However, healthy unsaturated fats play a huge role in athletes' diets.
They contain anti-inflammatory properties, helping the muscles recover after a tough session.
Unsaturated fats in extra virgin olive oil, avocado, natural peanut butter, and salmon also help the body absorb key vitamins A, D, E, and K.
Fuel Your Body With Healthy Soccer Snacks
As the age-old cliche goes, "failing to prepare is preparing to fail".
Convenience is crucial for an optimized diet.
Ensure your convenient soccer snacks are as healthy as possible with our recommendations.
It's also important to note that some of our soccer snacks may contain allergens.
Always read food labels and avoid anything that may cause an adverse reaction.
Further Reading: 3 Pro Soccer Players Reveal What They Eat
Further Reading: What to Eat Before a Soccer Game for Maximum Performance
Soccer Snacks Summary - TLDR
Delicious and nutritious soccer snacks include:
Nutty oatmeal
Peanut butter and banana bagels
Greek yogurt and trail mix
Hummus and crackers or vegetables
Protein smoothie
Protein bars
Fresh fruit
Raw nuts