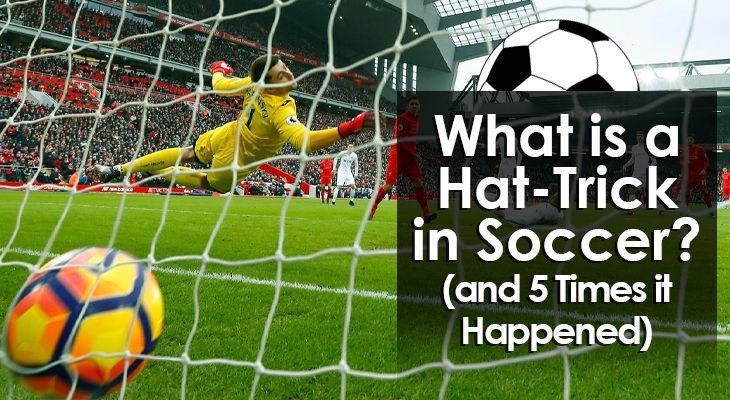 What is a Hat-Trick in Soccer? (and 5 Times it Happened)
One of the most satisfying and impressive things to do in soccer is to score a hat-trick.
Something that most players never manage to achieve throughout their professional careers.
Due to its difficulty and the rarity at which it occurs, players are rightfully lauded and praised when they achieve the phenomenal feat.
But what is a hat-trick in soccer and what does scoring one mean?
Let's take a look at what a hat-trick is and how the term originated before moving on to some of the most famous hat-tricks from throughout soccer history.
What is a Hat-Trick in Soccer?
Simply put, a hat-trick is when a player scores three goals during a soccer match.
As this is tough to do and doesn't happen very frequently, players are usually highly praised for their performance when they do manage to score one.
While goals scored at any time of the match -- whether that be normal time or extra time -- do count towards the hat-trick, a penalty scored during a penalty shootout does not count.
When a player has already scored two goals in a game, you will often hear commentators say that they are "on a hat-trick" meaning that they only need one more goal to achieve the feat.
If they do manage to score a hat-trick, tradition dictates that the player be allowed to keep the match ball as a memento of their achievement.
What's a "Perfect Hat-Trick"?
While scoring a regular hat-trick is already hard enough, on rare occasions players also manage to score a 'perfect hat-trick'.
This is when they score one goal with their right foot, one with their left foot, and one with their head.
This is even harder to do as it means the player needs to not only be in the right place and right time but also have the skills and technique to score with different parts of their body.
As it usually falls on strikers to score the vast bulk of a team's goals, most hat-tricks are scored by forwards or attackers with midfielders also scoring them from time to time.
As they play much further back, defenders only very rarely score hat-tricks and this is often only if they take the team's free-kicks and penalties.
Now that we know just exactly what a hat-trick is, let's quickly take a look at the origins of the term before moving on to some of the most famous hat-tricks ever scored.
Why is it Called a 'Hat-Trick'?
Although the somewhat peculiar term is now used in everything from handball and hockey to lacrosse, motor racing and water polo, it's actually believed to have originated from cricket.
The first instance of it having been used dates all the way back to 1858 when Heathfield Harman 'HH' Stephenson took three wickets from three consecutive bowls.
This historic event took place during a match between the All-England Eleven which he represented and Hallam.
To celebrate the fantastic feat, fans held a collection for the first-class cricketer and presented him with a cap or hat which was brought with the proceeds.
While this is believed to be the origins of the term according to the Oxford English Dictionary, it first appeared in print in 1865 in the Chelmsford Chronicle.
From here it later spread to other sports such as soccer with even scrabble, poker and explorers using the term.
Now we know its origins and meaning, let's move on to some of the most impressive and important hat-tricks from soccer history!
The Most Famous Hat-Tricks in Soccer History 
While both Messi and Cristiano Ronaldo score hat-tricks for fun, having to date amassed 54 and 56 respectively, for many players scoring three goals in a game represents one of the highlights of their career.
If you score a hat-trick in a high profile game for instance or in a heated derby match against a rival then you'll rightly be remembered forever for your phenomenal feat of goalscoring.
While some hat-tricks are lauded for the importance of the occasion, others ignite the imagination with the sheer brilliance and audacity of the goals scored.
Let's take a look at some of the best and most breathtaking of them all!
1. Geoff Hurst vs West Germany - 1966 World Cup Final
One of the most famous hat-tricks of all time is the one Geoff Hurst scored against West Germany to win England their only World Cup to date in 1966 on home soil.
After West Germany went ahead in the twelfth minute, Hurst headed in an equaliser shortly afterwards, delighting the home crowd in Wembley Stadium.
Having finished 2-2, the game went to extra time with Hurst scoring his second and most infamous goal in the 101st minute.
Turning sharply in the box, he rifled a shot with his right foot with it striking the underside of the bar before bouncing down and being cleared away.
While debates still rage as to whether or not it crossed the line, the goal was awarded and England were on their way to World Cup glory.
Right at the end of extra time, Hurst completed his hat-trick by unleashing a venomous strike with his left foot into the top corner of the net.
As well as being a 'perfect hat-trick', Hurst's achievement is made all the more impressive for it being a World Cup final.
2. Rivaldo vs Valencia – La Liga 2001
While Rivaldo's hat-trick can't match the momentous occasion that is a World Cup final, it certainly ranks among the very best for the outrageous goals he scored.
To qualify for the next season's Champions League, Rivaldo's Barcelona needed to beat La Liga rivals Valencia in the final game of the 2000/2001 season.
With just a few minutes on the clock, the Brazilian maestro stepped up and curled a sumptuous free-kick up over the wall and past the despairing dive of Santiago Canizares.
While Valencia equalised later in the half, Rivaldo again put Barcelona ahead before half-time.
This time he dummied his way past one defender before unleashing an unstoppable shot from fully thirty yards that powered into the back of the net.
With Valencia again equalising and time running out, Rivaldo saved his best for last, securing Barcelona the win and Champions League qualification in the 87th minute.
As the Valencia defenders dropped deep, Rivaldo received a chipped pass on the edge of the box.
With defenders all around him and his back to goal, he chested the ball high in the air and scored an incredible and unforgettable bicycle kick.
As well as being one of the all time most aesthetically pleasing hat-tricks, it was also important in terms of securing Barcelona Champions League qualification.
3. Messi vs Real Madrid – La Liga 2007
Although Lionel Messi has since scored countless hat-tricks, not many can be as sweet as his first professional hat-trick against none other than fierce La Liga rivals Real Madrid.
Back in 2007, the two teams were battling for the title as they prepared to face each other for a highly anticipated El Clasico at the Camp Nou.
While the ruthless goalscorer Ruud Van Nistelrooy put Los Blancos ahead early on, Messi slotted home an equaliser shortly afterwards, showing remarkably composure for a nineteen year old on such a big stage.
Just two minutes later however Real were back in front through a Van Nistelrooy penalty.
Barcelona piled on the pressure and Messi again equalised when he blasted a bouncing ball in the box into the top of the net past legendary keeper Iker Casillas.
After Barca were reduced to ten men, Real Madrid again went ahead in the second half when Sergio Ramos flicked home a header from a free-kick.
With time running out, Messi picked up the ball from a Ronaldinho pass in extra time and jinked his way past Ivan Helguera before smashing a shot into the bottom corner of the net past both Ramos' despairing slide tackle and Casillas' dive.
Despite so many legends lining up for each side, it was Messi who made the difference, showcasing just some of the special genius and talent which he has shown ever since.
Although Barcelona finished runners up in the league, his phenomenal performance highlighted the start of a whole new successful era.
4. Ibrahimovic vs England – International Friendly 2012
Although it was only a friendly, the incredible goals that Zlatan Ibrahimovic scored against England regularly feature in lists of the greatest hat-tricks of all time.
Routinely dismissed as overhyped and over-rated before the match by the English media, Ibra answered in devastating style by scoring all four of Sweden's goals.
With just nineteen minutes on the clock, Sweden's leading goalscorer and captain poked home a tidy finish into the top of the net past England keeper Joe Hart.
Just twenty minutes later however England were 2-1 up through goals by Danny Welbeck and Steven Caulker.
So the score remained until the 76th minute when Ibrahimovic peeled off of defender Gary Cahill, chested a long ball down and volleyed it into the bottom corner
Just seven minutes later, he had his hat-trick as he smashed a low free-kick into the back of the net from fully thirty yards.
Zlatan wasn't finished however, saving his best for last for his fourth and final goal.
In the ninetieth minute, Joe Hart charged out of his goal and only half-cleared a long ball with his head.
As it looped up into the air, Ibrahimovic swivelled and pulled off an utterly outrageous overhead kick that ended up in the back of the net, again from around thirty yards.
A masterful moment of magic, it completely silenced the English media and any doubts they had as to whether Zlatan was a world-class player or not.
5. Gareth Bale vs Inter Milan – Champions League 2010
Another famous hat-trick that heralded the arrival of a new superstar was when Gareth Bale scored a terrific treble against Inter Milan in the Champions League in 2010.
The game got off to a terrible start for Tottenham however as they found themselves trailing after just a minute to captain Javier Zanetti's tidy finish.
Things didn't get much better from there as goalkeeper Huerelho Gomes was sent off after just nine minutes with Samuel Eto'o doubling Inter's lead from the resulting penalty.
At the end of the first half, Spurs were four – nil down with Stankovic and Eto'o having added the other two goals.
From here on however it was the Gareth Bale show.
Just six minutes into the second half, he started an unlikely comeback when he sprinted down the left and struck a fine shot into the opposite corner from near the edge of the box.
He repeated the feat in the 89th minute with an almost identical goal, completing his hat-trick with a third smooth strike from a similar position just a couple of minutes later.
Although it ultimately proved to be too little too late, Bale's heroic hat-trick helped Tottenham Hotspur take heart with them going on to beat Inter Milan in the second-leg 3 – 1.
As well as helping them to progress to the next round of the Champions League, Bale's hat-trick also announced his arrival as a world-class player on the international stage.
Conclusion:
Now you know what a hat-trick is in soccer.
While it's a tough thing to do, scoring a hat-trick is one of the most satisfying accomplishments for any soccer player.
Scoring 3 goals in one game demands not only technique, talent, and timing, but a little luck too.
Players are rightfully celebrated when they score a hat-trick and get to keep the match ball as a memento.