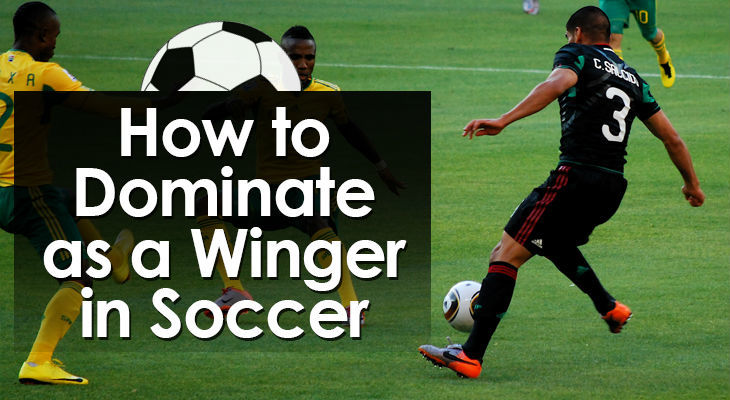 What is a Winger in Soccer? (Full Position Guide)
Everybody loves a winger...
Wingers play on the left- or right-hand side of the striker, providing attacking width and creating chances in every game.
They're usually tricky players with no shortage of skills and confidence.
In saying that, the wingers of today get judged mainly on their output, not on their highlight reels.
Wingers must be productive in the final third, consistently providing goals and assists throughout a season.
It's one of the most difficult positions on the field.
Let's discuss how to excel in the winger position:
What is a Winger in Soccer?
Wingers are wide, attacking flair players who fire up the crowd with dazzling feats of skill, blistering pace, and plenty of goals.
Often the most exciting players on their teams, wingers are known for being fast and tricky.
Many wingers are masters of the 1v1 and are responsible for a significant portion of their team's goal contributions.
In the modern game, most teams set up with three-player front lines, consisting of two wingers on either side of a striker.
This enables them to be more dominant in midfield, in terms of control and possession.
Therefore wingers don't usually have many defensive responsibilities.
That said, they're critical in adding balance to the team by stretching defenses and utilizing all available space. 
Position of a Winger in Soccer
Wingers play on either side of a midfield or front line.
They occupy wide spaces and are the main attacking threat from the wing.
In most scenarios, wingers stay wide and hug the touchline. This forces the opposition to open up, leaving more spaces and gaps to exploit.
If the opponents stay compact or drop into a low block, wingers have tons of room to create crossing angles or find shooting opportunities.
However, not all wingers stand on the sidelines for the entire game....
Once they receive the ball, many of them cut inside and lead attacks through the center of the field.
This is because wingers of today generally play "inverted."
This means that they operate on their "weaker" sides. Turning infield onto their stronger foot opens up more angles to attack and create.
In the past, traditional wingers played on their stronger sides, whipping in crosses to dual strikers.
Since most teams now choose to set up with just one center forward, this tactic is no longer as fruitful as it once was.
That said, there are still plenty of wingers who play mainly on their dominant sides. 
What Does a Winger Do in Soccer?
Wingers are often misunderstood as selfish, full of flair, but with very little end product.
While many top wingers are extremely confident, but that's a requirement to excel in the position as they're constantly pushing themselves in 1v1 situations.
Without the belief that they can pull off moments of magic, they wouldn't happen.
A winger's role is a challenging one that mandates mental and physical skill and fortitude.
Here's a look at what a winger does both on and off the ball.
Winger's Role In Attack
#1 - Playmaking and Chance Creation 
With the game becoming more statistically driven, goal contributions (goals and assists) and big chance creation are two of the core metrics for judging wingers.
Operating with up to 7 or 8 players behind them, wingers are in place to produce in the final third.
The more playmaking tools a winger has at their disposal, the more beneficial they are to their team.
Naturally, crossing ability and accurate passing are essential for creating high percentage chances.
However, it's also important for wingers to have skills that put them in positions from which they can create -- like dribbling, acceleration, and good footwork.
Two-footed wingers are also extremely valuable as they have the option of beating their marker on the outside or cutting in and attacking directly. 
#2 - Goalscoring 
As well as creating goalscoring opportunities for teammates, wingers also need to get in amongst the goals themselves.
Wingers can get on the scoresheet in a multitude of ways, particularly if they can shoot off either foot, as alluded to earlier.
Another effective way to open up goalscoring opportunities is to make lateral runs behind the backline.
Many modern teams play with a high defensive line, leaving space behind for runners.
Good timing, anticipation, and a firm understanding with creative midfielders are paramount to pulling off this type of play regularly.
If you really want to boost your end-of-year goal tally as a winger, make a concerted effort to hit the back post when the ball is on the opposite flank.
This is the perfect place to get on the end of a cross, tap in a rebound, or score from a loose ball.
Remember, not every goal has to be a mazy solo effort or a curling shot from outside the box.
#3 - Stretching the Opposition 
Despite having significant creative freedom on the ball...
Wingers must be positionally disciplined to avoid disrupting the offensive system.
This generally means staying out wide to stretch the opposition's defense.
The best place for any attacker to receive the ball is in space as this allows them to carry the ball forward at speed and drag opponents out of position.
If wingers are drawn into the center of the field too often, they're likely to cause congestion and disrupt the attacking flow.
While standing too far forward makes them both easier to mark by defenders and harder to pass to by teammates.
Occupying wide areas along the sideline means wingers are easier to find.
Moreover, due to the space they've created, they will then have multiple attacking avenues to exploit. 
#4 - Beating Opponents 1v1
On the wings, the key battle is the 90-minute duel between the winger and the fullback.
As a winger, having the ability to consistently beat a defender 1v1 is an invaluable asset to a team.
It opens up space to run into or make a killer pass from.
Or, it forces a second defender to commit, creating even more space for teammates to exploit.
There are many ways to beat a defender and different types of players use different moves to do so.
Wingers like Neymar, Rodrygo, and Jadon Sancho use footwork and skills to embarrass defenders, while Mo Salah, Marcus Rashford, and Ousmane Dembele often rely on their pace and power to blast past their markers.
Give-and-go passes and link-up play with a fullback are other great ways to beat a defender if your opponent has the edge in the speed department.
The key for wingers to consistently beat their marker is to avoid being one-dimensional.
Winger's Role In Defense
#5 - Pressing 
Pressing from the front has become one of the go-to tactics in modern soccer.
As a counter to the build-from-the-back strategy, coaches instruct their attackers to close down defenders quickly in an attempt to turn the ball over in dangerous positions.
Teams usually launch these presses after a particular trigger -- like a pass from a center back to a fullback.
The idea is that winning the ball in these situations presents the opportunity to create high-percentage chances before the opposing defense can reset.
Wingers are fundamental to a strong press as they can leverage their speed, anticipation, and trickery to maximum effect.
#6 - Tracking Back 
While they take on a mountain of defensive work, wingers have to track back on occasion.
It's particularly important when the opponents use their fullbacks in attacking phases.
Failing to track back can lead to numerical disadvantages in the backline and easy chances for the opposition.
One of the most important scenarios for wingers to track back is in transition when a teammate is clearly out of position.
The winger must sense the danger and retreat quickly to help stop a fast break. 
#7 - Helping Out the Fullback
A great soccer team works as a unit with key partnerships all over the field.
The fullback-winger relationship is one of the most important in attack and defense.
If a fullback is up against a tough attacker, they may need help from their winger.
Doubling up on the best player from the opposition is an effective way to limit their opportunities.
Good communication is essential in recognizing such threats. 
5 Key Traits of a Winger
Wingers come in all shapes and sizes, offering different qualities to the team.
However, there are common traits that the best in the business share.
a. Speed and Acceleration
Speed and acceleration are the hallmarks of virtually all great wingers.
These attributes alone allow you to blast past your opponent into space whether you have the ball at your feet or you're making a run in behind.
Fast wingers are extremely tough to defend against. Especially those who use their natural abilities to take on defenders and make frequent runs toward the goal.
While some players have their genetics to thank for their blistering pace, it's possible to improve your speed and acceleration by strengthening the hamstrings and glutes.
These muscle groups are responsible for explosive movements, like sprinting and jumping. 
b. Quick Feet
Quick feet can make all the difference in the final third.
It facilitates slick one-touch passing, intricate skill moves, and dribbling in tight spaces.
Wingers can work on the quickness of their feet in a number of ways.
One of the best approaches to improving your feet is by regularly performing ladder drills.
One-touch pass and move drills are also an excellent way to speed up the feet while improving your on-the-ball skills. 
c. Dribbling Skills
Wingers are generally the best dribblers on their team.
Playing as a wide attacker, you're constantly faced with 1v1 situations against a fullback.
You must be able to rely on your dribbling ability to surge past defenders and get into dangerous positions.
There's no substitute for practice when it comes to dribbling. It's a skill with which improvement directly correlates with time put in.
When performing dribbling drills, remember to keep your head up where possible.
d. Vision
As highly influential creators, wingers must be able to recognize a potential chance before it even occurs. 
They say that the best playmakers have a picture in their heads of what they want to do at all times.
Learn to recognize attack patterns and the types of runs your teammates make.
This helps you to anticipate opportunities before the opposition. The rest comes down to execution.
e. Striking Technique
One of the most common criticisms of wingers is a lack of end product.
Failing to deliver in the final third can be a result of several factors.
Some wingers are so focused on the ball that they fail to spot the runs of their teammates on time.
Others struggle to beat their marker 1v1, making it difficult to create high-percentage opportunities.
However, perhaps the biggest factor in a lack of end product is poor striking technique.
Great wingers are excellent strikers of the ball, ensuring they can cross from a variety of angles, using different techniques.
Be sure to practice crossing on the move, standing still, and using your weaker foot.
It's also beneficial to work on different types of passes, like cutbacks, lofted balls, and driven crosses.
If you plan on scoring a few goals during the season, don't forget to practice your finishing.
Best Wingers of All Time
Assembling a list of the best wingers ever is no easy task, but someone's got to do it.
Here's my top 10, including players from multiple eras:
Lionel Messi
Cristiano Ronaldo
Ronaldinho
George Best
Garrincha
Johan Cruyff
David Beckham
Jarzinho
Luis Figo
Franck Ribéry
5 Bonus Tips for Wingers
A winger is a specialized role and one of the toughest on the field, mentally and physically.
It's impossible to beat your opponent every single time and find a teammate with every cross.
Therefore you must focus on the controllable and remain persistent.
Here are 5 bonus tips to elevate your game as a winger.
Tip #1: Read the Game
View the opening minutes of a game as an opportunity to collect data on your opponent.
Recognizing their tendencies and preferences quickly stacks the odds in your favor in 1v1s and gives you confidence in your decision-making.
Some important areas to focus on include:
> Whether they're right- or left-footed
> If they tend to dive into challenges or drop off
> If they receive support in 1v1 situations
> Whether they join attacks or stay deep
> Their positioning when the ball is on the opposite side.
Tip #2: Understand Your Strengths and Weaknesses
Every player has their weaknesses. Understanding yours will take your game to another level.
Although you don't want to become one-dimensional, rely on what you do best and avoid making things overcomplicated.
Likewise, recognize where you fall short and find ways to overcome your deficits.
For example, a lack of acceleration can be countered by good movement and positioning, giving you an extra yard of space before you receive a pass.
Tip #3: Develop a Well-Rounded Game
As a winger, you should always seek to improve.
If you're mainly a creator, focus on adding goals to your game.
If you're a goalscoring winger, look for other ways to contribute to the team... like tracking back, pressing, or improving your link-up play.
Tip #4: Be a Communicator
A soccer field should never be a quiet place.
The best soccer players are in constant communication, working as a unit in attack and defense.
In particular, wingers must be excellent communicators to ensure they're on the same page as their fullbacks, strikers, and creative midfielders.
Get into this habit on the training field, instructing your teammates with prompts such as "time", "turn", or "one-two". 
Tip #5: Study Movement
Clever movement is a key difference between good and great wingers.
Learn to be elusive by studying the movement of the best players in the world.
Live games and YouTube are the perfect resources for this.
For example, you can look at how Mo Salah moves when his team is in transition.
Or you can study how Lionel Messi finds pockets of space between the lines before accelerating toward the defense. 
Conclusion
So there you have it…
You now have the ingredients needed to dominate as a winger in soccer.
The next step is putting in the work on the training field.
Before you know it, you'll be rampaging down the wing, terrorizing defenders, and mesmerizing fans with your fancy footwork.