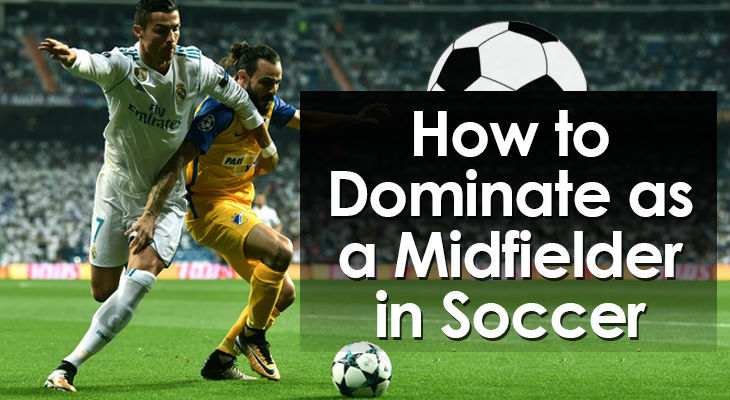 What is a Midfielder in Soccer? (Full Position Guide)
"Games are won and lost in midfield."
This is a statement we hear on repeat ahead of crucial clashes between top teams.
Regardless of formation, midfielders are in the thick of everything and are the heart, lungs, and brains of a team. 
Transitioning between attack and defense like the flick of a switch, their involvement in a game's critical moments can't be understated.
Going forward, they are key link players, forming offensive banks to gradually chip away at the opposition's backline.
As such, having a good midfield helps a team dominate possession and control the game.
Read on if you want to learn how to dominate as a midfielder in soccer.
What is a Midfielder in Soccer?
A midfielder is an outfield player, positioned between the defense and the forwards, who contributes both in attack and defense for their team.
In the modern game, most midfielders are specialists, contributing mainly to either the defensive or offensive side of the game.
Center defensive midfielders (CDMs) shield the backline and impact the game through tackles, interceptions, and other defensive work.
Going forward, CDMs tend to keep it simple, playing neat passes to their more creative teammates.
In contrast, center-attacking midfielders (CAMs) sit just behind the front line and should be able to receive the ball in advanced channels and create opportunities for strikers.
Although they have their defensive duties, CAMs rarely drop as deep as a CDM.
Position of a Midfielder in Soccer
Midfielders spend the majority of their time in the center of the field, occupying the space between both boxes.
That said, it's not uncommon to see a midfielder chasing down an opponent in the corner flag or getting on the end of a cross in the penalty area.
The center midfielder in soccer is usually the fittest player on the team and cover more ground per game than any other position.
For the most part, modern midfielders play in a double pivot or as a trio, depending on the formation.
In a midfield two, the golden rule is that if one goes forward, the other drops back, and vice-versa.
While when operating as a trio, each player will likely have a more specific role.
For example, one usually sits back as the defensive anchor, another takes on the box-to-box role, while the last player occupies a more advanced position.
This setup gives the midfield balance in and out of possession.
If you study a midfielder heat map, you'll find that they cover almost every blade of grass in a game. However, they're particularly active in and around the center circle.
What Does a Midfielder Do in Soccer?
I've already mentioned that a midfielder does a little bit of everything.
But, what does that really mean?
Let's take a closer look at the roles and responsibilities of a midfielder in attack and defense. 
Midfielder's Role In Attack
#1 - Keep Possession and Dictate the Tempo
The most popular offensive strategy in soccer is to dominate the game by keeping possession and controlling the tempo.
That way, the game is played at a pace that suits the team.
But without a quality midfield, this tactic is virtually impossible to execute.
That said...
It's not enough to simply hold on to the ball... teams must keep possession with a purpose.
This involves movement, following patterns of play, and constant communication.
As link players in highly congested areas, each midfielder in soccer should have the ability to find pockets of space to collect the ball, then pass to a teammate.
Although safe, high-percentage passes are important for possession recycling, they are easy to defend against, especially with a low block.
So, midfielders must be on the lookout for forward passes to break through the lines.
Quality midfielders work in tandem to pass the ball around the field, stretching the opposition and looking for gaps to progress play into more dangerous areas.
Quick passes, switches of play, and clever movement are key to establishing a good tempo from which chances can be created.
#2 - Create Chances and Provide Assists
Midfielders are typically well-rounded and have great skills, enabling them to be important playmakers on the field.
In particular, teams rely on their attacking midfielders to find killer passes in the final third and create goalscoring opportunities for teammates.
Some midfielders are deep-lying playmakers, leveraging their vision and striking technique to set up chances from inside their own half.
Although these players don't always get credit with an assist, their ability to pull the strings from deep is often the catalyst for a dangerous attack.
But...
It's important to note that chance creation doesn't just come from being a good passer.
Top midfielders also make surging runs forward to draw out defenders and make room for teammates to run into.
In addition, being in the right place at the right time allows midfielders to create chances with the simplest of passes.
The best-in-class midfielders are not just technicians, they're also extremely intelligent players!
#3 - Join Attacks
Midfielders don't necessarily score a lot of goals, but when they do, they're often spectacular shots from distance.
While this makes for entertaining viewing, it's not the most efficient form of attack.
Where possible, coaches urge their midfielders to join attacks higher up the field and into the box where they can get on the end of higher-percentage chances.
Midfielders who offer 10+ goals per season can be a huge difference in a title charge.
The keys to adding goals from midfield are risk management and timing.
Many midfielders refrain from getting too far forward in case their team loses possession and they're caught out of position on the break. 
Top CMs learn to recognize the right times to hit the penalty box, ensuring they chip in with goals without putting undue pressure on their defense. 
Midfielder's Role In Defense
#4 - Track Back and Offer Defensive Cover
Midfielders operate primarily between both boxes and an important part of their game is tracking back and offering defensive cover.
Many modern teams utilize a CAM as their go-to attacking outlet.
These players play between the midfield and defensive lines and are very hard to pick up.
Midfielders must be aware of any opponents left unmarked inside their half and drop back if necessary.
When opponents have the ball, midfielders must sit back and form a solid block in front of their centerbacks, preventing penetrative passes and runs. 
#5 - Tackling and Marking
When facing a like-for-like midfield, CMs sometimes have to mark a specific player.
This doesn't necessarily mean following them everywhere around the pitch, but it ensures all opponents are accounted for when they're on the attack.
Other coaches prefer a zonal marking setup.
In this type of scenario, each midfielder has specific defensive instructions for different situations.
Typically, this involves covering certain areas of the pitch in defense and engaging any opponent that enters it.
Regardless of the strategic formation, midfielders must be good tacklers to be able to dispossess an opponent or break up an attack. 
#6 - Win the Midfield Battle
Winning the midfield battle often comes down to grit, determination, and collective effort.
Midfielders must bring an unmatched intensity to every game to ensure they're in position to outdo their markers in 1v1 battles and win 50/50 duels.
The key to success here is learning to work efficiently off the ball within the system outlined by the coach.
Midfielders must communicate frequently and demonstrate discipline as well as intensity for 90 minutes.
While effort and work rate are appreciated, running around aimlessly is a hindrance to the team. 
5 Key Traits of a Midfielder in Soccer
There isn't necessarily a single midfield archetype.
In fact, it's one of the few positions where players of all shapes and sizes can enjoy success.
This is even obvious when you break down midfield specialist roles.
However, all successful midfielders must carry certain traits to make it to the top. 
a. Elite Positioning and Understanding of the Game
Being in the right place at the right time has little to do with luck and a lot to do with in-game intelligence.
Elite positioning and understanding of the game allow midfielders to occupy spaces from which they can keep possession and progress the ball.
If you watch top midfielders closely, they're constantly scanning the field, checking their shoulders, and making subtle movements to get free from a marker.
It's this level of game sense that earns them valuable seconds on the ball which they can then use to move the it upfield.
Poor positioning limits a midfielder's time on the ball, increasing the likelihood of a turnover and lowering their chances of making a progressive pass. 
b. Disciplined and Coachable
There can be room for rogues on a soccer field, who create moments of magic from their own intuition.
While midfielders should be creative, taking big risks in central areas can be extremely detrimental to a team.
Discipline is a must for midfielders, learning to choose their moments to attempt the audacious.
As the most active players on the field, midfielders are vital for relaying the coach's messages during a game.
Discipline and coachability are two controllable mental traits that elite midfielders have in spades. 
c. Calm Under Pressure
The center of the park is the most congested area on a soccer field.
Midfielders frequently pick up the ball with their back to the goal while surrounded by opponents.
They must be calm in these types of situations and leverage their abilities to find a simple pass or turn out of trouble.
Although some people are calm by nature, keeping your cool on a soccer pitch is an entirely different skill.
It comes from putting yourself in difficult situations on the training field time and time again.
Having practiced possession drills or taking touches under pressure during training, midfielders can develop confidence when they take to the field on game day. 
d. Excellent Technique and Solid Fundamentals
Great technique and solid fundamentals make midfielders more efficient players.
Since they're involved in both attack and defense, and operate predominantly in the busiest areas of the pitch, they must be competent in all aspects of the game.
Core on-the-ball skills include passing, first touch, striking technique, dribbling, and vision.
In defense, well-rounded midfielders should demonstrate good tackling technique, marking, heading, and anticipation. 
e. Great Gas Tank
Midfielders run more than any other position on the soccer field.
To meet the demands of a 90-minute game, they must be supremely fit.
Stamina and endurance are not only important for the physical elements of the game, but they're also critical for maintaining concentration levels throughout a match.
When tight games near the final minutes, the fresher team has a significant advantage over their opponent.
If you're struggling with your physical fitness, consider doing extra drills outside of training or commit to additional sessions in your backyard.
Best Midfielders of All Time
It's extremely difficult to narrow down a list of all-time midfielders.
Depending on your preferences, you may lean toward certain players over others.
I've tried to incorporate all types in my top 10 midfielders of all time list:
Zinedine Zidane
Johan Cruyff
Xavi
Andreas Iniesta
Paul Scholes
Michel Platini
Roy Keane
Lothar Matthaus
Andrea Pirlo
Luka Modric
5 Bonus Tips for Midfielders
Now that you're familiar with the roles, responsibilities, and traits of a top midfielder, it's time to discuss improving your game.
Here are 5 tips to help you dominate any midfield position.
Tip #1: Learn to Use Both Feet
Passing.
Shooting.
Dribbling.
The ability to play confidently with both feet is a great skill to have in any position.
But it is particularly important in the midfield area as you get so little time on the ball.
When you can use both feet equally well on the pitch, it saves you time and opens up more passing angles to find teammates. 
Tip #2: Improve Awareness By Scanning 
Knowing what is going on around you at all times is a crucial component of being a midfielder in soccer.
The best way to improve awareness is by getting into the habit of scanning.
This means checking your shoulders and looking around to see where teammates and opponents are.
Top players, like Xavi and Frank Lampard, were known to scan up to 50 times per minute.
No wonder they were so efficient on the ball.
Form the habit of scanning by making a conscious effort in every training session.
Tip #3: Manipulate the Space Through Movement
As a midfielder, you'll have to learn where space is available on the field.
Scan your surroundings, survey the field, and make quick movements to get open.
Body positioning is key here.
When a defender is on your back, square up your shoulders and lean into them to protect the ball.
If you have space, open up your body toward the position you want to go to and let the ball do the work. 
Tip #4: Build Your Stamina
Having a good engine can elevate your game to a new level, ensuring you can pass through the gears and remain a threat even in the closing moments of a game.
There are several ways to improve your stamina.
The easiest way is to step up your intensity during training.
Set the standard and become the hardest-working player on your team.
If this isn't enough, consider doing extra running or gym sessions outside of organized practice. Your diet is also important for fueling the body and recovery.
Tip #5: Become More Physical
As a midfielder in soccer, you don't want to be a pushover.
If you consistently struggle against larger and stronger opponents, consider starting a strength and conditioning program to improve your physicality.
While you don't need to take on a bodybuilder's workout routine, building a strong core and powerful legs are useful tools as a midfielder. 
Conclusion
It's easy to argue that midfield is the most challenging position in soccer.
The dual responsibilities, energy demands, and pressure to perform mean only the most skilled players can fill midfield roles.
That said, by simplifying the role and focusing on the fundamentals, you can become a very competent midfielder.
Focus on developing excellent technical skills that set you apart from the rest.
And when you do that, it can be one of the most enjoyable positions on the pitch.