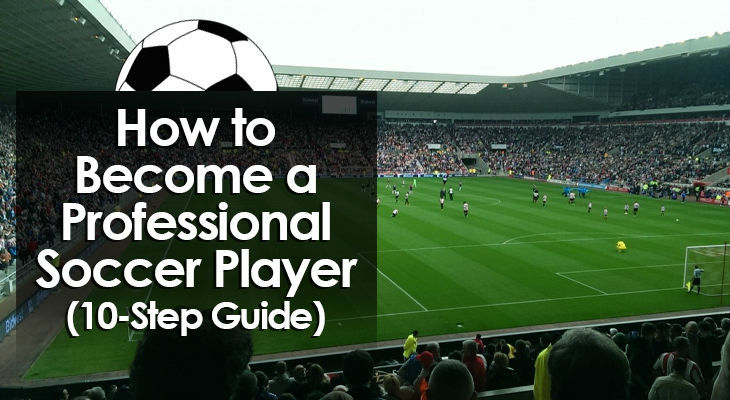 How to Become a Professional Soccer Player (10-Step Guide)
Becoming a professional soccer player takes a great deal of dedication, hard work, talent, sacrifice, and little bit of luck.
It's difficult, but definitely not impossible.
Most current professionals credit their success not just to god-given talent, but to their hard work and dedication to daily improvement.
So for those wondering how to become a professional soccer player...
I've created a full guide for you.
There are a number of steps you can take to give yourself the best possible chance of one day competing in the top leagues in the world.
In this post, I'll share 10 steps that will help you reach the pros.
Let's get started...
How to Become a Professional Soccer Player
Step #1 - Commit to the Long Journey
It takes a massive amount of blood, sweat, and tears to make it as a professional soccer player.
You need to be 100% committed from the start.
Becoming a professional requires an amount of dedication that seems absurd to most players.
Early morning conditioning
Individual skill work before and after training
Putting the right fuel in your body
etc
With the odds stacked against you, you need to spend every waking moment doing everything possible to give yourself the best chance of achieving your dreams.
Step #2 - Develop Your Body Physically
Many players wondering how to become a professional soccer player think they need a physique like Ronaldo to make it to the big leagues.
While it would certainly help, you don't.
But you do need to have the conditioning to move around the pitch for long periods of time.
Soccer players need to be athletic and have a high level of stamina.
Fortunately, this is something anyone can achieve if they're willing to put in the time and effort.
Soccer is all about high intensity movements.
Players need to be able to sprint, change direction, jump, and out-muscle their opponents throughout the duration of a 90-minute match or longer.
There are a ton of different exercises you can incorporate into your training routine to achieve this and give you an edge over your opponents.
Step #3 - Pay Attention to What You Put in Your Body
Proper nutrition is overlooked by many aspiring athletes…
But it's one of the main keys to giving yourself an edge over the competition.
While it can be difficult to monitor all the food and drink that goes into your body, your diet will play a big role in determining the amount of energy you have on the pitch.
Knowing what foods to eat before a match and when to take on fluids is crucial to achieving peak performance.
I highly recommend reading up on other pro players' diets to get an idea of the food you should eat.
Step #4 - Take Recovery Seriously
When you're playing and training multiple times a week, it will take a toll on your body.
Each athlete must listen to their body and take rest and recovery seriously.
If you don't, it may lead to injuries.
For example, you may consider adding some of the following to your weekly schedule:
Stretching
Ice Bath
Massage
Extra Sleep
You must dedicate time to relax and recover so that you can compete at the highest level during practice sessions and soccer matches.
Step #5 - Study the Strategies and Tactics of Soccer
You could be a fantastic athlete with a big repertoire of moves and tricks…
But you're still not going to regularly make the starting eleven if you don't have a good understanding of the game and the tactical discipline to retain your position.
Any player aspiring to make it to the top level needs to learn as much about soccer strategy and tactics as possible to help them out on the pitch.
This will help players understand what's expected of them.
One way to help with this is by watching videos of your favorite players.
Take note of where they move around the pitch depending on the ball, their teammates, and the opposing players attempting to stop them.
This will help you to understand when to push up, when to drop off, when to take on an opposition player, and many other things that will help you at the top level.
Step #6 - Improve Your Soccer Skills Every Day
Players need to make sure they're improving their skills every day.
Even if you've ticked off tactical knowledge and you have the physical fitness to compete, you won't make it far if you don't have the skills required.
From an early age, you should have a soccer ball at your feet... a lot.
Whether it's training sessions, official matches, or you're simply mucking around with friends, they're all incredibly important to develop the skills you need.
Improving your skills daily is incredibly important if you want to make it as a pro.
For example:
First touch
Ball control
Long passes
Short passes
Crossing
Shooting
Heading
Tackling
You need to work to that point that you're confident in your abilities and calm under pressure.
On top of all this, you need to have great decision making to know when to use these skills during real matches against opponents.
Step #7 - Put in Consistent Soccer Performances
One of the key aspects of making a full-time living as a professional soccer player is being able to perform at a high level consistently.
Every time you step on the pitch, all of your hard work and preparation needs to come together to give yourself and your team the best chance of success.
Before the game, visualise what you want to do throughout the match.
See yourself putting in crosses that are precisely on target.
See yourself getting your teammates involved in the play.
See yourself powerfully putting the ball into the back of the net.
This will help you switch on mentally before the match starts.
After the game, it's important to analyse your game.
This can involve asking your coaches for feedback on your performance, and also thinking about the decisions you made and whether you could have done better.
This way you'll find your weak points and have the opportunity to turn them into strengths.
Step #8 - Search for Opportunities
While putting in great performances week after week may help someone find you…
To increase your odds of making it as a professional soccer player, you're going to need to be proactive and search for potential opportunities.
To appear as professional as possible, it's a good idea to create a soccer CV which highlights all of your previous experience.
This can include:
Teams you've played for
Achievements
Important statistics
etc
It's also worth creating a video compilation of yourself in action, making sure to highlight the different strengths of your game.
From there, email and call clubs while keeping an eye out for any trials you could take part in.
You could also speak to your coach about any opportunities they may have heard of or any useful contacts they may have.
Patience is key…
You won't always hear back from the clubs or people you've contacted.
But don't let it get you down - keep contacting different clubs and keep your fingers crossed that you'll land a trial or get further interest.
Step #9 - Make Your Opportunity Count
Once you've landed a trial, it's time to make the most of your opportunity and impress the scouts.
Preparation is key when preparing for soccer tryouts.
Knowing that you've done everything possible to prepare, you'll be able to relax and play your natural game. Showcasing your talent and skills throughout the match.
Don't overcomplicate things or try to do too much.
Excel in your specific role, fulfil your responsibilities, and support your teammates.
While scout will be looking at your skills, work ethic, and competitiveness…
They'll also be watching your attitude and character which may be even more important when it comes time for them to decide whether to offer you a contract.
If the trial doesn't work out, analyse what you could have done better, and move on to the next opportunity that will come your way.
Step #10 - Never Stop Improving
Once you've realised your dreams of signing a professional contract, understand that your soccer journey has only just begun.
You'll now need to work harder than ever to increase your role and win a spot in the starting 11.
This means continuing to do all the things that helped you succeed.
Working hard (daily)
Fueling your body with good food
Focusing on rest and recovery
etc
Developing relationships with other players and staff members will be one of your top priorities.
Also, getting a trustworthy and skilled agent to negotiate your contracts is a good idea so that you can remain focused on playing and training.
Conclusion
As you can see from the steps above…
It takes a lot of sacrifice and hard work to become a pro.
If you're one of the players who's wondering how to become a professional soccer player, now you have all the knowledge you need to make it happen.
It's not going to be easy, but if you're dedicated to the process and follow the steps explained in this article, you'll definitely improve your chances of making it one day.
But always keep in mind...
A career as a professional soccer player can change in an instant.
You might get loaned out to another team, you could suffer a severe injury in the middle of training, or you may even be cut from the team.
Always be prepared that if it doesn't work out, you've got something else to fall back on.
Further Reading: How to Get Recruited for College Soccer (8-Step Guide)