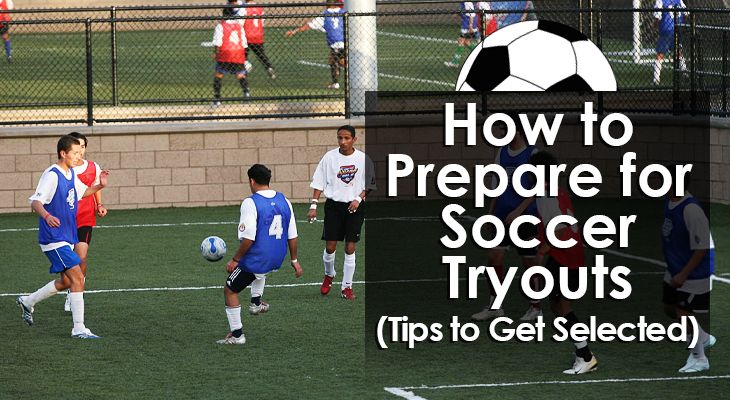 How to Prepare for Soccer Tryouts (12 Tips to Get Selected)
If you play competitive soccer at any level, there's a good chance you'll have to take part in a number of soccer tryouts.
Even playing for your high school team typically requires an annual tryout where players vie for their places on the squad.
And the more you climb the ranks... the more trials, tryouts, and assessments you're likely to participate in.
Some players take a very casual approach to tryouts, while others get tense and nervous just thinking about them.
Below, I'll share several thoughts and strategies on how to prepare for soccer tryouts.
Follow this advice to make sure you're selected!
How to Prepare for Soccer Tryouts
First, an overview of what to expect:
Most soccer tryouts involve a rigorous warmup, several tryout drills, then a series of games.
The coach will evaluate players based on skills and intangibles (effort, attitude, leadership, etc), and then select the players who they believe form the most effective team.
Follow these 12 tips to increase your chances:
#1 - Know What You Can Control
While this may seem counterintuitive, the first thing you must do is stop focusing on getting selected.
The reason for this is that squad selection is entirely out of your hands.
Rather than concentrating on the factors that you can't control, put your energy into tryout preparation and giving your best on the day.
#2 - Get in Shape
The very least you can do ahead of a soccer tryout is get into decent shape.
By showing up physically fit and ready to go, you put yourself at an immediate advantage.
Find out when your season starts (here's the HS schedule), and then create a weekly program to whip yourself into shape.
Some sure-fire ways to improve your cardiovascular fitness include:
Distance running
Interval training
Hill sprints
Pushups
Pullups
Lunges
Squats
Abdominal crunches
#3 - Complete a Technical Training Camp
Ensure your technical skills are sharp ahead of a tryout by putting together your own skill-based training camp.
If you know that your prospective coaches look for certain types of players, you can develop the camp around their desired player profiles.
For example, many modern college teams play possession-style soccer with a "build-from-the-back" approach.
This means recruiters generally scout players with good first touches, crisp passing, and composure on the ball.
If you don't have the inside scoop on what the coaches are looking for, it's a good idea to use this opportunity to work on your weaknesses.
This can involve practicing with your weak foot, performing heading drills, improving your first touch, or repeating dribbling exercises.
However, don't totally abandon other key skills. Make sure to sharpen all of your tools and find the right balance.
#4 - Focus on Recovery
When training hard for an important tryout, the last thing you want is to pick up an injury.
While getting hurt is unfortunately part of being an athlete and may be unavoidable, many injuries to young players come from overtraining.
So, make recovery part of your routine and take rest days when you feel the need.
Prioritize sleep where possible, especially on training days, as this is the best form of recovery you can get.
The key to staying injury free as you prepare for a trial is to warm up before and warm down after your training sessions.
It's also a good idea to incorporate stretching into your daily ritual. 
You might be surprised at how good it feels to do a 10 to 15-minute stretching session every morning.
Other great ways to ensure your body recovers optimally include:
Physiotherapy
Massages
Active recovery
Hydrotherapy
Wearing compression garments
#5 - Eat for Energy
A healthy, nutrient-based diet can have a major impact on your athletic performance and recovery.
Optimizing your diet is very important during periods of heavy training as you prepare for a tryout.
Ensure you take in enough calories, including sufficient amounts of protein, carbohydrates, and fluids.
A smart performance-focused diet with healthy snacks for energy will give you the energy needed to perform well.
On The Day
After putting in the work and focusing on diet and recovery before your tryout, you'll be in prime condition to perform at your best when you lace up your cleats.
Once you arrive at the venue, it's natural to feel nervous.
However, here are some quick tips to help you settle down and get noticed on the field:
#6 - Speak to the Coach
Introduce yourself and thank the coach for the opportunity.
This will help them remember you when you hit the field.
It also demonstrates confidence, leadership, and strong communication skills.
#7 - Play to Your Strengths
When the session kicks off, play your own game and rely on what you do best.
Tryouts are a showcase for your abilities but that doesn't mean attempting audacious skills or shooting at every opportunity.
#8 - Be a Team Player
Remember that you're auditioning to join a team.
Don't view other participants as your competition.
Rather, treat them as teammates and work together.
#9 - Show Leadership
Leaders are invaluable in the locker room and on the field.
Encourage your teammates, lead by example, and treat everyone with respect to stand out.
#10 - Work Hard
Always aim to be the hardest worker on the field.
Coaches will spot laziness a mile away.
If you make a mistake or lose possession, don't throw your hands up in the air.
Chase back and fight for every ball.
#11 - Communicate
When playing with new teammates it can be intimidating to be vocal, but communication is an essential part of the game.
Whether you're nervous or not, communicate with your teammates throughout the tryout. 
#12 - Listen to the Coach
Soccer players must be coachable.
Listen to the coach and follow their instructions from start to finish to leave a lasting impression. 
Conclusion
There is no magic formula for how to prepare for soccer tryouts that will guarantee selection.
However, good preparation remains in your control at all times.
As a final tip, remember to have fun and enjoy the process. 
Failure is part of learning so it's okay to miss out on a team selection. 
There will always be a second chance.