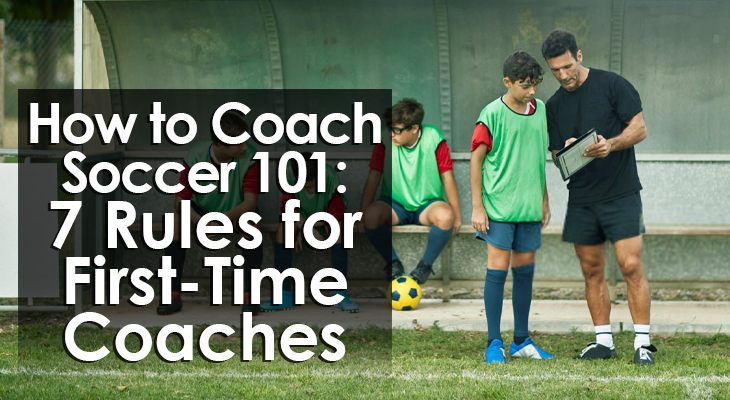 How to Coach Soccer 101: 7 Rules for First-Time Coaches
Coaching is one of the best ways to impart your knowledge and enthusiasm for the game to the next generation of soccer players.
When your legs can no longer do the necessary work on the field, teaching and encouraging from the touchline is the next best thing.
While coaching might seem straightforward from the comfort of your sofa, figuring out how to coach soccer is no easy feat.
Even managing a low-standard rec team takes commitment, organization, and hard work.
That being said, having solid coaching principles ingrained in your approach makes the process much easier and typically leads to better performances on the field.
How to Coach Soccer: The "Rules"
When you think of the great soccer coaches, who springs to mind?
Pep Guardiola, Sir Alex Ferguson, and Jurgen Klopp are some of the best to ever do it.
Interestingly, none of them have the same style or philosophies...
But ALL of these masters share certain standards and traits that translate to success.
Clearly, there is no one-size-fits-all approach to coaching but there are some sure-fire ways to start out on the right foot.
To help you reach your potential, we've assembled the top 7 rules for first-time coaches:
Rule #1: Establish a Solid Coaching Foundation
First-time coaches should familiarize themselves with formations, tactics, and styles of play.
They should also gather a directory of drills to teach their team the necessary skills.
If you're a first-timer, you'll most likely find yourself volunteering for a youth team in your locality.
While coaching at this level typically doesn't require formal qualifications, it's generally a good idea to acquire some training if possible.
a. Coaching Qualifications
In the U.S., would-be coaches can earn six certifications, ranked from A through F from the United States Youth Soccer Association.
The first step is to apply for the F and E certs -- they qualify you to coach at a youth club level.
Receive your qualifications by going to workshops and seminars organized by the soccer association in your state.
Many beginner coaches earn their qualifications while managing a recreational level team, so this is a viable option if you're starting your journey.
If you want to progress and coach at a National level, you'll need to attain C, B, and A licenses.
For those looking to start a career as a full-time coach, consider applying for a coaching license from the National Soccer Coaches Association of America (NSCAA).
The NSCAA offers both state and regional diplomas, depending on your goals.
To take an even more professional approach, consider a sports-based bachelor's degree.
These programs allow you to study fitness, physical education, or sports medicine, providing a scientific and academic background to shape your coaching philosophy.
Further reading -- How to Get Your Soccer Coaching License (UK, USA, AUS, CAN)
b. Read About Soccer
There is a wealth of knowledge available in books for anyone who wants to learn how to coach soccer. (Here are 52 of my favorites)
You can read about the evolution of the game, in-depth tactics and strategies, coaching philosophies, and modern systems.
Some extremely useful books include:
If you're looking for insight into the mind of a great coach, read autobiographies and biographies.
Sir Alex Ferguson, Carlo Ancelotti, Arsene Wenger, and Johan Cruyff have highly regarded books on the market.
We also break down tactics, formations, and coaching strategies on our site so feel free to browse some of our tactical pieces.
Rule #2: Set Clear Goals
As a first-time coach, it's easy to lose your way if you don't set clear objectives and targets.
To do this, it's usually best to establish team AND personal goals.
(Both are likely to become intertwined at various stages.)
Becoming goal-oriented gives you a purpose and structure to work with.
Planning for the season with goals in mind helps ensure you and your team stay on track and remain focused on the objective, even if you're going through a rough patch.
This approach also gives you clarity when orchestrating training sessions or preparing the team for a game.
There are few better ways to set your objectives than through the SMART approach:
The SMART principle states that goals should be Specific, Measurable, Achievable, Realistic, and Time-specific.
With this strategy in mind, let's take a look at some goal-setting measures you could take:
a. Team Goals
Your team goals will largely depend on the age, standard, and personalities of the players.
For example, if you oversee an under 10s team, winning at all costs should not be your focus.
Instead, your goals may have a more process-based or learning-oriented focal point.
While if you manage a senior-level, experienced team, becoming competitive and implanting a winning mentality may be your primary objectives.
For youth soccer squads, consider goals like:
Technical development of all players
Instilling commitment and work ethic
Creating a team-first mindset
Establishing a close bond within the team
Ingraining a love of the game among players
If you're coaching an older group of players, examples of good goals include:
Winning the league or improving the win record from the previous season
Conceding a minimum amount of goals
Maintaining an unbeaten record in your home ground
Improving possession statistics
Creating a team spirit and recognizable playing style (e.g. high-pressing team or possession-based build-up play)
Each of these goals should be at the forefront of training session planning and gameday preparation.
As the head coach, you should also keep records from training sessions and games to monitor progress and identify key areas for improvement.
Free Resource: Soccer Statistics Spreadsheet (Free to Download and Print)
b. Coach Goals
Your goals as a coach should revolve around personal and professional development.
Although you might have to adjust them slightly over the course of the season, setting ambitious goals helps you grow as a leader.
That said, here are some examples of coach goals for your maiden season:
Achieving your coaching certifications
Establishing a strong leadership presence
Teaching your team how to play in multiple formations
Developing professional relationships with individual players
Executing consistently high-standard training sessions
Rule #3: Get to Know Your Team
A major aspect of learning how to coach soccer is player management.
This involves getting to know players on a personal and professional level.
You can't expect your team to perform at a high level unless you know each individuals strengths, weaknesses, and motivations.
What's more, players' personalities often translate to the field, influencing their behavior. For example, certain soccer players experience mild to severe anxiety ahead of games.
When dealing with this type of personality, you'll need to find ways to motivate them and inspire confidence in the lead-up to a game.
Other players may be prone to angry outbursts, meaning you'll have to learn how to harness their aggression in a positive way.
3 Relationship-Building Strategies:
So, HOW do you get to know your players in terms of abilities and personality?
Firstly, picking up on traits and competence levels comes from weeks of observation. Pay close attention to each player's technique, positioning, traits, and habits. Consider compiling information on individuals to monitor their performances and progress.
Secondly, bonding with players on a personal level doesn't require in-depth interviews. Instead, take opportunities to have informal chats before, during, and after practice.
Thirdly, every once in a while, organize recreational activities to create a closer bond and familiarity among teammates. Group meals, cinema trips, bowling, or a social night out (for adult teams) are a great way to get to know your players and create closer relationships.
Rule #4: Prepare For Every Session
As the saying goes, "by failing to prepare, you're preparing to fail."
When it comes to preparing training sessions, your *goals* should be the main driver.
This means incorporating all sessions as part of your broader plan for the season.
If your primary team goal is to improve technical abilities, early sessions should focus on core skills, like passing, first touch, positioning, and shooting.
As the season progresses, you can focus on more acute technical skills, like receiving the ball under pressure, weak foot practice, turning on the ball, and retaining possession.
How Much Should You Plan in Advance?
Some coaches plan for a full season, creating training outlines for the whole year.
While this can be effective in terms of achieving your goals, it isn't always necessary.
Rather than going to this level of detail, start by creating a season outline, earmarking key dates for hitting your targets.
For example:
Preseason may focus on physical fitness
Early season might revolve around skill development and tactics
Mid-season can involve strategy and game-plans
End of the season can reinforce the teachings learned throughout the year
Planning the details of each session can be a week-to-week task since you may discover specific needs as the season unfolds.
Before each session, it can be beneficial to huddle up and relay your expectations to the team.
This gives them motivation and focus to reach and exceed what you ask of them.
It's also beneficial to review and evaluate every session to find aspects you'd like to improve.
Rule #5: Make Playing Enjoyable
When playing competitive sports, we all want to win.
However, you mustn't overlook the importance of having fun on the field.
Most amateur players sign up for a team because of their love for the game.
Failing to recognize this can cause your team to lose interest and enthusiasm for playing.
Take Brazilian soccer stars, for example -- known for their outlandish displays of creative flair and moments of magic on the biggest stages. And they do so while brandishing ear-to-ear smiles.
"Joga bonito", meaning the beautiful game, is a soccer mantra that rings loud all over Brazil.
Try to find a balance between hard work and joga bonito to get the most out of your team.
How to Make Your Soccer Practices Fun:
Sprinkling fun throughout training sessions creates a carefree environment that allows players to express themselves, ensures engagement, and teaches them to handle high-pressure situations.
If you need some tips for injecting fun into practice sessions, consider:
Mixing up warm-ups, drills, and practice structures
Creating high-tempo drills that require focus and intensity
Setting up competitions (e.g. finishing drills, 2v2 mini-goal games, penalty shootouts)
Finishing training with scrimmages or practice games
Shooting practice (everyone loves to score!)
Reviewing and evaluating training is a good barometer for identifying what brings out the best in your team and the aspects of the sessions they enjoy most.
Rule #6: Improve Your Communication Skills
One of the most critical traits of an elite coach is effective communication.
Whether you're instructing an individual in training or addressing your team ahead of a game, you must be able to relay your message in a way that resonates with all players.
Studies have shown that athletes respond differently to certain communication styles, with some commentary garnering much more positive results.
Soccer players are likely to respond well when coaches communicate by:
Providing positive feedback for good performance or effort
Addressing mistakes with corrective instructions and encouraging words
Offering clear, technical instructions and motivation to perform at the expected level
On the other hand, players tend to respond negatively if a coach doesn't offer encouragement after a good performance or significant effort.
They are also more likely to become despondent when coaches are overly critical of errors or mistakes.
Further Reading: How to Keep Players Focused During Soccer Training (20 Tips)
How to Communicate Effectively
Practice good communication by using your words wisely and emphasizing your points through tone of voice.
It's also important to note that communication is a two-way street.
Make an effort to be an active listener too and don't be afraid to ask your players for input.
As always, use your goals to frame instructions and messages.
Consider utilizing your goals to introduce team phrases or philosophies.
For example, you might insist that your team is the hardest working side in the league and shows a never-say-die attitude in every training session or game.
Repeating these mantras throughout the season helps reinforce your goals and create a cohesive mindset among players. 
Rule #7: Be a Professional
Our final rule for becoming a competent first-time coach is to act professionally at all times.
Professionalism rubs off on your peers, creating an optimal environment for success.
It also helps you maintain your reputation and status when things aren't going your way.
Acting professionally is a multifaceted endeavor that involves on-the-field and off-the-field efforts.
Be sure to show up for training early to set up cones and prepare for the session.
The same goes for game days.
You should also remain goal-focused throughout games and practice, offering clear instructions without succumbing to emotional outbursts.
In terms of off-the-field work, professionalism involves improving your coaching knowledge and qualifications.
As we discussed previously, upskill by taking courses and reading relevant books and studies about soccer tactics, strategy, and performance.
Conclusion
Learning how to coach soccer is far from easy but with a growth mindset and a professional approach, your ceiling is limitless.
It's generally a good idea to learn the ropes by overseeing a youth team where you can build your foundations and develop your philosophies.
After earning real-world experience, you can gradually transition into the big leagues.
Further Reading: 11 Keys to Becoming a World-Class Soccer Coach