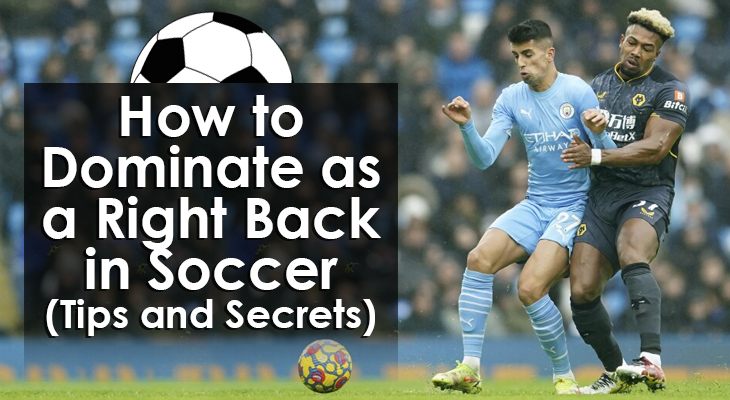 How to Dominate as a Right Back in Soccer (Tips and Secrets)
As time passes, the roles of players on the pitch continues to evolve.
Playing any position is now more than simply functioning within the zone that the position typically requires.
The result of this fact is that there is an increased need for players to be well-rounded, regardless of the position that they play.
Take, for instance, the full-back.
This is technically a defensive position, but modern soccer has shown us that full-backs can be just as important for the team going forward as they are in defense.
The following guide focuses specifically on the right back, providing tips on how you can dominate games while playing in that position.
Traits of a Great Right Back:
Trait #1: Speed
Speed is crucial for a right back in both defensive and attacking phases of the game.
In that position, the player will be heavily involved in 1v1 duels against the opponent's wingers.
Considering the fact that wingers are usually fast, it's important for the right-back to have enough pace to be able to keep up.
This is especially crucial if the team's tactics involves the right back carrying out a significant amount of work in attacking phases of play, as a lack of recovery pace will often expose your side of the pitch to counter attacks by the opponent.
Speed is also important in attacking phases because the right back must be able to cover a lot of ground very quickly.
This provides width and support for the team in attacking areas.
A quick player such as Achraf Hakimi thrives by making overlapping runs that help his team overload the opponent's defense and stretch the play multiple times during a game.
Trait #2: Awareness and Positioning
Excellent awareness and positioning is another crucial skill for a right back.
This is especially true for a right back that isn't very quick, and an example of this is Pablo Zabaleta, a former player of Manchester City football club.
Zabaleta was not pacy, but he was still one of the best right backs around in his prime because of his excellent awareness, positioning, and ability to read the game.
This combination of mental strengths ensured that he was able to contribute to attacks and still avoid getting caught out defensively despite a lack of recovery pace.
The two skills are most important in the defensive phases of play, but awareness in particular is also useful for identifying the right opportunities to get forward and provide support when the team is attacking.
Trait #3: High Stamina
Soccer is a very physically demanding game, so stamina is important for every player.
However, where a goalkeeper might be able to get away with relatively low stamina over the course of a game, a right back will be severely exposed.
This is because full backs, alongside midfielders, generally cover the most distance of all outfield players in a soccer game.
They operate mostly in the vertical areas of the side of the pitch, but the length of the pitch ensures that even this is not light work by any means.
In modern soccer where a right back is likely to contribute significantly in attacking phases just as much as in defensive phases, stamina is even more crucial.
Trait #4: Excellent in 1v1 Duels
Unlike players that operate mostly in the central areas of the pitch (such as central defenders and central mids), right backs will, more often than not, find themselves in isolated 1v1 duels.
In defensive phases of play, these will typically involve the right back and the opponent's left winger.
Such cases require excellent 1v1 defensive ability with skills such as marking and tackling.
In attacking phases, they may involve the right back and the opponent's left back, and such cases require excellent 1v1 attacking ability with skills such as dribbling and speed.
In both cases, the 1v1 ability of a right-back can be the difference a team needs to create a goal for themselves -- or stop a potential goal by the opponent.
Trait #5: Great Technical Ability
Ball-striking is most important for a right back in attacking phases of play, but excellent technical ability can be very useful in defensive phases too.
In defensive phases, a right back with good technical ability is more likely to manipulate the ball to get out of tight positions, with the resulting possession leading to a counterattack.
Without that technical ability, the right back is more likely to simply keep things simple and clear every ball out of danger.
While this is not necessarily a bad thing as the first duty of a right back is to defend anyway, it's not always the most effective solution as it often gifts the ball straight back to the opponent.
Good technical ability can help a right-back turn a defensive situation into an attacking one with one move.
In the attacking phases of play, that technical ability also influences skills such as dribbling, first-touch, and crossing.
These skills are all important for getting the ball past the opponent's defense and into a dangerous area for the team's attackers to take advantage of.
Roles and Responsibilities
1. Provide Vertical Cover Across the Pitch
As suggested earlier, a right back is directly responsible for the entire vertical zone of the right-hand side of the pitch.
When defending, you're expected to be within your own half and ready to block the progress of the opponent.
When the team is transitioning from attack to defense, you're expected to help close the ball down if it is within your own zone and recover quickly to help out in the defensive third if you're unable to do so.
When the team is attacking or transitioning from defense to attack, you're expected to make overlapping runs.
Provide a passing option for the team to stretch the play and use the width of the pitch.
2. Win Duels
As a right back, you must be strong in defensive and attacking duels.
Work on key defensive skills such as aerial strength, marking, and tackling.
Additionally, work on key attacking skills such as crossing, passing, and dribbling.
With practice and experience, mental skills such as positioning, concentration, and awareness will improve too.
3. Supply and Prevent Crosses
This is still related to providing cover at both ends of the pitch.
The right back is expected to stop the opponent's wingers from putting a cross in and is also expected to take on the duty of whipping crosses in when the team is attacking.
4. Communicate with the Defensive Line
When the team is defending, it is important to communicate consistently with the rest of the defense line to make sure that you're all on the same page.
For instance, there will be situations when the opponent tries to get past you by overloading your zone with their full back and winger.
Then, you would need to call for help from the right-sided center-back or the closest midfielder, depending on the way the team is set up.
Additionally, if your team is set up to play the offside trap, it is crucial to be on the same wavelength as the rest of the defense line.
A lapse of concentration from any defender could ruin the whole plan.
Tips to Dominate as a Right Back
Tip #1: Work on your fitness.
If you want to be able to perform at optimal levels for the duration of an entire match, you should take building up your stamina seriously.
When your body is fit, your mind is also more likely to stay sharp.
Tip #2: Work on your technique.
It may not have mattered as much in the past, but modern soccer requires full-backs to be technically sound as they contribute significantly in the attacking third.
Tip #3: Work on 1v1 duels.
You will face multiple 1v1 duels during a match, especially if your team is on the back foot.
If you fail, the opponent will simply target you and keep coming, which would end very badly for your team.
Practice playing against all types of wingers - pacy wingers, skillful wingers, inside forwards, and master how to defend against each type.
Start practicing 1v1 matchup with these drills.
Tip #4: Master Concentration
As a right back, you must be switched on throughout the game.
Your side of the pitch typically gets a lot of traffic, so any lapse of concentration could be defining.
Mastering concentration will also help you to keep the communication lines open with the rest of the defense line.
Final Words
Practice makes perfect.
Even with the knowledge of all the traits, skills, and responsibilities required to dominate a game from the right back position, constant practice is the only way to become consistently good at it.
With that in mind, never underestimate the power of training hard, and always be open to learning from players with more experience and knowledge than you have.
That, in addition to perfecting a mix of all the elements discussed in this guide, will send you on your way to becoming a world-class right back.
Further Reading: 15 Traits of a World-Class Soccer Defender (Position Guide)
Further Reading: 11 Soccer Positions Explained (Roles and Responsibilities)