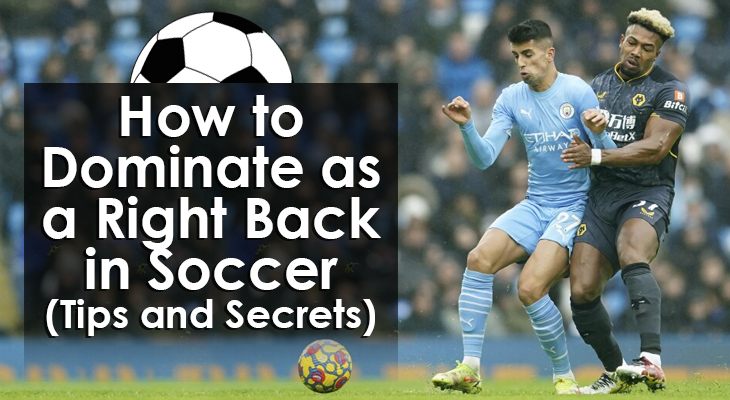 What is a Right Back in Soccer? (Full Position Guide)
The role of a right back in soccer has evolved immensely in recent years.
In the past, fullbacks had a simple job that revolved around defending their area and keeping things simple on the ball.
Nowadays, the modern right back must not only be defensively sound, but they should also be comfortable on the ball.
Contribute to attacking phases
Provide occasional assists
Play forward passes
Under coaches like Pep Guardiola and Jurgen Klopp, we've even seen fullbacks become the primary playmakers within the team.
The new age right back now requires a well-rounded skillset alongside elite stamina to wreak havoc up and down the touchline for 90 minutes.
In this guide, I focus on the roles and responsibilities of a right back, providing tips on how you can dominate and impact games from the right flank.
What is a Right Back in Soccer?
A right back in soccer is a right-sided defender who typically plays as part of a traditional back four.
As a key member of the backline, a right back's job is to defend first.
This involves marking the opposition winger, stopping crosses, defending the back post, and providing cover for their centerbacks if they stray out of position.
A right back must have solid defensive fundamentals to ensure their team gives up minimal chances throughout a game.
This includes...
Tackling
Blocking
Intercepting
Heading
In modern soccer, fullbacks are two-way players so their duties don't stop at defending
If a team deploys a build-from-the-back strategy, the right back must be comfortable on the ball, even when being closed down.
Having a good first touch, quick feet, and a decent passing range are huge advantages for players in this role.
The best right backs also provide a threat going forward.
They're able to beat a defender 1v1, link up well with wingers and strikers, and whip dangerous crosses into the penalty area.
Well-timed overlapping and underlapping runs are a staple of an attacking right back, creating space and opening passing lanes for teammates.
Position of a Right Back in Soccer
As a defender, a right back's main position is along the right-hand side of the defensive line.
Right backs operate primarily in the defensive third.
They're in constant communication with other defenders and their winger to maintain correct positioning.
When the ball is on the opposite side, the entire defensive unit shifts toward it. This means the right back will come infield slightly to leave minimal defensive gaps.
In possession, the modern right back provides width and stretches the opposition by staying close to the sideline.
This not only creates space for their teammates but it also affords the fullback more time to create themselves.
Some teams, like Manchester City and Arsenal, play with inverted fullbacks, which means the right and left backs operate on their "weaker sides".
By inverting, the team benefits from having an extra player in midfield to dominate possession and create overloads.
While inverted fullbacks aren't all the rage just yet, the successes of Pep Guardiola and Mikel Arteta with this approach may lead the charge.
What Does a Right Back Do in Soccer?
A right back in soccer has a nuanced role in the modern game, with responsibilities in defense and attack.
I've broken down the roles and responsibilities to better clarify their duties in and out of possession 
Right Back's Role In Defense
#1 - Mark the Opposition Winger
Wingers are among the most dangerous attackers on any team.
This is particularly true in the modern game, where wide attackers often contribute more goals and assists than any other player.
The right back is responsible for marking the opposition winger and limiting their effectiveness going forward.
In some cases, this involves getting touch tight to prevent them from receiving a pass. In others, it means giving them some space to mitigate the threat of a pass in behind.
Ultimately, the true test of a fullback is in the 1v1 duels.
A right back must be tenacious, resilient, and fully focused to get the better of their opposite number over the course of a game.
Strength, stamina, and timing are essential attributes to succeed in these battles. 
#2 - Defend Wide Areas
Depending on the opposition formation, the right back may or may not have to mark a specific opponent.
Yet still, the right back is responsible for defending their quadrant, regardless of who enters.
Defending wide areas involves handling any aerial balls that come into that zone, intercepting passes, making tackles, and preventing crosses from that side.
The right back must also be alert to switches of play or back post crosses when the ball is on the opposite side.
Switching off in these scenarios can be very costly.
Positioning, communication, and good reading of the game are key skills in commanding the defensive quadrant effectively. 
#3 - Provide Vertical and Horizontal Cover
As discussed, a right back is directly responsible for the entire vertical zone of the right-hand side of the pitch.
When the ball is in this area, it's relatively easy to identify the most important task -- whether it's to tackle an oncoming winger, cut out a pass, or back off to track a runner.
But in transition, positioning is not as straightforward...
If the team turns the possession over suddenly and the right back gets caught in "no man's land", the opposition can quickly expose the space and create a chance on the other end.
Their precise positioning in transition depends on the formation and tactical system. But in general, defenders rotate their positions to cover the foremost threat.
For example, if the left back goes forward, the centerbacks shift to the left to cover the open space. In this instance, the right back should tuck in to occupy the channel left by the centerbacks. That way, the team takes care of primary threats. 
If the opponent wins the ball and switches the play to the right flank, the backline should have time to shuffle across and defend.
#4 - Defensive Communication
All soccer teams comprise of small units that work in tandem to outplay the opposition.
Communication is essential to ensure that the individuals within the defensive unit are on the same page and in their correct places.
For instance, if the right back is outnumbered due to an overlapping run, they should communicate with their centerbacks and midfielders to help out and provide cover.
If the team is set up to play the offside trap, it's crucial that the defenders hold their line.
Otherwise, a split-second lapse of concentration leaves the opposing striker with a 1v1 on the goalkeeper. 
Right Back's Role In Attack
#5 - Recycle Possession 
From grassroots to professional level, most modern teams adopt a build-from-the-back style of play. Meaning all players have a role in possession.
Since fullbacks often have more time and space than any other position, they're crucial in keeping the ball and building attacks.
Where possible, right backs should make themselves available for passes from midfielders and centerbacks.
This typically involves dropping off to give a lateral option or advancing down the touchline into the space for a more progressive pass.
Unless the right back plays in an inverted role, they should stay wide to maximize the space and drag opponents out of position.
#6 - Make Overlapping and Underlapping Runs 
Fluid fullback and winger partnerships are a joy to watch.
When in sync, a dynamic wide pairing can cause havoc for the other team, forcing them to chase runners and double up defensively on the ball side.
A tried and tested method for effective attacking as a fullback is mixing up underlapping and overlapping runs.
When exploiting space to make a cross, right backs overlap their wingers by making runs along the sideline.
However, if there is space in central areas, underlapping runs into the penalty box can be extremely effective at penetrating the backline. 
#7 - Supply Crosses 
Over half of all goals scored are one-touch finishes, often coming from crosses along the wings.
Attacking right backs frequently find themselves in good positions to deliver crosses into the box.
Efficient execution from these areas comes down to good crossing technique and regular practice on the training ground.
Most coaches drill sequences and movements that help the team be successful using this approach.
Liverpool under Jurgen Klopp is a perfect example of this. Trent Alexander-Arnold consistently provides the most assists per season from right back.
His timing, delivery, and striking technique give Liverpool a cutting edge from deep that very few teams can equal. 
5 Key Traits of a Right Back
Although modern right backs are more well-rounded than ever...
Their core responsibilities remain the same.
So, all adept right backs should demonstrate a number of key traits. 
a. Speed
Speed is vital for a right back in both the defensive and attacking phases of the game.
Fullbacks are heavily involved in 1v1 duels against the opponent's wingers. These players are generally the quickest and trickiest players on a team.
Speed is especially important if the right back carries out a significant amount of work in attacking phases.
A lack of recovery pace can expose that side of the pitch to counterattacks by the opponent.
Quickness is also important in attack, ensuring the right back can support the winger and mount their own offense.
b. Awareness and Positioning
In-game awareness and positioning are essential skills for a right back. Especially during transitions when defenders are more likely to be caught out.
Excellent reading of the game and sound positioning can be invaluable in key moments. These ensure defenders are in the right place to snuff out an attack or make a crucial block.
In many cases, game smarts are more advantageous than pace.
This combination of skills is most important in the defensive phases of play, but *awareness* in particular is also useful for identifying the right opportunities to get forward and provide support when the team is attacking.
c. Work Ethic and Stamina
Soccer is a physically demanding sport that requires a strong work ethic.
Defenders have a very small margin for error, so one lazy run or missed tackle can leave the backline exposed.
Right backs are often compared to bulldogs due to their tenacity and aggression, which they need to duel with speedy wingers week in and week out.
Elite stamina should accompany a right back's work ethic to ensure they can keep their edge for 90 minutes in every game.
Although they operate mostly in the vertical areas of the side of the pitch, the length of the pitch means this is by no means light work.
d. Technical Defensive Skills
Unlike players who operate mostly in the central areas of the pitch (such as central defenders and central mids), right backs often find themselves isolated in 1v1 duels.
Such cases require excellent 1v1 defensive ability with skills like marking, tackling, blocking, and heading.
Honing the dark arts of defending requires tireless work on the training field.
Repetition and situation drills are essential to developing timing, technique, and tactical nous.
Over time, right backs learn patterns of play and how to defend in specific scenarios, which can then be applied in games against a variety of opposition.
e. On the Ball Capabilities
It's important to emphasize that fullbacks are two-way players with both attacking and defensive responsibilities.
A lack of on-the-ball capabilities makes a right back a liability for their team. Limiting options in build-up phases and restricting their attacking firepower.
Having strong technical skills and a willingness to get on the ball is a tremendous asset.
It creates balance across the team and ensures they have attacking options from several positions.
Right backs don't need to be world beaters, but they should have a good first touch, dribbling skills, a decent passing range, and solid crossing technique. 
Best Right Backs of All Time
If you're looking for inspiration on how to dominate as a right back in soccer, there's no better way than watching highlights from the best to play in that position.
Here are my all-time top 10 right backs:
Cafu
Lillian Thuram
Carlos Alberto Torres
Djalma Santos
Dani Alves
Gianluca Zambrotta
Javier Zanetti
Philipp Lahm
Giuseppe Bergomi
Gary Neville
For a more recent reference, here are some of the best of the modern greats:
Achraf Hakimi
Trent Alexander-Arnold
Kyle Walker
Dani Carvajal
João Cancelo
César Azpilicueta
Malo Gusto
Branoslav Ivanovic
Reece James
Pedro Porro 
4 Bonus Tips for Right Backs
There's no cheat code when it comes to success on the soccer field, regardless of your position.
However, there are some ways to accelerate progress and fine-tune key aspects of your game.
Here are some bonus tips to help you reach new levels as a right back:
Tip #1: Work on Fitness
If you want to perform consistently at optimal levels for the duration of a season, developing your engine is a must.
When your body is fit, a sharp mind will follow.
Tip #2: Refine Your Technique
It may not have mattered as much in the past, but modern soccer demands that fullbacks are technically sound.
This goes for the attacking and defending techniques.
In addition to refining tackling, marking, and blocking, a right back must develop their on-the-ball skills to make sure they can contribute significantly in the attacking third.
Tip #3: Practice 1v1 Duels
A right back in soccer spends a lot of time competing in 1v1 duels against fast and tricky wingers.
At every opportunity, astute fullbacks should practice playing against all types of wide attackers: pacy wingers, skillful wingers, and inside forwards.
Becoming a great defender is dependent on a right back's willingness to embrace tough matchups.
To gain an extra edge, right backs should consider doing additional 1v1 drills, outside of the training pitch.
Tip #4: Master Concentration
A right back in soccer must be switched on for the entirety of a game.
It only takes one lapse in concentration to concede a goal.
One of the best ways to stay focused is to communicate constantly with other defenders and teammates. 
Conclusion
Practice makes perfect.
Even with the knowledge of all the traits, skills, and responsibilities required to dominate a game right back...
Practice is the only way to become consistently good at it.
Never underestimate the power of training hard. And stay open to learning from players with more experience and knowledge than you have.
That, in addition to perfecting a mix of all the elements discussed in this guide, will send you on your way to becoming a world-class right back.