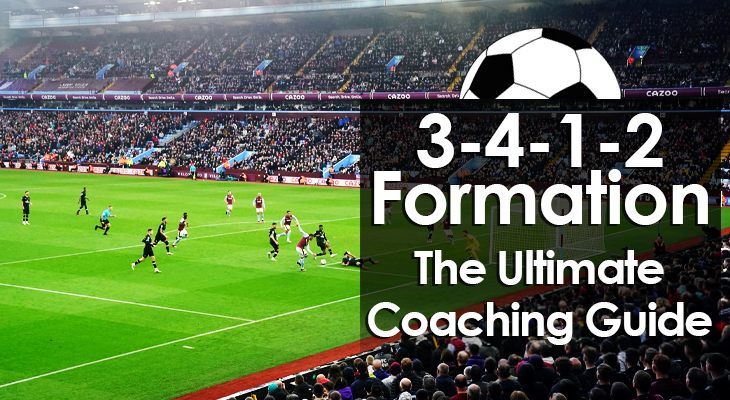 3-4-1-2 Formation – The Ultimate Coaching Guide
The 3-4-1-2 formation is a variation of the 3-5-2 formation.
It's slightly more attacking by design since it uses a center attacking midfielder (or number 10) at the tip of the midfield to orchestrate the offense.
The true beauty of this setup is that it facilitates different styles of play, whether you want to go with a counterattacking or a possession-based approach.
So if you want to deploy your team in a three-at-the-back formation, this is an excellent option.
In this article, I teach you everything you need to know about the shape, highlighting the strengths, weaknesses, and individual roles so that you can execute it effectively.
What is a 3-4-1-2 Formation?
The 3-4-1-2 formation is a well-balanced shape suited to the modern game.
It's an ideal setup for teams that want to strengthen and solidify their central spine without sacrificing a striker. Instead, it uses wingbacks as the only recognized wide players.
The key to making this formation tick is having the right type of players in certain positions, notably in the attacking midfield and wingback roles.
The double strikers and three centerbacks ensure your team has numbers in the business areas of the field. I'll get into the specifics of each a little later on.
Another key advantage of this formation is its versatility. With a few small tweaks, it can be easily adapted to a common modern shape -- like a 4-4-2, 4-1-2-1-2, 4-3-3, or 4-1-3-2.
3-4-1-2 Formation Strengths
#1 - Balanced Midfield
Although this formation maintains balance all over the field, the midfield sets the tone.
The most common way to set up your midfield is in a triangle:
Two deeper midfielders and one center attacking midfielder (CAM).

The positioning of each midfielder ensures your team has passing options going forward and backward. Players are always in position to track back or cover defensively when needed.
#2 - Compact Defense
Most coaches who line up their team with three center backs (CBs) do so for defensive solidity.
Modern defenders aren't one-trick ponies -- they're fast, athletic, and competent on the ball. 
So, utilizing three means you get the most out of their attributes.
From a defensive standpoint, there's safety in numbers.
But the additional player ensures one can step out or reposition for a pass.
With a double pivot or CDM in front of them, the backline is rock solid, especially when defending central attacks.
#3 - Flexibility and Adaptability
The balance this shape offers allows you to be tactically flexible. 
With a three-player backline and packed midfield, you can build from the back and play through the central channels with ease.
However, if you prefer a more direct approach, the dual strikers are the perfect out ball.
This formation is most effective with talented wingbacks.
These players thrive with the space and freedom, taking opponents on 1v1 and looking to hit their strikers with crosses and early through balls at every opportunity. 
3-4-1-2 Formation Weaknesses
#1 - Vulnerability on the Wings
As with many three center back formations, the 3-4-1-2 formation can leave your team vulnerable in wide areas.
The wingbacks provide the only recognized width on the team, giving them a lot of work to do and often leaving them outnumbered.
Many coaches attempt to play in this shape with traditional wingers in the wingback roles.
Although this can be an effective approach on occasion, it's not a long-term solution.
#2 - Requires a Deep Squad
At the professional level, coaches have the liberty of recruiting players to fit their style of play.
This isn't always the case at local, regional, or school-level soccer.
Each time you hit the field in the 3-4-1-2 formation, you need:
3 x center backs
3 x center midfielders
2 x strikers
For most coaches, this means playing some of your squad out of their regular soccer positions, which will more than likely reduce the efficacy of this shape.
So unless you have a deep squad with plenty of options in the central positions, you may struggle with the formation. 
#3 - Large Gaps During Defensive Transitions
Every formation has its weaknesses.
Although the 3-4-1-2 is strong all over, opposing teams can open it up during transitions, mainly due to the lack of width.
If your team loses the ball during an attack, there are generally large gaps on the wings.
Opponents can target the sidelines and the space behind the CAM for counterattacks.
Even if your CMs and CBs shift across to cover, the formation gets stretched, exposing the backline and essentially, breaking its solidity. 
How to Play the 3-4-1-2 Formation
With four lines to play through, coaches enjoy a lot of tactical freedom with the 3-4-1-2.
Depending on the abilities of your wingbacks and number 10, you may choose to focus on central or wide attacks, both of which can be effective.
So, with this in mind, let's look at how to play the 3-4-1-2 formation.
3-4-1-2 Formation Setup:
This shape is well-balanced with many opportunities to create passing triangles all over the field.
Below, I break down the key steps of attacking and defending in the 3-4-1-2 formation. 
Attacking in the 3-4-1-2 Formation
Attacking in the 3-4-1-2 involves leveraging the numerical advantages in key areas, like in midfield and upfront.
Here are three key elements a team should have to succeed in the attacking phase.
a. Creative Number 10
A creative number 10 should be your primary attacking outlet in this shape.
Playing between the lines, this player links the midfield and forward line.
Midfielders and strikers should play off the 10 at every opportunity to instigate attacks.
When given space, the attacking midfielder can run at the defense directly, look for one of their strikers, or draw defenders before passing the ball wide to a wingback.
The midfielders should be the 10s' primary facilitators, dropping off to recycle possession, creating passing triangles to progress the ball, and making forward runs into the box. 
b. Tandem Strikers
Dual strikers are a nightmare for defenders to deal with.
Especially when they have a good partnership.
The golden rule for a successful striker partnership is that when one comes short, the other runs in behind, maximizing space.
They can also work together, making one-two passes and creating chances for each other.
When the ball is out wide, both forwards should look to get into dangerous positions in the box.
c. Don't Ignore the Wings
While the 3-4-1-2 formation doesn't offer much natural width, this doesn't mean ignoring the wingbacks entirely. Otherwise, teams can successfully stop you with a low block.
When central play gets congested, be sure to go wide and take advantage of the space. 
Defending in the 3-4-1-2 Formation
With three centerbacks and two midfielders sitting in front, this shape is defensively sound.
The backline typically outnumbers opposition forwards and has ample coverage from the midfield. However, as discussed, the wings are especially open during transitions.
The best way to mitigate wide counterattacks is for one of the midfielders to drop behind the wingback when they go forward.
The team can also suppress the threat of a counterattack with an aggressive high press from the strikers and CAM. 
Individual Position Responsibilities
Goalkeeper
It's beneficial in today's game to have a goalie with on-the-ball competencies. 
In a 3-4-1-2 formation, a goalkeeper with a good passing range can help you break a high press and stretch the opposition. 
Center Backs
The three CBs operate as a unit and are key to the defensive solidity of the team.
It's common for one CB to drop a little deeper than the other two to cover runs in behind and to give better passing angles.
The trio must be in constant communication, shifting their positions collectively to avoid gaps from opening. 
Wingbacks
Wingbacks have a tough job in this formation, defending the sidelines and offering width going forward.
Defensively, they must win the individual battle against their opposite winger and cover the back post when crosses come into the box.
In attack, they should occupy positions from which they can whip crosses toward the strikers.
Provided they have enough cover, wingbacks should also get into the box occasionally to get on the end of deep crosses. 
Center Midfield
You can set up your CMs in several different ways.
However, regardless of their precise positional instructions, the CMs have two main jobs:
1. Link the play from attack to defense.
2. Protect the backline. 
Whether you achieve this through box-to-box midfielders, deep-lying playmakers, or a combination of the two is totally up to you. 
Center Attacking Midfielder
The CAM often has a free role in this formation. 
They must utilize their soccer intelligence and skill to find space and create chances for teammates.
Although they mostly play centrally, CAMs can find a lot of success by linking up with the wingbacks.
By alternating overlapping and underlapping runs, they make sure the defenders are occupied, opening up space to cross the ball toward the strikers.
Dual Strikers
Dual strikers pin the defense back and force centerbacks to be occupied all game.
It's often beneficial to have two different types of strikers on the team.
For example, you might have one target-man style player and another who's more comfortable collecting the ball with their back to goal, bringing others into play.
The strike partners must play in tandem and avoid taking up the same space. One-twos, dummy runs, flick-ons, and alternating movement can bamboozle the opposition defense. 
How to Beat a 3-4-1-2 Formation
The 3-4-1-2 formation is extremely solid and tough to break down in open play.
Perhaps the best way to beat it is to make sure you have the personnel in place to limit their most influential players: the CAM and strikers.
You can do this by using a similar formation, with three centerbacks and a strong CDM.
Alternatively, you can deploy two CDMs to avoid your backline from getting overrun. 
If you're comfortable with your team's formation and want to find a more tactical route to victory, focus on counterattacks and switches of play.
With space along the wings, you'll find joy by playing the ball behind the wingbacks and frequently switching the point of attack.
Conclusion
The 3-4-1-2 formation is a great alternative for a team used to playing with a back four. 
While it has its weaknesses, the spine of the team is extremely solid and you should find joy with central attacks.
The dual strikers make it tough for your opposition and allow you to go for a direct approach without taking defensive risks.
Just make sure you have fit wingbacks who are capable in attack and defense.