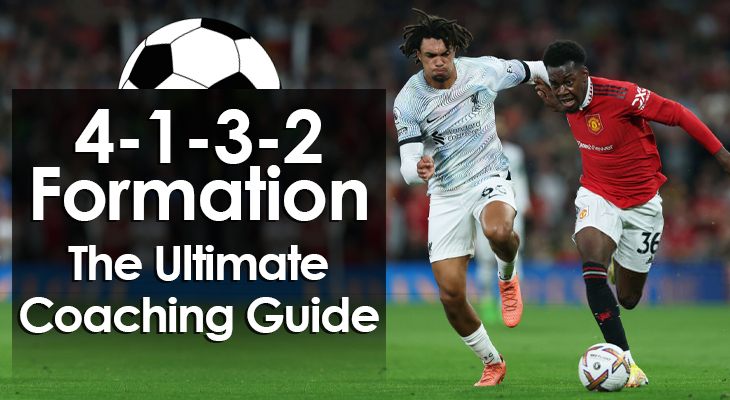 4-1-3-2 Formation – The Ultimate Coaching Guide
The 4-1-3-2 formation is one of the most popular setups in modern soccer, and for good reason.
With the right players, it offers good balance, exceptional spacing, and endless attacking options.
Success in this shape relies heavily on a dominant midfield anchor and a well-rounded partner.
Without a quality midfield, the center of the park will be targeted, overrun, and exploited.
When in full flow, the 4-1-3-2 offers attacking avenues from every direction, especially if you add attacking fullbacks to the mix.
With two strikers leading the line, this shape guarantees goals.
And with a solid defense, hopefully it doesn't concede too many. 
4-1-3-2 Formation Keys to Success
Essentially, the 4-1-3-2 is a modified version of a classic 4-4-2 formation, ensuring most players will be familiar with the shape and general structure. 
However, rather than playing with two box-to-box center midfielders (CMs), the midfield duties are split between a CDM and a more attacking midfielder. 
As we touched on, the CDM has a specialized role in the team, sitting in front of the defense and providing a passing outlet for teammates.
The coach has a little more freedom with the other CM and may opt for a box-to-box style player or an out-and-out attacking midfielder, depending on the circumstances.
Aside from talented midfielders, there are some other requirements for success:
a. Elite Fitness Levels
Having physically fit players is mandatory to execute this shape since players utilize all the available space on the field.
In possession, wingers and fullbacks hit the sidelines, while the strikers push on to the lowest dropping defender.
Out of possession, the players must tuck in quickly, creating a more compact unit. 
b. Deep Squad
Considering the physical demands, this formation relies on having a deep squad.
In addition, the 4-1-3-2 formation needs specialist midfielders and a great double striker partnership – especially in midfield and attack.
c. Ball-Playing Defenders
It's highly advantageous to have ball-playing defenders in this shape.
These players should be comfortable retaining possession when the midfield is pressed.
Defenders often have to keep the ball for extended periods before a forward pass becomes available.
d. Disciplined Players
All players must be trusted to show discipline in their positions, minimizing gaps during transitions and ensuring they fulfill their defensive duties.
While the spacing is beneficial in attacking play, it can leave holes during defensive transitions. 
e. Capable CDM
This formation is heavily reliant on a quality CDM.
They have to be capable in defense and on the ball.
A lack of competency in this area will leave the backline vulnerable and makes it difficult to build meaningful attacks and retain possession. 
Strengths of a 4-1-3-2 Formation
The 4-1-3-2 formation is an exciting prospect for an offensive-minded coach.
It offers attacking options from all positions, either centrally or on the wings, so you can expect plenty of goals.
Versatility is another key benefit, allowing you to adjust the shape seamlessly to a more defensive lineup.
Before implementing this philosophy into your team, let's take a look at the key strengths of the 4-1-3-2:
#1: Attack-oriented shape
With dual strikers, two wingers, and a roaming CM, this formation is top-heavy.
The shape is particularly dangerous from the wings as attacking fullbacks can support or overlap the wide players to create mismatches.
Opposition centerbacks can't risk covering their fullbacks or they'll leave a striker free in the box.
The two strikers pose a constant threat, occupying the centerbacks at all times. 
#2: Excellent at counterattacking
The spacing and starting position of each player makes this the perfect shape to launch counterattacks.
As soon as the team regains possession, the wingers hit the flanks and the strikers make forward runs. This gives teammates several options to open the defense.
Many teams make sure to leave one striker in line with the last defender for quick over the top passes on the counter. 
#3: Double strikers
Two strikers are a handful for any defense, especially if they work in tandem.
A popular strategy here is for one striker to come short to receive the pass while the other makes a run behind or pins the centerback.
Unless the opponents drag a midfielder to the backline or play with three centerbacks, the strikers will almost always have a 1v1 with their defender. 
#4: Stretches the field
Mastering the space is one of the keys to executing in this setup.
With all players in the right positions, there should be space on the field in virtually every section.
Top players take advantage of large gaps, facilitating consistent chance creation. 
#5: Backline shield
The CDM offers a blanketed defensive cover, ensuring the backline is never exposed.
This is essential since center midfield is typically the most vulnerable area.
When defending a lead, the CDM occasionally drops deeper to join the backline, while the other midfielder takes over the CDM role.
#6: Overloads in the final third
The attacking shape helps create a series of overloads when the team attacks as a unit.
Strikers may double up on a centerback, fullbacks can join the winger to overload the opposition fullbacks, and the CM is free to support any teammate in attack.
#7: Provides balance
Although the 4-1-3-2 is attack-focused, it offers balance throughout the field.
Sharp transitions help ensure there are no gaping holes in any area.
Moreover, disciplined backtracking provides cover for all positions.
However, a lack of positional awareness can leave significant openings. 
Weaknesses of a 4-1-3-2 Formation
No tactical shape is without its weaknesses.
While the 4-1-3-2 is solid and balanced, it has some frailties which coaches must address.
In particular, the team has to be razor sharp in defensive transitions to cut out the threat of counterattacks.
If you're preparing a team to play in this style, here are the key weaknesses to address:
#1: Vulnerable to counterattacks
Spacing is both the key and the crux of this formation.
For the most part, individual players are solely responsible for managing their section of the field.
If one player steps out of line, they leave a gap.
This is extremely apparent when fullbacks join the attack and turn the ball over.
#2: Requires technically skilled defenders
Defenders often see a lot of the ball in this formation so they must be capable of retaining possession.
A lack of technical ability in the backline is likely to lead to turnovers in dangerous areas.
This most likely will result in goals against your team. 
#3: Squad depth can cause problems
Without sufficient squad depth in the midfield and forward line, this formation isn't an option.
Your team requires at least two players who can play the CDM role and four attackers to rotate in and out of the two striker positions.
#4: Midfielders may get outnumbered
The most effective counter to this shape is to overload the midfield.
Opponents are likely to play with three center midfielders to nullify the influence of the CDM and penetrate from central areas. 
#5: Elite fitness requirements
There's no avoiding the fitness levels required to perform at the highest level in this formation.
Fullbacks, wingers, and midfielders must cover tremendous ground over the course of a game.
If they become fatigued, the team may be vulnerable to conceding late goals, which can be extremely demoralizing.
#6: Players must know their roles
The coach is responsible for making sure all players know their offensive and defensive roles.
The same goes for their duties in transition.
Otherwise, players are likely to stray out of position, leaving opportunities for the opposition.
Individual Roles and Responsibilities
Good collective performances in the 4-1-3-2 formation essentially come down to individual execution in each role.
A well-drilled team can bear the full fruits of the shape, playing exciting, expansive soccer and striking deadly attacks on the break.
Likewise, players must know their defensive roles to create solidity and minimize opportunities for opposing teams.
Since certain players are often isolated, strong on-field communication is essential to make sure everyone is on the same page.
Strong leaders are hugely beneficial, especially in pivotal central roles – like CDM, CM, and upfront.
Having motivational players in these positions raises the standards of the entire team.
Here's a look at player roles in further detail:
Role of Goalkeeper 
The type of goalkeeper you need comes down to how your team plays in and out of possession.
Many teams play a high defensive line when they have the ball.
This bridges the gaps between the backline and the midfield.
However, this leaves a lot of space behind the defense for long switches of play or over-the-top passes.
In these instances, it's important to have a goalie who isn't afraid to leave the penalty box and sweep up threaded passes.
In the modern game, having a goalkeeper with good distribution skills is becoming increasingly important for ball retention against a high press
Role of Fullbacks
The fullback role is straightforward but by no means easy.
From a defensive standpoint, fullbacks are responsible for commanding the wings, marking opposing wingers, and covering the back post when the ball is on the opposite side.
When going forward, they offer support to midfielders, provide passing options, and make overlapping runs.
Fullbacks and wingers must form effective partnerships to ensure attacking and defensive fluidity.
In transition, fullbacks need to be able to recover quickly to restore defensive structure and break up counterattacks.
While all of this might seem simple, impeccable stamina and speed are a must. 
Role of Centerbacks
Since this setup stems from a traditional 4-4-2, the centerbacks fulfill standard defensive duties.
Meaning, they must keep tabs on strikers, win the aerial battles, and cut out central attacks.
In possession, the centerbacks should be comfortable on the ball and demonstrate competent passing abilities.
Many coaches prioritize playing one left-footed centerback and one right-footed centerback in the pairing.
This allows each centerback to open up toward their dominant side, creating far more passing opportunities.
Centerbacks work closely with the CDM to mitigate central-based threats. 
Role of Center Defensive Midfielder (CDM)
While all positions are important on the field, the CDM is pivotal to success in a 4-1-3-2 formation.
They have two main responsibilities: provide defensive cover for the backline and
make plays from deep. 
The CDM doesn't have to be the best player on the team by any means.
However, their skill set must be strong enough to perform their key duties well.
The most important characteristics of a well-rounded CDM include:
Strong defensive fundamentals (tackling technique, balance, and control)
Excellent positional awareness
High-level passing and vision
Good on-field communication
Quick decision making
Superior reading of the game and anticipation
Strength and stamina
There is no archetype CDM in the modern game, with so many talented players in different shapes and sizes. 
Take Kante and Busquets, for example. They are chalk and cheese in terms of body type and styles of play but both are masterful defensive midfielders.
Role of Center Midfielder
The center midfielder provides the link between the CDM and the attacking players.
These players carry out a lot of the midfield dog work. They are also responsible for joining attacks and supporting any positions targeted by opponents.
Depending on the personnel at your disposal, you can opt for different types of CM.
In most cases, an industrious all-rounder works best to track back and prevent numerical mismatches against the CDM.
Unfortunately, no matter how good a CDM is, they can't be in two places at once so defensive reinforcements are necessary.
Role of Left and Right Midfielders
With two strikers ahead of them, the left and right midfielders are expected to create plenty of chances and rack up assists.
Although the majority of their attacks come down the flanks, there is space to exploit centrally.
Some coaches elect to play with inverted wingers.
These players cut inside to shoot, cross, or take on centerbacks directly.
When paired with attacking fullbacks, the combination is lethal as it opens angles to attack from both the wings and central areas.
Wide midfielders also have defensive duties and must track back to help out their fullbacks.
If the center of the field is getting overrun, wingers may need to tuck in when the team is out of possession.
Role of Strikers
Striker partnerships aren't as common as they once were, meaning many modern centerbacks typically only have one forward to deal with. 
Dual strikers create serious problems for defenders as they force both centerbacks to mark both players at all times.
The most effective striker duos work in unison to drag defenders out of position and open up space to run into.
It's often beneficial to set up with two different style players, such as a pacey runner and a target man.
However, the most important factor is that both strikers click – so a variety of combinations are possible. 
Variations of the 4-1-3-2 Formation
Versatility in the 4-1-3-2 formation comes in the central areas.
Coaches can experiment with different types of midfielders depending on their strategy. 
A box-to-box CM suits a team that wants to bolster its defense, while an attacking midfielder facilitates a gung-ho approach.
Coaches may give their strikers some freedom to roam or may assign specific roles.
This can be in the form of one dropping deep while the other looks to run in behind.
One of the key advantages of this formation is that it can easily convert to another shape, such as a 4-4-2, 4-5-1, or 4-2-3-1.
Doing so throughout a match gives your team alternative looks in both attack and defense. 
Conclusion
The 4-1-3-2 formation is a great option for teams that are rich in talent and want to play expansive soccer with plenty of width.
However, its vulnerabilities in central areas and on the break mean player selection is important.
Although it may not be your go-to setup, the 4-1-3-2 can be an effective way to stretch compact teams and beat a low block.