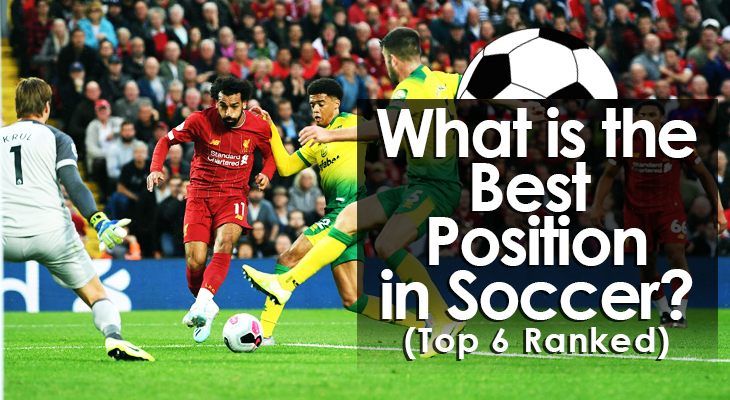 What is the Best Position in Soccer? (Top 6 Ranked)
If you're new to soccer and trying to find a suitable spot on the field, you might be asking:
"What is the best position in soccer?"
With 11 traditional positions on each team, we've got a few different options to pick from.
If you prefer defending... perhaps a fullback, center back, or goalie?
Or maybe you prefer playing in the midfield, where you get a balance between defending an attacking. Will playing wide or in the center suit you best?
Finally, the forward line. Who doesn't want the opportunity to kick lots of goals?
So, what's the best position in soccer?
Let's take a look at the most popular positions in the beautiful game and what they involve.
The Best Position in Soccer Rankings:
#1 - Striker 
Was this one obvious?
I mean, who wouldn't want to be the main scoring source for their team!
So for most people, the striker is the best position in soccer.
With few defensive responsibilities, their sole focus is putting the ball in the back of the net.
These players are among the most technically gifted players in the squad. Using their skills to outwit defenders and create chances for themselves and their teammates.
Although blistering speed is beneficial, it's not essential to be a competent striker.
Many great goal-scorers, like Harry Kane, Robert Lewandowski, and Zlatan Ibrahimovic can be a little slow out of the blocks. That said, it's important to have enough pace to get away from a defender when you're put through on goal.
Despite being one of the best positions in the game, playing as a striker isn't for everyone.
As the primary attacking threat, a lot of pressure falls on the striker's shoulders.
They must have the confidence and mental strength to stay focused and positive, even when they miss a chance or two.
#2 - Center Midfielder
Center midfield is another extremely popular and important position.
One of the main reasons players love this role is that center midfielders get involved in everything! They attack, score, defend, tackle, and generally see a lot of the ball.
Because of this, center midfielders cover more ground than any other position -- so stamina and a strong work ethic are minimum requirements. 
Operating in the most congested areas of the field, CMs must have a good all-around skill set. An excellent first touch, neat dribbling skills, an extensive passing range, and good tackling technique.
But the best-in-class midfielders set themselves apart with in-game intelligence.
This means they have a knack of always being in the right position to receive the ball, intercept a pass, block a shot, or get on the end of a cross.
In the modern game, most teams play with specialist center midfielders, who either focus on the defensive side of things or the attacking end.
So, if you excel in certain aspects of the game, you may find yourself as a center defensive midfielder (CDM) or a center attacking midfielder (CAM). 
#3 - Winger
Winger is the title given to wide midfielders or attackers.
In terms of watching the game, wingers are often the most exciting. They're rapid across the turf and excite the crowd with skills, tricks, and flicks.
Since they're frequently paired up against opposition fullbacks in 1v1 situations, wingers rely on their pace and skill to drive past players and set up chances.
In addition to being one of the best positions on the field, it's also among the hardest.
Players in this role should be capable of beating their marker and creating goalscoring opportunities on their own. This is no easy feat when you're up against a tough fullback!
However, even during difficult games, wingers must persist and focus on the next opportunity to make an impact.
Spacing and positional discipline are essential in this role. Wingers are responsible for stretching opposing teams and opening up gaps for teammates to exploit.
The modern game usually features inverted wingers -- meaning they play on their "weak" side. This allows them to cut inside and attack centrally, leaving room for their fullback partner to make runs along the sideline.
If you're fast, fit, and love taking people on 1v1, then you might find that winger is the best position in soccer for you.
#4 - Goalkeeper 
For some people, goalkeeper ranks highest as the best position in soccer.
Ask any goalie and they'll tell you they love nothing more than throwing themselves at strikers and diving across the goal line to make a save.
(Though for many of us, playing between the sticks is the last thing we want to do!)
Blocking a shot from close range is one thing, but putting your body on the line to save multiple powerful strikes every game is a whole other story.
Therefore, opinions are significantly divided when it comes to playing in goal. 
If you like the sound of being your team's number 1, it's important to understand what the position is all about.
Firstly, your suitability for the goalkeeper position may depend on certain physical attributes. At a professional level, you'll struggle to find a top keeper under 6'2". While this isn't the case in the lower leagues, size is a factor.
Goalkeepers must also be brave and demonstrate fast reflexes, good instincts, above-average agility, and dexterity.
Getting in the way of shots for 90 minutes takes a toll on the body so it's imperative that goalies keep themselves limber and in shape.
In today's game, most teams play in possession-based systems and build attacks from the backline.
This shift in focus means that goalkeeper now get involved in general play a lot more than in previous eras.
So, even if you want to be the designated stopper, be sure to work on your technical skills and don't shy away from ball work. 
#5 - Center Back
A center back's role is by no means glamorous, but its importance cannot be overstated.
For those who enjoy aerial contests, tackling, and all the dirty work in between, it's the best position on the field.
Center backs are responsible for marshaling the backline and limiting the effectiveness of opposition strikers.
Usually operating as a pair, the two center backs form a brick wall at the back and defend as if their lives depend on it.
Although they rarely venture upfield, center backs get on the ball quite often and usually keep things simple with short passes into the midfield.
A center back's main chance of scoring comes from set pieces when they're sent forward to use their strong heading ability to get on the end of crosses.
However, for the most part, they stay back to shield the goal, snuff out attacks, and contend with opposing strikers.
Center backs' skill set is defense-heavy and they rely on having above-average tackling, heading, positioning, and strength. 
As central defenders, center backs should always err on the side of caution and make risk-averse decisions more often than not. 
#6 - Fullback
In previous years, fullback would not have made the cut for a desirable positions list.
As a role that was once reserved for more basic players, it recently experienced a significant change in the last decade.
It's now a diverse position that involves both attacking and defending, with some teams relying on their fullbacks as key creative players.
There are usually two fullbacks on the field at any given time:
In defense, their main job is to defend the wide areas and win their 1v1 battle with the opposition winger.
In possession, modern fullbacks usually have the freedom to attack and supply crosses to their strikers.

Attacking fullbacks must build a rapport with their same-sided wingers to become dual threats.
This typically involves intricate give-and-go interplay as well as over and underlapping runs.
As you can imagine, these two-way players must be good all-rounders.
What's more, they must be extremely fit to run up and down the field all game.
To ensure they can keep up with speedy wingers and make recovery runs in transition, fullbacks should also be fast.
If you're a player who enjoys both attacking and defending and isn't afraid to work hard, there are few more enjoyable positions out there.
Conclusion
What is the best position in soccer?
Ultimately, the answer to this question comes down to the individual.
Depending on your physical attributes -- like size, speed, strength, and technical skills -- your playing style may be suited to a particular soccer position. 
You can always work on your game to develop as a competent player in any position.
Soccer is all about balance so each and every player has a role to play.