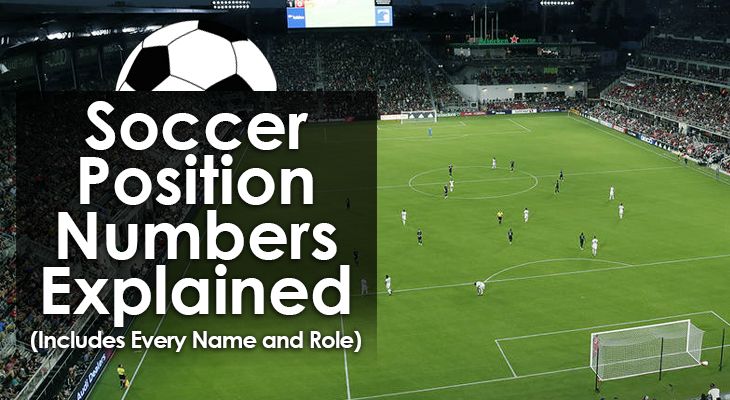 Soccer Position Numbers Explained (Every Name and Role)
Fun fact:
Numbers worn on the backs of soccer players were first introduced in 1911 by Australian teams, Sydney Leichardt and HMS Powerful.
They used the numbers to help identify and distinguish the players from one another.
In today's game, players can choose to wear almost any number they like, as like as they fit with the rules of the league.
Historically, however, certain numbers were also used to indicate a player's position on the pitch.
Starting players wore numbers 1 - 11 depending on their role.
Due to this, certain soccer players are now associated with particular numbers.
Young players clamour for the coveted number 10, for example, worn by legends such as Cruyff, Maradona, Pele, and more recently, Zidane and Messi.
To help you get to grips with the traditional soccer position numbers, let's first look at every position, and how the numbering has changed through the years.
Lastly, we'll look at how some common modern soccer formations might line up in terms of numbers and player roles.
Let's go!
Soccer Positions On the Pitch
While the number of starting players varies between age groups and leagues, we'll focus on the regular 11 v 11 full-sized soccer.
Out of the eleven players that take to the field, one is a goalkeeper with the rest being defenders, midfielders, and forwards.
A player's number will vary depending on the formation chosen by the coach.
Their roles also vary depending on the specific position and instructions given to the player.
Center-Back / Central Defender (CB)
Right and Left Full-Backs (RB/LB)
Right and Left Wing-Backs (RWB/LWB)
Defensive Midfielder / Holding Midfielder (DM)
Center Mid / Central Midfielder (CM)
Attacking Midfielder (AM)
Right and Left Midfielder (RM/LM)
Center Forward (CF)/ Striker (S)
Second Striker / Support Striker (SS)
Right and Left Wingers (RW/LW)
Now that we've seen all the different soccer positions, let's take a look at the roles and numbers usually assigned to each.
Soccer Position Numbers and Roles
When taking to the pitch, each player has their own role and responsibilities.
Some players should keep things simple and help the team keep a clean-sheet.
Others should be aggressive, take risks, and create goalscoring opportunities.
Here is a brief description of each position on the pitch and what coaches usually expect to see from each player in that particular role.
The last line of defense, it's the goalkeeper's job to stop the ball from going in the back of the net.
Teams count on them to make saves, command their box, and organise the defenders.
Goalkeepers are the only players on the pitch who can use their hands.
In today's game, goalkeepers are also trained to be good with the ball at their feet and be able to play it out from the back.
Famous goalkeepers: Gianluigi Buffon, Manuel Neuer, Iker Casillas
Center-Back / Central Defender (4, 5, or 6)
Center-backs occupy the central space in front of the goalkeeper's box.
Managers ask these backs to keep a clean-sheet and stop opponents from creating scoring opportunities.
Central Defenders are often tall and physically imposing.
Their roles are to tackle, block, head the ball away and put their bodies on the line for the team.
They should know how to mark attackers and close down spaces to prevent scoring opportunities for the opponent.
Center-backs should also be decent on the ball and be able to marshal the other defenders around them.
Famous central defenders: Paolo Maldini, Sergio Ramos, Giorgio Chiellini
Although now rarely seen in adult soccer, this previously popular position is often still used by youth teams.
Sweepers position themselves between the center defender and goalkeeper.
Their job is to 'sweep' up any loose balls or tackle players that manage to wriggle their way through.
While central defenders challenge attackers, sweepers instead close gaps left by their teammates.
They are also free to push forward with the ball if the opportunity arises.
Famous sweepers: Franz Beckenbauer, Franco Baresi, Ronald Koeman
Right and Left Full-Backs (2, 3)
To either side of the center-backs you have the right and left full-backs.
They usually defend their flank of the pitch and stop the opposition's wingers or forwards from getting past them.
Aside from their defensive duties, they are often also asked to support the team when going forward.
Famous right full-backs: Cafu, Lillian Thuram, Dani Alves
Famous left full-backs: Roberto Carlos, Ashley Cole, Paul Breitner
Right and Left Wing-Backs (2, 3)
More attack-minded than full-backs, wing-backs are encouraged to bomb forward and support their team in attack.
Set either side of the central defenders, they are usually only deployed in formations that have three center-backs.
These players need great stamina and be able to tear it up and down the pitch for the whole ninety minutes.
These wings should be quite technical as they need to keep the ball in tight spaces and sometimes dribble around their opponent.
Famous right wing-backs: Trent Alexander-Arnold, Thomas Meunier, Javier Zanetti
Famous left wing-backs: Marcelo, Nilton Sanches, Bixente Lizarazu
Defensive Midfielder / Holding Midfielder (4, 6)
Defensive midfielders' primary task is to sit in front of the defense and stop the opposition from scoring.
These players should have great discipline and sense of positioning.
Holding midfielders should be able cover a lot of ground, tackle, mark players and make interceptions.
This position once used to simply be a 'destroyer'.
In the modern game, though, they are increasingly asked to start play from deep and distribute the ball to the forward players.
Famous defensive midfielders: Sergio Busquets, Casemiro, Claude Makelele
Center Mid / Central Midfielder (6, 8)
Occupying the center of the pitch, central midfielders help both in attacking and defending.
As such, number 8's need to have great stamina, be good on the ball, and know when to push forward and when to drop back.
Besides being able to tackle and win back the ball, center mids also need to be good at passing, shooting and carrying the ball forward.
It is usually these central players who dictate the tempo of the match and control possession.
Famous center mids: Xavi, Andrea Pirlo, Luka Modric
Attacking Midfielder (10)
Unlike defensive and center mids, attacking midfielders usually have very few defensive responsibilities.
It is their job to create goalscoring opportunities for the strikers.
Attacking midfielders should have superior technical skills, dribbling abilities and vision.
They must be able to create scoring chances, play through-balls and open up space for the forwards.
Aside from assisting, they are also expected to score goals themselves.
They are often the team's star player and most creative and magical outlet.
As such, the number 10 has been worn by some of the biggest names in soccer history.
Famous attacking midfielders: Zinedine Zidane, Kaka, Mesut Ozil
Right and Left Midfielders (7, 11)
To either side of the center mids are the right and left midfielders, who will wear either number 7 or number 11.
Much like the full-backs, they should be effective in both defending and attacking along their flank.
These players should be able to provide the team with width, put in dangerous crosses and dribble past defenders.
In addition to contributing goals and assists, they need to be able to help defend their side of the pitch as well.
As such, these midfielders need great stamina and speed to get up and down for the whole duration of the match.
Famous right midfielders: David Beckham, Luis Figo, Freddie Ljungberg
Famous left midfielders: Ryan Giggs, David Ginola, Robert Pires
Center Forward / Striker (9)
Up top, you can find the center forward or striker (also known as the number 9).
Strikers should hunt for goals and tuck away almost all their chances into the back of the net.
To be able to do so, strikers should have the ability to shoot, volley and head with both power and accuracy.
These players are also often expected to be able hold the ball up and bring their teammates into play.
As they will be battling center-backs all day, they need to have good physical strength and speed.
This is key for them to be able to get themselves in the right positions at the right time, over and over again.
Famous center forwards and strikers: Robert Lewandowski, Luis Suarez, Thierry Henry
Second Striker/Support Striker (10)
Playing just off of the center forward is the second or support striker.
The role of the support striker is somewhat similar to an attacking midfielder in terms of the positions they take up.
They are also expected to create chances, make runs and chip in with goals and assists.
As such, they need have to have excellent vision and awareness.
Superior technical skills, dribbling, passing, and shooting, are key for great support strikers.
Famous support strikers: Francesco Totti, Eric Cantona, Gianfranco Zola
Right and Left Wingers (7, 11)
Both right and left wingers are somewhat tricky positions.
They should be able to help with scoring goals, getting assists and tormenting the opposition's full-backs.
These players are often very pacy, have quick fleet footwork, close ball control and posses exquisite dribbling skills.
As such, they are usually given full license to push forward and pin their opponents back.
As well as providing the team with width, they are also expected to make runs in behind, take up dangerous positions and get off shots where possible.
Famous right wingers: Lionel Messi, Gareth Bale, Cristiano Ronaldo
Famous left wingers: Ronaldinho, Franck Ribery, Neymar
Traditional and Modern Line-Ups and Numbers
While roles and formations have obviously evolved over the years.
However, the numbers on the back of the players are still heavily associated with certain parts of the pitch.
It's highly unlikely, for instance, that you would see a player wearing the no 10 on their back playing center-back or someone in the number 2 or 3 spearheading the attack (Asamoah Gyan aside of course!).
To give you an idea of where certain numbers (and positions) line up, let's first take a look at one of the most famous soccer formations out there, the 4-4-2.
10 - 9
11 - 8 - 6 - 7
3 - 5 - 4 - 2
11 - 9 - 7
10
6 - 8
3 - 5 - 4 - 2
9 - 7
10
11 - 8
6
3 - 5 - 4 - 2
11 - 9
10
3 - 6 - 8 - 7
4 - 6 - 2
9
11 - 10 - 7
6 - 8
3 - 5 - 4 - 2
Well, there you have it...
Everything there is to know about soccer position numbers, their names, and roles.
While in the modern day and age, players can wear almost any number they like, each position is still very much associated with a certain number.
As such, right and left full-backs are usually assigned the no 2 and 3 shirts with strikers and creative attacking mids instead taking the nos. 9 and 10.
Knowing the numbers, names and roles of each position is essential if you want to better understand the beautiful game of soccer.
Further Reading: 11 Soccer Positions Explained (Roles and Responsibilities)